The Concert at Voxna Church on Monday 10 July
For this year's concert to the honour of Jussi Björling – the seventeenth since the beginning – the mastermind behind the festival – or "perpetrator" as he calls himself – Stefan Olmårs had gathered a trio of young singers already in heavy demand, in spite of still being students at the University College of Opera in Stockholm. As usual the mainstay Lennart Eng was at the grand piano in the beautiful white Voxna Church, surrounded by flowery greenery. And people come from far and near. A busload of enthusiasts from Stockholm attended the second concert.
Ensemble 2017
Since some years it isn't enough with one concert – the demand for music experiences is so great. And no one can, in all likelihood, have been disappointed this year with no less than eighteen musical numbers. Yes, even more, since the concert opened with Jussi himself singing Peterson-Berger's Jungfrun under lind, before Stefan Olmårs introduced the first soloist, the magnificent deep bass Erik Rosenius. He demonstrated his full scope in Falstaff's aria from Die lustigen Weiber von Windsor and made probably many old listeners remember Joel Berglund with his juicy reading of Kung Heimer och Aslög. Erik returned later with just as majestic arias from Die Zauberflöte and Eugene Onegin.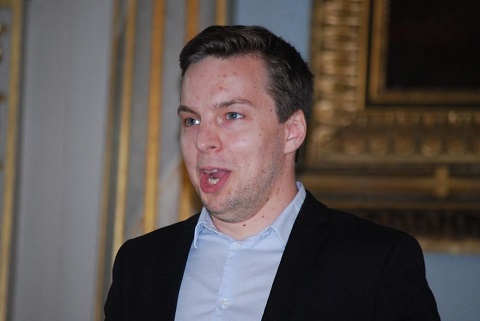 Erik Rosenius
His cohab, Norwegian soprano Sigrid Vetleseter Böe, was next in turn. She started, fittingly, with Grieg's En dröm and continued with Gershwin's well-known Summertime, sung with pronounced blues-feeling, backed up by Lennart Eng's just as bluesy accompaniment. I suspect she sings this lullaby to the couple's three-month-old baby, who was glimpsed in the background. In the second part of the concert we were treated to Mimì's aria from the third act of La bohème and the touching prayer Ave Maria from Verdi's Otello – the latter accompanied by organ.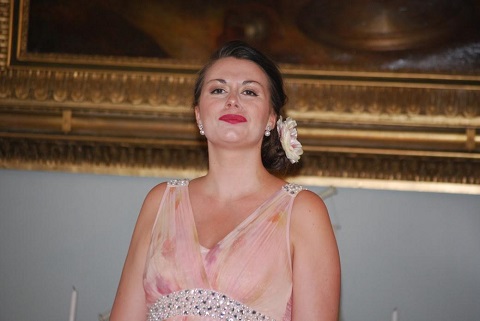 Sigrid Vetleseter Böe
Last year's Jussi Björling Prize Winner, tenor Ole Aleksander Bang, is already in strong demand. During the spring season he sang in Aniara at the Malmö Opera and this autumn he will be heard in Rossini's La Cenerentola at the Stockholm Opera. In Voxna the beauty of his voice flowed in Alfvén's Skogen sover and Tamino's aria from Die Zauberflöte. Excellent legato but one would have liked some more nuances in the Mozart aria. It was rather of uniform thickness. In the second part he was more outgoing in De Curtis's Torna a Surriento and most of all in Tonio's famous aria from La fille du regiment – the one with nine high C, which he executed with brio.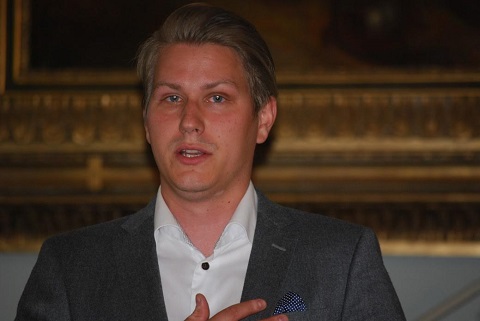 Ole Aleksander Bang
This year's local find was young mezzo-soprano Vilma Skäryd, student at the Culture School in Bollnäs, where they obviously bring forth talents galore. Accompanied by Lena Rieback she sang one of Marit's songs by Peterson-Berger and Stop all the clocks by Betty Roe. She returned when it was encore time, then dressed as the page Cherubino in Le nozze di Figaro. She did a splendid reading, vocally as well as scenically, of the lovesick and irresolute youngster's aria Voi che sapete. What is to become of this talent? She admitted afterwards that her dream is to be able to play this role on stage. I hope her dream will be fulfilled!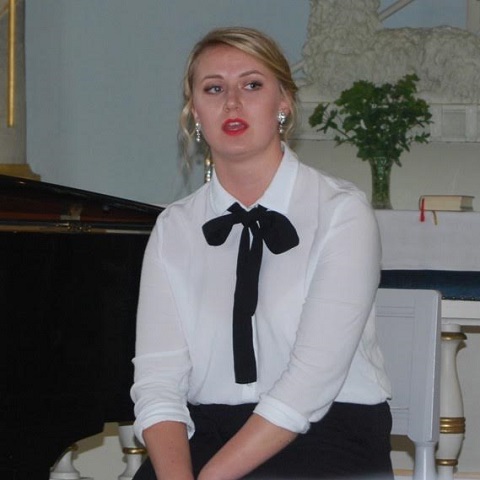 Vilma Skäryd as Cherubino
Erik Rosenius chose as his encore Ingvar Wixell's showpiece En positivvisa by Wilhelm Stenhammar, while Sigrid Vetleseter Böe created a nocturnal atmosphere with The song to the moon from Rusalka by Dvorak. Finally it was Ole Aleksander Bang's turn. Stefan Olmårs then told the audience that Ole recently received a scholarship of 200,000 SEK, and after that information, what was more fitting (?) than singing Ich hab' kein Geld, bin vogelfrei.
There were presents to the artists and then according to tradition all the participants and the audience sang Land du välsignade. I thought I saw the roof of the church lifting a mite at the final note!
In the evening, after the buffet at the nearby Voxnabruk Mansion, we listened to Jussi recordings with Harald Henrysson as cicerone. In the church we had heard both Jussi and Vilma Skäryd singing songs by Wilhelm Peterson-Berger and more of that was to come now. Since 2017 is an anniversary year – 150 years since the birth of P-B – Harald had chosen to play, among other things, all the P-B songs that Jussi recorded and we were also treated to a couple of racy stories about Jussi's confrontations with the not always friendly composer.
The following morning we could listen to a portrait of the recently deceased world tenor Nicolai Gedda at a conversation between Nils-Göran Olve, former chairman of Operavännerna in Stockholm, and Bengt Krantz, chairman of the Jussi Björling Society. They described Gedda's remarkable career, which lasted more than fifty years. We got a picture of his childhood during poor conditions in the southern part of Stockholm but also his sensational debut at the Stockholm Opera in 1952, which quickly lead to an international career with appearances in all the big opera houses and numerous recordings.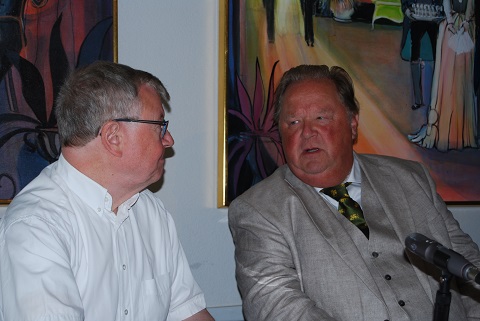 Nils-Göran Olve and Bengt Krantz
The programme was illustrated by well-chosen examples from his wide repertoire: opera of course but also several samplers of Gedda singing art songs. Many recordings were fairly rare, several of them live-recordings. We heard the very early Gedda but also songs from late in his career. The most touching was no doubt a recording of the well-known Russian folk song Monotonously rings the little bell. It was made when he was 69, but the perfect legato singing with impeccably equalized half-voice could just as well have been recorded forty years earlier.
The whole programme was well-informed, comprehensive and inspirationally presented in a relaxed dialogue between Olve and Krantz. I'm sure many listeners followed the concluding suggestion to have a browse among the many Gedda recordings available on Youtube. The programme wetted the appetite.
Text and photo: Göran Forsling