Beautiful Singing Outdid Wind, Rain and Helicopters
The weather wasn't on best behaviour when this year's edition of "Jenny and Jussi" took place at Skansen on Saturday 5 August. It was windy – which isn't unusual there – threatening dark clouds filled the sky and a couple of times they delivered. Not much though, it drizzled, but umbrellas and raincoats were produced. It was noisy as well. The audience at large was well-behaved but there was busy helicopter traffic above Stockholm, due to the big Pride Festival, where a parade of 45,000 walked through the city centre.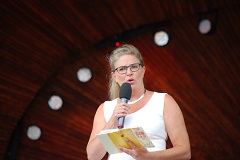 Pernilla Eskilsdotter
What was offered from the stage was however pleasing. The compere Pernilla Eskilsdotter had cut down on her flowery language and presented the programme charmingly and unaffectedly. As some extra seasoning she also had
some brief interviews with the participants. This year, there was no prize-winner present to receive the Jussi Björling Award. The winner, Bror Magnus Tødenes was busy in Salzburg and will get the prize in a couple of weeks at Strömsbruk. In his place the Björling Society was represented by the winner of 2013, Christian Juslin, tenor from Åland, who has a substantional international career. During the spring he sang Cavaradossi in Tosca in Tulsa, USA and received spectacular reviews. We got a sample in the shape of E lucevan le stelle, sung with great intensity – a quality that was prominent when he later performed both Vesti la giubba and Sibelius's Flickan kom ifrån sin älsklings möte (The Tryst).
Christian Juslin
The Jenny Lind Award Winner this year was soprano Ylva Stenberg, also active internationally, more precisely at Staatsoper Hannover, where she so far has been singing smaller parts. That she has the capacity for considerably bigger tasks, she clearly demonstrated at Skansen: songs by Alfvén, de Frumerie and Rachmaninov, the latter in idiomatic Russian, and as final number a brilliant reading of Gilda's aria from Rigoletto. That she has stage presence and charisma was obvious from the opening number of the concert, the delightful duet between Blonde and Osmin from Die Entführung aus dem Serail, where she sang opposite the superb bass Erik Rosenius, who was her sidekick during the tour she recently did as newly-fledged Award Winner. Erik's deep notes were impressively secure in the duet, and further on he sang Stenhammar's En positivvisa (An organ-grinder song) – just as lively and sensitive as he did at Voxna a couple of weeks earlier. There was also time for a couple of less frequently heard Schubert Lieder.
Ylva Stenberg and Erik Rosenius
The fourth soloist, without real connection with either Jenny Lind or Jussi BJörlinh, was the ever attractive Maria Fontosh. Rachmaninov is close to her heart, which she demonstrated in In the Silence of the Night, naturally sung in Russian – it's her mother tongue. As the multi-lingual artist she is she seduced at least the entire male part of the audience singing in German, Meine Lippen sie küssen so heiß, continued with Rangström's Pan in Swedish and finished with O mio babbino caro in Italian.
Maria Fontosh
The pianists Ani Gazarian and Allan Timofetichik struggled successfully against the troublesome wind – at times with producer Simon Thörnqvist as page turner. The audience was a bit fewer than previous years – probably it was weather forecast that put them off – but the enthusiasm was tangible.
Text: Göran Forsling
Photo: Calle Friedner and Göran Forsling