Jussi Björling shop
THROUGH THE JUSSI BJÖRLING MUSEUM in Borlänge, you can order CDs and DVDs, books, etc.. by internet, phone or letter. The link below will take you directly to the museum's webshop; the world's only Jussi shop with a broad range of items. As a member of The Jussi Björling Society, you get usually 15 percent discount on CDs. Welcome to the Jussi Björling store!
Welcome to the Jussi Björling Museum Shop
---
Record News with Jussi
Copenhagen Concert 1959
We had hardly reckoned on some previously unknown recordings with Jussi Björling would crop up. The record companies have the last few years hovered radio archives and other sources on anything imaginable. But then there pops up a tape in excellent sound quality, recorded in Copenhagen on 15 October 1959 in the then brand new Falkoner Centret – a concert hall with superlative acoustics seating 2000 listeners. In the venue there was also a state-of-the-art recording equipment, which was employed to record most of what was happening there – and then the material was hidden in the archives – until now.
The concert took place less than a year before Jussi Björling's demise on 9 September 1960 and only a couple of weeks earlier he had a heart condition during the recording of Madama Butterfly in Rome. Thus it could be expected that he was in less than top shape, but there is little here that indicates that. In a few places his fortes can sound a bit strained but his breath control is as superb as earlier and his legato singing is exemplary. The beauty of his silvery voice is unmistakable – it is the Jussi we know from so many outstanding recordings.
The sound quality of the recording is first class, considering the age, clear and dynamic. Seth B. Winner had an excellent basic material at his disposal, but he has adjusted some deviations in volume and removed disturbing noises like coughs and squeaks. The piano is balanced a mite closer than the voice, but this is no drawback. It makes us experience Bertil Bokstedt's elegant phrasing and exquisite timing. He is a god listener as well as a promoter – a perfect accompanist.
We recognise the repertoire. Here are many of the songs he recorded in 1952 for the LP Jussi Björling in Song: Brahms`s Die Mainacht, Liszt's Es muss ein Wunderbares sein, Wolf's Verborgenheit, Schubert's Die Forelle and Die böse Farbe, the latter from Die schöne Müllerin and for the umpteenth time one thinks "What a pity he didn't study the whole song cycle!" These are songs that were close to him and you hear that on the warmth, the insight and the lovable phrasing. The inward, eternally beautifully sung Es muss ein Wunderbares sein gives rise to graceful shudders and the scaled down final phrases are overwhelming.
The Nordic songs are just as dear and agreeable: P-B's Jungfrun under lind, Alfvén's Skogen sover, sung so weightlessly beautifully at pianissimo – don't wake 'em – Sibelius' Demanten på marssnön and Säv, säv, susa. Here Bokstedt's sensitive accompaniment contributes to intensify the mourning song about the unhappy Ingalill who died in the waves, and Jussi's voice trembles from empathy in the final phrase "Waves, waves, lap!". Grieg's En svane and En drøm are permeated by a rare intensity, and it was only such a pity he couldn't sing Alfvén's setting of Tove Ditlevsen's Så tag mit hjerte, the only song in Danish in his repertoire and recorded in the studio only a good half.year earlier. The music was left on the piano in Jussi's apartment in Stockholm! Which hardly could have made him very jolly. But of this discord you notice nothing in his singing.
As was his wont, Jussi Björling dilutes the song repertoire with some opera arias. Tamino's first aria from Die Zauberflöte, was his warming up number, and he always sang Mozart in Swedish. Bizet's Flower Song was placed between the German and the Nordic songs, and here he generates mighty energy. Come un bel di di Maggio from Andrea Chenier was another favourite aria, and again he sings with impeccable legato. What a pity he did neither Don José nor Chenier on stage. Tosti's Ideale and Richard Strauss' Zueignung round off this audibly appreciated concert, which we now, after 56 years, can enjoy in excellent sound.
There is a substantial bonus as well: The Voice of Firestone from 10 March 1952. It was issued not long ago as a filler for Immortal Performances' restored Il trovatore from MET 1941. The difference, besides Seth Winner's transfer has a somewhat stronger out-signal and thus a little wider dynamics, is that Richard Caniell at Immortal Performances has cleaned up a bit and taken away a lot of the opening commercials and shortened Hugh James' announcements. Otherwise one can note that Jussi´s voice seven years earlier was lighter and somewhat freer, that he makes the best out of Mrs Firestone's obligatory opening and concluding melodies, that Nessun dorma is sung with real glow, that Tosti's L'alba separa salla luce l'ombra - written for Caruso – sounds excellent and that Speaks' Sylvia and Victor Herbert's Neapolitan Love Song are spoiled by a glutinous chorus – but Jussi sings well.
The 24-page-booklet is a further bonus with among other things a detailed historical account by Harald Henrysson of Jussi BJörling's appearances in Denmark, during 28 years, i.e. all of his adult career. Lavishly illustrated. The vocal expert Stephen Hastings, author of the book The Björling Sound, contributes a profound analysis of the Copenhagen concert, full of insight as usual, and there are also contributions by John H. Haley, Dan Shea and Seth B. Winner. A quality issue, in other words. Should be in every Jussi Björling collection.
Göran Forsling
The CD (JSP RECORDS JSP682) is available from:
JSP Records
PO Box 1584
London N3 3NW
England
www.jsprecords.com
---
Il Trovatore 1941
There are five live recordings of Jussi Björling as Manrico in Il Trovatore and one studio recording. The second live recording, from the Met January 1941, was reissued in September 2015 on CD by the Canadian label Immortal Performances (IPCD 1052-2). The critic Henry Fogel in Fanfare is as impressed by the sound as by Jussi's performance. He thinks that the sound engineer Richard Caniell "has performed his usual miracles with the sound restoration", and that the sound "comes shockingly close" to a professionally made 1941 studio recording.
Stephen Hastings writes about Jussi and this Trovatore: "Each of his recorded Manricos is a performance to treasure, but the broadcast relayed from the Met on January 11, 1941 is the most idiomatic in spirit, the most vividly exciting in its narrative sweep, arousing a suitably noisy response from the audience…"
Fogel stresses that this recording refutes once more the misconception that Jussi could not also perform a role well from a dramatic point of view. "Björling on this evening in New York, was unbuttoned, alive to nuance and fully involved in the drama, all without sacrificing his wonderful legato and sense of phrasing… this is a vital, red-blooded Manrico… " The same critic has also high praise for Azucena, Bruna Castagna: "we would kill to have a Verdi mezzo like this in today's operatic world". He also thinks that Norina Greco as Leonora and Francesco Valentino as Di Luna are assets to the performance, and sees the conductor, Ferruccio Calusio, as responsible for "the fact that this performance is so much more than great singing".
A valuable bonus in the issue is Jussi' Voice of Firestone concert 10 March 1952, which has never before been published in its entirety. Jussi, "in terrific voice", performed Nessun dorma! and songs in English and Italian. Fogel finds the sound here quite comparable to a studio recording from the same period. The issue also contains an illustrated booklet with a comprehensive commentary by the Björling expert Stephen Hastings.
To read Fogel's complete review, click here: http://immortalperformances.org/reviews.php?d=77822
---
Sonys Aida 1955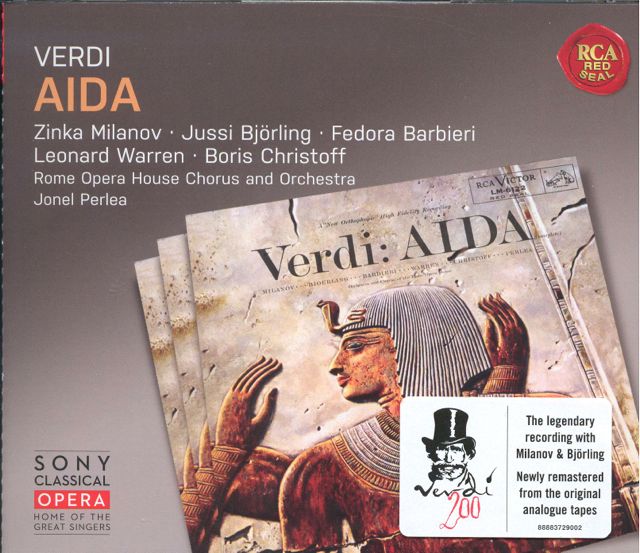 THE 1955 STUDIO RECORDING of Aida where Jussi Björling is partnered by Zinka Milanov, Fedora Barbieri, Leonard Warren and Boris Christoff, is generally regarded as one of the best ever, and it is the only Aida preserved with Jussi.
Few could accentuate the lyric side of the warrior in love as he did without losing the heroic aspect. In his analysis, Stephen Hastings especially stresses Jussi's "supreme musical refinement" in the Act I "Celeste Aida" in the final scene.
This recording was recently re-released by Sony / RCA Red Seal (88883729002). It has been transferred with the latest technology from the original tapes to which only the recording company has access.
As a result, this mono recording can be heard in a sound which "for depth, transparency, clarity and dynamic range holds its own with any and every Aida recording of any vintage," to quote one of the enthusiastic commentaries on Amazon.
Those who happen not to own this recording should buy this issue, and those who own earlier versions are most likely to be positively surprised. The recording itself comprises as usual three CDs, but the libretto is available on a fourth CD-ROM.
Let us hope that Sony makes a similar reissue of Jussi's Trovatore!
Harald Henrysson
---
Jussi Björling The World Star Live On Stage.
ON THE DOCUMENTS LABEL, German Membran Records issue one more 10-CD-box with Jussi recordings, this time exclusively live stage recordings. Documents are well known for their CD-boxes at budget and medium price.
This latest issue is entitled Jussi Björling The World Star Live On Stage. (Documents 600129) 10-CD-box containing 110 excerpts from 26 different performances and concerts.
Price: SEK 150, incl. postage for members of the The Jussi Björling Society
For non-members SEK 150 + postage
Read Documents blurb for this issue:
"When Jussi Björling died at the age of only 49 on September 9th 1960 following a heart attack, the music world lost one of the most outstanding tenors of the 20th century. This 10CD set includes his performances in the great operas of Verdi and Puccini, Gounod's "Faust" and "Romeo and Juliet", as well as Mascagni's "Cavalleria Rusticana" and Leoncavallo's "I Pagliacci".
The career of the legendary Swedish tenor Jussi Björling began with performances at the Royal Opera, Stockholm and then in Vienna and Berlin, before his triumphant London début in Verdi's "Il Trovatore". Excerpts from these can be heard in this collection along with Björling's great appearances at the New York "Met" in operas like "Don Carlo", as well as in one of the most demanding of Verdi's tenor roles, that of Riccardo in "Un Ballo in Maschera". Especially interesting is the inclusion in the set of recordings of French and Italian operas that Björling made in Swedish, his mother tongue".
---
Jussi's Masked Ball Embellishes the Verdi Jubilee
THE CANADIAN record company Immortal Performances has recently issued a double-CD with the famous recording of Un ballo in maschera from the Metropolitan on 14 December 1940 with Jussi, Zinka Milanov, Bruna Castagna and Alexander Svéd in the leading roles.
As a bonus a never before issued recording with Jussi is included. It is the finale of Act I from Puccini's La bohème, from a performance on 25 September 1949 at the San Francisco Opera.
The premiere on 2 December 1940 was the first time Jussi opened the Met season, and the first time he appeared as Gustavus III in the opera written about the murder of the Swedish King. At the Stockholm Opera – founded by Gustavus III! – he sang in the traditional version where he was English Governor in Boston.
The issue is a very fine contribution to the Verdi Jubilee. The recording has been issued many times in varied quality, but here it is accompanied with an exhaustive essay by Stephen Hastings, the author of The Björling Sound, and he says in his commentary that in this newly-restored recording 'Richard Caniell has done a magnificent job in recapturing the sound of the voices as projected in the opera house.' Caniell himself describes the sound as 'comparable to commercial recordings of this era'.
Kristian Krogholm from Norway, well known for his reviews in the Jussi Björling Magazine, writes: '...this is indeed the best sound I have heard of this performance ... basically in the purity of the sound and the balance and the proportions of forte and fortissimo. You can hear how the beautiful voice of Björling (in particular) with its absolute focus and silvery trumpet is carried out in the big space. In duets with the bigvoiced Zinka Milanov, Björling's overtones always sail above everything.'
Krogholm also reminds us that 'The Romeo et Juliette released by Immortal Performances a few years back is by and large way ahead of all competition, and have the same quality.' This issue (IPCD 1003-2) can also be ordered from the Björling Museum.
It should be pointed out that a pirate label, based in the US, has adopted the same name and with their very plain issues on CD-R, sponge upon the good reputation Richard Caniell's Canadian company Immortal Performances has. The American company even issued a Romeo et Juliette of their own, almost simultaneously, IP-210. Both the Canadian Immortal Performances issues can be ordered from the museum.
Un ballo in maschera: Price: SEK 290 (members), SEK 340 (non-members)
---
Further Interesting Issues from the Last Few Years
Order through the Jussi Björling Shop. Postage will be added.
Jussi Björling Collection.
11 CDs – three of which never before issued in the Naxos series – in De Luxe-box with 100 p booklet.
Naxos 8.101101 Price: SEK 450
TOP RATING IN SVENSKA DAGBLADET
TOP RATING IN SYDSVENSKAN
Swedish Tenor Cult Reaches New Summit: Naxos' Jussi Björling Collection, 10 CDs with 98-page booklet, everything utterly reliable. Here is "everything" with Jussi, except complete opera recordings. Those who still are curious about Jussi need look no further."
(Sydsvenskan)
Jussi Björling Collection – Jussi Björling is beyond doubt one of the all time greatest singers of the world. This box, containing 11 CDs, is the most all-embracing reflection of his outstanding career. Not only does it contain the great majority of the various arias and songs Jussi recorded, but the sound from the old recordings has been very carefully restored with the most modern technique. In the box is enclosed a 100-page textbook with comments about the recordings, written by Harald Henrysson. They are here only in Swedish, but Naxos also planned an English version which has not yet appeared.
"The arguments for a more comprehensive box with Jussi are many. The all-time greatest tenor was Swedish. He drew 10,000 – 15,000 people to Skansen and Gröna Lund every time... He singing was so pure and fresh and unforced like no singer before him ever managed. He was loved by all of Sweden and is still simply Jussi with the whole people.
These transfers have been made in a new way: as far as possible noise reduction and other technical devices have been avoided, devices that diminish the riches of overtones and dynamics in the voice. Jussi's voice here sounds more dynamic and full of life than ever before." (Kristian Krogholm, Norwegian Jussi expert and music reviewer)
The transfers ("in a new way") have been made according to the recording graph, not the recommended playback graph. This implies that the recordings are transferred according to the same method as they were recorded, which means that we are hearing more of Jussi's overtones and the instruments get a more natural sound. The only drawback is that more hiss and background noise from record-wear stand out.
The transfers were made during a period of ten years, which means that the sound is somewhat variable – tools have changed and improved during all these years. The best tools on the market have been used for transfers, noise reduction, de-clicking and reduction of record-wear. The biggest differences in sound quality are however due to how worn the available records were."
(Stefan Lindström, sound restoration engineer Jussi Björling Collection)
Jussi Björling in concert: Finland & USA
Double-CD from Bluebell.
Previously unissued material from from Helsinki 1951 and 1955, New Orleans 1955, Ford Sunday Evening Hour 1940, Telephone Hour 1948 and Ed Sullivan Show 1957.
Bluebell ABCD 116 Price SEK 180
Jussi Björling: The Swedish Caruso
10-CD-Box from Documents (Membran)
Recorded 1929 – 1959.
Documents 600034 Price SEK 150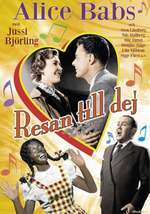 "Resan till Dej" on dvd, Studio S, S326 (PAL)
Swedish feature film from 1953. A line-up of then well-known Swedish actors takes part with Alice Babs and Sven Lindberg in the two leading roles. Jussi Björling plays himself and sings two excellent numbers, Celeste Aïda and Till havs. The director of the film, Stig Olin, managed to persuade Jussi to sing his two numbers at a special price of SEK 6,000.
Studio S S326 Price SEK 175
The Björling Sound, A Recorded legacy
A book by the English-Italian music critic Stephen Hastings who extensively discusses all the important Jussi-recordings. The book comprises 406 pages and Hastings analyzes the recordings in depth and also makes comparisons with other famous tenors.
Price: SEK 350
Jussi - Sången, människan, bilderna
Jacob Forsell's pictorial biography with a main text by Björn Ranelid. Photographer Jacob Forsell is grandson of John Forsell, legendary manager of the Royal Opera in Stockholm and the person who discovered Jussi. A magnificent volume of 260 pages, only available in Swedish. However, it includes a CD with 19 sound tracks and CD-ROM part in Swedish and English. The latter contains the never before published, detailed chronology of Jussi's 3003 known performances 1915-1960, compiled by Harald Henrysson and Roger Alderstrand.
Price: SEK 330
In addition:
Turandot
Double-CD from Documents with the complete recording from 1959 with Birgit Nilsson and Renata Tebaldi
Documents 233480 Price SEK 150
Gösta Björling
For the first time Jussi's little brother Gösta is now available on CD. 23 tracks with popular songs and opera. On two of the tracks we also hear Olle, Karl and Rolf Björling.
Oak Grove 2029 Price SEK 120
Jussi Björling, The Complete RCA Album Collection.
14 CDs with songs, arias and duets and highlights from complete opera recordings from RCA.
RCA 88697748922 Price SEK 300

Roméo et Juliette, from the Metropolitan Opera 1947.
Double-CD from Sony Music. Complete recording.
Sony 88697804652 Price SEK 170
Jussi Björling at Gröna Lund
3-CD-Box with all the preserved recordings from Gröna Lund in Stockholm 1950 – 1960. Contains previously un-issued material.
Bluebell ABCD114 Price SEK 200
Jussi Björling Live: Broadcast Concerts 1937-1960
4-CD-Box with broadcast recordings from USA 1937 – 1956 and from Sweden 1952 – 1960. Contains previously un-issued recordings and others that have been available but here in far superior transfers.
West Hill Radio Archives WHRA6036 Price SEK 300
Faust from the Metropolitan Opera 1959
Double-CD. Complete recording.
Myto 00174 Price SEK 150
Including the latest issues 34 complete operas and choral works with Jussi are available from the Jussi Björling Shop – several of them in more than one version.