Jussi Björling: Three Societies, Four Books, One Museum
New Book from the Jussi Björling Society - USA
This new book published by JBS-USA describes the founding of the three Jussi Björling Societies, the writing of the four "basic" books about the tenor, and the history and founding of the Jussi Björling Museum – all told in the enthusiastic words of the founders and authors themselves.
Contributing chapters to this book are the founders of the Jussi Björling Society – USA, the Jussi Björling Appreciation Society in the UK, and the Jussi Björlingsällskapet in Sweden, all of whom have fascinating tales of their challenges and achievements.
---
Jussi's Chronology Updated (2022)
In August 1960, 62 years ago in the month when this is published, Jussi made his three last public performances. His Gothenburg concert on 5 August was recorded and proves that he was still at the top of his abilities.
The total number of his known performances is now 3180. That means that 26 have been added since the latest version of the Jussi Björling Chronology was published on the web in February 2019, and that the mapping of his career continues.
Click on Performances
---
David Björling
(For English text, see below)
Jussi Björlings far David var hans första lärare och hade avgörande betydelse för hans och hans bröder Olle och Göstas utveckling till sångare. David framträdde tillsammans med sina söner 1915-26 i den ensemble som han kom att kalla Björlingkvartetten.
Under en vistelse i Amerika 1899-1907 utbildades David Björling till operasångare och inledde sin karriär som konsertsångare. 1919-21 återvände han dit och turnerade från kust till kust med de tre sönerna.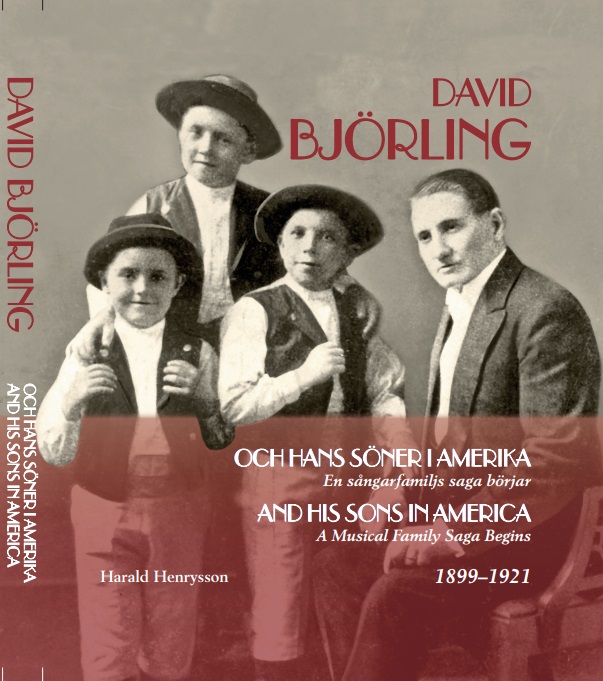 Till 100-årsminnet av denna turné, som inleddes i oktober 1919, har Harald Henrysson, tidigare chef för Jussi Björlingmuseet, publicerat en tvåspråkig bok. Den har titeln "David Björling och hans söner i Amerika: En sångarfamiljs saga börjar, 1899 -1921". Den 158-sidiga boken är inbunden och illustrerad i svartvitt och färg. Utgivare: Förlags AB Björnen, Borlänge. Boken behandlar Davids båda amerikanska vistelser, med en omfattande kartläggning av hans framträdanden ensam och tillsammans med sönerna. Den stora framgången för deras märkliga turné återspeglas framför allt i mängder av pressklipp.
---
Recording lists updated
To the lists of Jussi's recordings, 65 issues in different formats have just been added. Of special interest are new CDs in fine sound with two of his best live recordings as Des Grieux in Manon Lescaut,
Pristine Audio PACO158 contains the Met performance of 31 March 1956 with Licia Albanese as Manon and Frank Guarrera as Lescaut, conducted by Dmitri Mitropoulos.
Immortal Performances IPCD 1110-2 offers the Stockholm performance of 1 november 1959 where Jussi sings in Italian, the others in Swedish. Hjördis Schymberg is Manon and Hugo Hasslo Lescaut with Nils Grevillius conducting. That issue also has interesting bonuses, among them the never before released 1959 TV recording from the London Palladium, with Jussi in Turiddu's farewell and E lucevan le stelle, his Nessun dorma! from Hollywood Bowl 1949 and a new transfer of the 1954 Söder Hospital Christmas concert.
Click here to get to Recording lists
---
New "thrilling" Manon Lescaut with Jussi issued.
It wasn't long ago that we reported on our website that a double-CD will be issued with Jussi in a performance of Manon Lescaut at the Stockholm Opera in 1959 (scroll down for more information). Now another double-CD is coming up with Manon Lescaut with Jussi! This is a performance at the Metropolitan in 1956, now issued by Pristine.
The performance is brought out as the most thrilling of Jussi's recordings of this opera:
" The Met broadcast of 1956 is by far the most exciting of Björling's four recordings, capturing the full range of his vocal colours, his resplendent tone, and above all his passion. The opening aria, 'Tra voi, belle' has just the right degree of lightness and frivolity, but by Act 3 'Non! Pazzo son!' is tormented, anguished and replete with as much dramatic tension as anyone could want. The duet in Act 4 allows him to showcase his exceptionally beautiful voice (including a soaring, seemingly effortless, high C)."
The recording is already for purchase online. Click here.
---