Successful Summer Concerts 2013
THE JUSSI BJÖRLING SOCIETY arranged six successful concerts during the summer of 2013. The first two took place on 8-9 July at Voxnabruk in the Province of Hälsingland. After that the Society for the first time arranged a concert in Gothenburg, at the amusement park Liseberg on 28 July. In Stockholm two concerts were held on 7 August at Kungsträdgården (The King's Garden) and on 10 August at Skansen. The final concert took place at Strömsbruk in Hälsingland on 31 August and 1 September. More than 2,700 visitors attended out indoor and outdoor activities.
Two days' Jussi Festival at Voxna
Jussi Björling had deep roots at Voxna
VOXNABRUK IS AN OLD industrial community in the northwest part of Hälsingland. There one can find Voxna Church and remnants from the industrial era in the shape of mines, smithy, blast-furnace and mansion. For 150 years and five generations Jussi Björling's ancestors lived and worked at Voxnabruk. Many inhabitants are still relations to Jussi, who performed in Voxna Church in 1918 and 1922 with his father and brothers in the Björling Quartet.
This is the background to why The Jussi Björling Society for the thirteenth year in a row arranged the Jussi Festival at Voxna on 8 and 9 July.
How the Björling Family Came to Voxna
The secretary of Society Stefan Olmårs by monument of Jussis Ancestors
300 YERAS AGO Voxna was mainly wilderness. But in the 1720s iron ore was found at Gymåsberget, and within a few years a prospering industry developed. Many workers for some reason came from Norrbärke in the south part of Dalarna.
One of them was Anders Andersson. He arrived in 1747 and since many of his colleagues were named Andersson they called him Björn (Bear), since he was big and strong and rather impudent. This fits well to later generation of the Björling family as well.
The Björn family worked for generations at the industry, primarily at the blast-furnace. There were through the years 17 ironmasters at Voxnabruk and Jussi's ancestors worked for all 17. The last one was Jussi's grandfather Lars Johan Björn. In 1867 he moved to Strömsbruk where he was employed as senior smith.
In 1880 the family moved to the home district of his wife Matilda in Finland. It was at that time they adopted the family name Björling. When times grew bad in Finland the whole family moved to Borlänge. One of the sons was David (born at Strömsbruk). He had four sons: Olle, Jussi, Gösta and Karl. Jussi was originally named Johan but probably got his pet name from his grandmother who was Finnish.
The Church of Voxna
WHEN THE BOYS GREW UP
David toured with them under the name The Björling Quartet. They were very successful and when they appeared at Voxna Church in 1918 and 1922 many relatives came to hear them. In 2001 a memorial to the Björling family was erected and the same year The Jussi Björling Society also arranged the first concert at Voxna Church.
---
Debut for the Society at Liseberg

​​ON 28 JULY 2013 The Jussi Björling Society for the first time arranged a concert to the memory of Jussi Björling at the amusement park Liseberg in Gothenburg. At Liseberg Jussi appeared 27 times, the last time in 1958.
On the Taube* Stage, before an audience of a few hundred, tenor Mats Carlsson, the first Jussi Björling Society Prize Winner in 2008, sang arias and Swedish songs from Jussi's repertoire. He was accompanied by Johan Ullén. Compere was Bertil Bengtsson.
*Evert Taube (1890-1976) was a legandary and enormously poular poet and singer/songwriter who grew up not far fron Gothenburg.
Jussi's Debut at Liseberg
82 YEARS BEFORE the debut of the Society, Jussi Björling made his first appearance at Liseberg, more precisely on 22 July 1931. The concert, which took place in the Concert Hall, was free of charge.
The following day the 20-year-old singer was hailed by the press. "Assuredly Mr Björling must be counted among the most promising of our young singers. In the near future we should hear great things about him", wrote Göteborgs-Tidningen.
As a matter of curiosity can be added that he was paid SEK 200 for his appearance. Such a low fee he never got at Liseberg in the future.
---
Jussi and Birgit at "Kungsan"

ON 7 AUGUST 2013 a lunchtime concert was carried through for the second year in a row at Kungsträdgården (King's Garden) in central Stockholm, "A concert to the memories of Jussi Björling and Birgit Nilsson", jointly arranged by the two societies.
The stage is conveniently situated between Jussi Björling Avenue and Birgit Nilsson Avenue. The address is 5 Jussi Björling Avenue.
---
Jussi Björling Day at Skansen
THE SOLIDEN STAGE at Skansen was one of Jussi Björling's definitive favourite stages, and he sang there more than fifty times. His last concert on this stage was on 20 August 1960, only a couple of weeks before he died in a heart attack at his summer house in Siarö on 9 September 1960.
It was a truly hot summer day when The Jussi Björling Society arranged the third Jussi Björling Day at Skansen in Stockholm on 10 August 2013 before an audience of ca 1,500.
---
Jussi Festival at Strömsbruk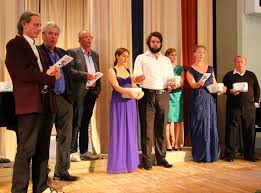 THE EIGHTH Jussi Festival at Strömsbruk, on the coast of Hälsingland, took place 31 August – 1 September 2013. Jussi's close connections to Strömsbruk was the reason that The Jussi Björling Society in 2006 decided to arrange concerts in the spirit of Jussi, and this has since become a tradition.
David Björling's Place of Birth at Strömsbruk
THIS IS THE HOUSE at Strömsbruk where Jussi's grandparents lived. His grandfather was senior smith at the local ironworks and moved to Strömsbruk in 1867. In this house, which still exists and is inhabited, Jussi's father David was born in 1873. The family lived here until 1880, when they moved to Finland, where Jussi's grandmother Matilda was born.
Jussi sang in the Mission House at Strömsbruk in 1916 together with his father and his brothers.
This year's Jussi Festival took place as usual in the local concert hall, Strömshall which was sold out, and ca 200 visitors were welcomed by Stefan Olmårs from the Society. He was also compère and organizer.
---