Jussi of the Month – October 2013
Jussi's first USA-tour after the War
In October 1945 an important event occurred in Jussi's career. It was at last time for Jussi's first tour in America after WW2. USA had after the end of the war opened the borders for foreign artists. One of the most longed-for was Jussi Björling from Stora Tuna.
Jussi had, during his tours in USA 1937 – 41 built up his reputation as one of the foremost tenors of the world and taken the American public and the critics with storm. For this reason Jussi as well as the public were looking forward to his return and it was to be a very long and successful tour.
Jussi to USA in Spite of the War
In spite of the outbreak of the war on 1 September 1939 Jussi made two long tours in America before USA was drawn into the war in 1941. He gave concerts, sang opera and made recordings between 20 November 1939 and 1 March 1940 and between 18 October 1940 and 27 February 1941.
When Jussi went to USA in those years, the common thing was to use the transatlantic liners, a voyage that took nine days.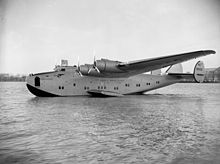 Boing 314 Yankee Clipper
When the visit to USA in November was planned, the danger for mines excluded a boat voyage. Instead he went by train through a Europe in unrest, and then by air, a Boeing 314 Yankee Clipper, the biggest airliner of the day. The air journey from Lisbon via the Azores and the Bermudas to New York took 26 hours. This was the first time that his wife Anna-Lisa didn't accompany him to America.
The tour started in San Francisco on 18 October 1940 and the last appearance was on 27 February at the Metropolitan Opera as the Duke in Rigoletto. After that Jussi returned to Sweden. USA was drawn into the war and Jussi refused to go there. Not until four years later did he return.
In spite of the war Jussi undertook quite a number of journeys in Europe, but mainly he toured in Sweden.
Jussi Back in USA
It was not until October 1945 that Jussi returned to USA for his first tour after WW2. USA opened its borders for foreign artists, offers started to arrive to Jussi and his Swedish agent Helmer Enwall started sorting out the details.
On 29 September Jussi's autobiography Med bagaget i strupen (My Throat is my Luggage) was published and in early October it was eventually time for Jussi's first tour in USA after the war as the first European artist of importance.
Accompanist was now for the first time Frederick Schauwecker, who was to be his permanent companion during the intense tours in America. As opera singer he now appeared in Los Angeles with the San Francisco Opera, and with the Metropolitan Opera, where his Cavaradossi in Tosca was a new role, both in New York and on tour.
Dramatic air flight
Douglas DC-4 Skymaster C-54 Transport med plats för 42 passagerare
This time, in October 1945, Jussi didn't bring his wife Anna-Lisa as passenger on board one of Swedish America Line's across the North Atlantic. 1945 was the year before the creation of the airline company SAS and civil passenger traffic between America and Scandinavia had not yet got started. Permit had been granted him to go along on a big American military plane, a DC-4 Skymaster from Army Air Transport Command on its way home with military staff having been stationed in Europe during the war. Besides Anna-Lisa and Jussi were among the passengers Sweden's new Ambassador to Washington, Herman Eriksson, the Danish tenor Lauritz Melchior and his German born wife Maria.
The plane had to make touchdowns for refuelling in Iceland and at Goose Bay in Labrador. Over North America a terrible storm broke out with enormous air-pockets, one of the engines ceased functioning and the plane had to touchdown in Maine for an overhaul of the engine. But at last the plane, after almost 36 hours' flight, landed in New York.
Flashy Welcome
At La Guardia Airport outside New York they were met by fireworks from a great number of photographers' flashlights, someone was waving a poster with the text "Welcome Home!"
Jussi was much longed-for after his successful tours 1937 – 41
The arrival at La Guardia Air Posrt in New York, October 1945. From left: Maria Melchior, Herman Eriksson, Anna-Lisa, Lauritz Melchior and Jussi.
Jussi's return to USA was announced in the New York dailies and The New York Time wrote: "Mr Björling, Met's Swedish tenor, to make a concert tour through USA, Canada and Cuba".
The tour opened in Detroit on 7 October with a broadcast concert by the radio company ABC "Ford Sunday Evening Hour".
Fortunately the recording with Jussi from this concert has been preserved.
Listen to "Jeg elsker dig" from 7 October 1945
On 9 November 1945 the San Francisco Opera presented La bohème in Los Angeles with Jussi as Rodolfo. The performance before an audience of 6,000 was a resounding success for Jussi. After his Che gelida manina the applause and ovations were so strong that they stopped the performance for quite some time and Jussi's high C impressed greatly.
Jussi returned to New York and made a solo performance there on 19 November 1945 in a broadcast performance from NBC in the programme "Voice of Firestone". From this broadcast you can listen to one of the six numbers that Jussi performed.
Listen here to "Instant charmant..en fermant les yeux" from Manon av Massenet.
Back at the Metropolitan after almost five years
The previous time Jussi appeared at the Met was on 27 February 1941 in the role of the Duke of Mantua in Rigoletto. Almost five years later, on 25 November 1945, Jussi was back on the Met stage for his first performance after war, in the same role.
It was a brilliant performance which was repeated three times and in its entirety was broadcast on 29 December 1945. Jussi's La donna è mobile from this broadcast is by many regarded as his best reading of the aria.
Listen to "La donna 'e mobile" from 29 December 1945
Programme leaflet from Metropolitan 29 December 1945 with Jussi as Duke in Rigoletto
Flying Start for Jussi 1946
Jussi had a flying start with La bohème at the Metropolitan on 1 January 1946, Tosca on 11 January and after that it was time for a new tour, starting in Detroit.
Then followed several months of intense travelling about across the American continent, right up to May 1946 with finale at Carnegie Hall in New York on 15 May. The whole tour from October 1945 until May 1946 encompassed more than 60 broadcasts, opera performances and solo recitals, including nine performances at the Metropolitan, eight appearances in Canada and two in Cuba.
The tour was both long and fortunate, both artistically and financially. Jussi appeared at both small and big places. That he also sang at small places was very surprising to his colleagues. Anna-Lisa worked out how far they had travelled by train and air during the tour of USA, Canada and Cuba and arrived at the conclusion that the distance was the equivalent to twice around the earth.
After this intense tour Jussi and Anna-Lisa returned to Sweden. On 29 May Jussi appeared at Liseberg in Gothenburg. Then he had a couple of months for rest at his beloved summer house at Siarö with breaks for a couple of summer concerts at Skansen and Gröna Lund.