Jussi of the Month - November 2013
Success with one of Caruso's show-pieces
Jussi november 1948
After the war Jussi was in the US attached to Columbia Artists Management, one of the biggest artist agencies in the world and one of the first to introduce musicians to radio and television.
When Jussi returned to the US after the war, Fred Schang was Head of the Management and he also became Jussi's American agent and remained in this capacity for the rest of Jussi's life.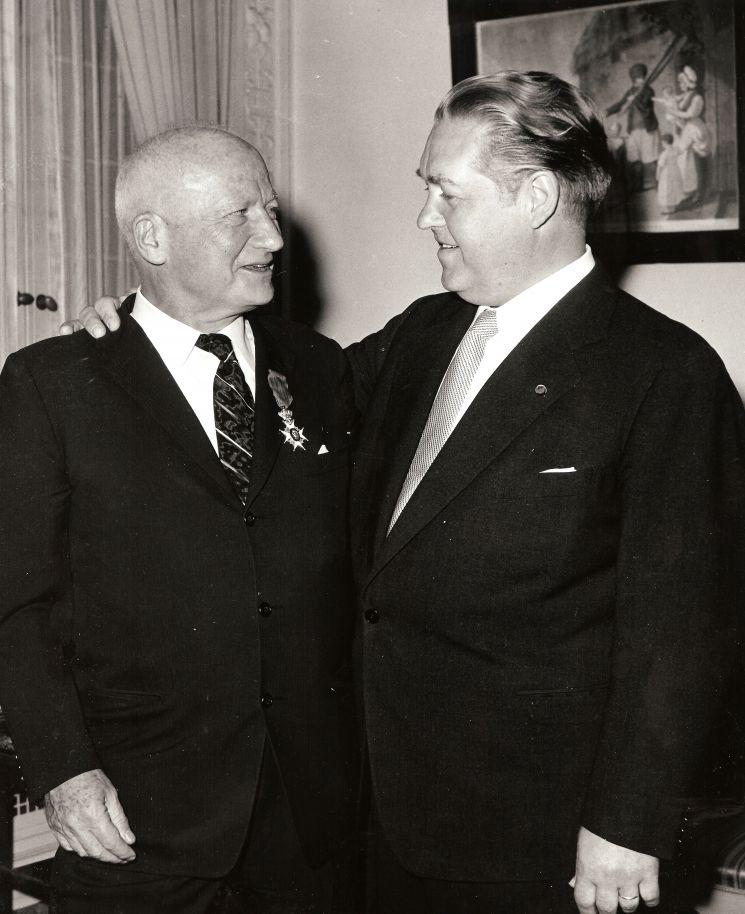 Fred Schang and Jussi at the end off 1950th.
Schang managed to arrange that Jussi opened the prestigious radio programme The Bell Telephone Hour (known as Telephone Hour) on 15 November 1948. Telephone Hour was a longstanding concert series 1940 – 1958, live broadcast from a studio at Rockefeller Center in New York, sponsored by Bell Telephone and presenting the best of classical music and Broadway Musical. The programme was heard by 8-9 million listeners every week and most of the great opera- and musical artists appeared there regularly.
Now Schang, who once worked for Caruso, wanted to launch something new and opted for L'alba separa dalla luce l'ombra (Dawn separates day from night) which Caruso used to sing as an encore. The lyrics are by Gabriele D'Annunzio, set to music by Caruso's friend Paolo Tosti.
Enrico Caruso
The friends Tosti and Caruso
Schang phoned Jussi, asking him to come to his office. There he played Caruso's recording from 1917. In Mitt liv med Jussi (My Life With Jussi) Anna-Lisa Björling relates what then happened:
- What do you think of this? Freddie asked.
- Play it again! exclaimed Jussi. Then he tore off his tie, unbuttoned the collar and sang together with Caruso.
- Sang, Freddie described to me afterwards, so that the window-panes rattled from the vibrations!
Record label Carusos recording 15.4 1917
Record label Jussis recording 11.8. 1949
In the radio programme the song was a sensation, the sheet-music was reissued as 'Sung by Jussi Bjoerling' and Jussi recorded it next year in Sweden under Nils Grevillius. He liked to hear Caruso's rendition – which became the model for his own reading – and the record was a long time on the turntable of Jussi's 78rpm gramophone in his studio at Siarö. Now the gramophone is in the Jussi Björling Museum at Borlänge.
Even though the song is primarily associated with Caruso, who launched it, it was not totally forgotten. The famous tenor Tito Schipa recorded it in 1938, for instance.
Jussi sang L'alba also during his US tour in spring 1949. In April he performed it in a more surprising context, during the concert Sweden in Music at Carnegie Hall. Maybe Jussi's temporary accompanist James Quillan had no more Swedish songs in his repertoire?
The first performance in Sweden was probably at Gröna Lund on 16 June 1949, when a reviewer noted an encore, which he by way of precaution called 'a thing by Tosti', and Jussi sang L'alba at least until 1959. There are 11 recordings with Jussi, the last one from New Orleans 1955.
Paolo Tosti 1946-1916
L'alba is regarded as one of Tosti's best songs. It is characterized, like many of them, by melancholy sensuality and deals with Love, night, death and eternity, recurring themes in D'Annunzio's melodious poetry, and ends with a magnificent intensification to what someone called a 'Liebestod light'. Few have sung it more intensely than Jussi Björling.
The first stanza follows below:
L'alba separa dalla luce l'ombra,
E la mia voluttà dal mio desire.
O dolci stelle, è l'ora di morire.
Un più divino amor dal ciel vi sgombra.
The dawn separates the darkness from the light
and my delight from my desire.
O sweet stars, it is time to die.
A love more sacred drives you off from the sky.
Jussi's successful performance of the song on Bell Telephone Hour on 15 November 1948 has luckily been preserved, and here you can listen to when Jussi for the first time performed it before a captivated audience.
We have picked out four different recordings of L'alba, one with Caruso and three with Jussi.
1. First listen to Caruso's studio recording of L'alba separa dalla luce I'ombra from 15 April 1917, the only existing recording of the song with Caruso and exactly the recording that Schang played for Jussi in 1948.
2. Jussi's first studio recording, set down in Stockholm on 11 August 1949, conducted by Nils Grevillius.
3. The recording with Jussi from the successful concert on Bell Telephone Hour, on 15 November 1948. Bell Telephone Orchestra. Cond. Donald Voorhees.
4. Jussi's last recording of the song, from a live concert in New Orleans on 14 December 1955. Fredrick Schauwecker at the piano.
1. L'alba. Enrico Caruso's only recording from 1917
2. L'alba. Jussi's first studio recording 1949
3. L'alba. Jussi from Telephone Hour 1948
4. L'alba. Jussi's last recording. 1955
Click the record labels and listen to Caruso and Jussi!
1. Enrico Caruso's only recording from 1917
2. Jussi's first studio recording 1949
3. Jussi from Telephone Hour 1948
4. Jussi's last recording 1955
Listen to Caruso when he sings to a modern symphony orchestra.
At the turn of the millennium conductor Gottfried Rabi presented the result of a fantastically devoted work. The object was to let Enrico Caruso sing with a modern symphony orchestra, more than 80 years after he made his recordings. It is controversial and some people call it even unethical.
Three CDs were issued between 2000 and 2003 (The Digital Recordings. Enrico Caruso) and the result is impressive. It gives a hint at what a giant and unbelievably great singer he was. But of course, Jussi's great idol must have been something special!
Click the record sleeve and listen to Caruso with a modern symphony orchestra singing L'alba separa dalla luce I'ombra.