Jussi of the Month
The Success in Vienna 1936


Wiener Staatsoper 1936
Jussi's Career Gathers Momentum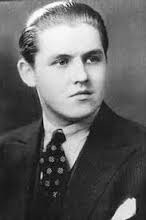 IN SPRING 1936 Jussi was booked for an appearance on Austrian Radio on 12 March and the day after a concert in the great hall of Musikverein.
Jussi opened the radio programme with Cielo e mar from La Gioconda and finished with Che gelida manina from La bohème.
The broadcast resulted in next day's concert being sold out. "Jussi Björling, an unknown Swedish tenor, conquered the critical audience with his very first notes," wrote Österreichische Volkspresse. Also the other newspapers wrote about a "tremendous success" and praised "his beautiful voice and brilliant upper register".
Immediately after the broadcast Jussi was engaged by the Vienna State Opera for a guest appearance later that spring, making his debut in Il trovatore on 28 May. After the success in Vienna on 12 and 13 March Jussi as usual kept up the speed with two opera performances in Prague, a concert in Copenhagen, around ten opera performances at the Stockholm Opera, back to Prague on 20 May and after that Brno on 23 May.
Here the Björling Legend Was Born
Both audiences and critics were beside themselves of delight, and after the performances of Faust and La traviata in Prague Jussi was met with ovations of a kind that he had never experienced on his home ground. Jussi thought it almost a bit awkward with all this advance publicity. He wondered how he would be able to live up to such high expectations. It was now, it has been said, that the Björling legend was born.
On 28 May he made his Vienne State Opera debut as Manrico in Il trovatore and on 1 June as Rodolfo in La bohème.
Jussi in Aida at the Vienna State Opera
Jussi opened Wiener Festwochen on 7 June 1936 with Aida at the Vienna State Opera. "He sang the romance effortlessly, tastefully, as only a young singer endowed with a magnificent voice can" (Neue Freie Presse). The reviewer L. wrote: "In particular the lyrical moments are close to perfect. There is a magic tenderness … the voice control masters every detail". Der Tagblatt noted: "This singer, a true artist, has no need to impress with sensational top notes; rather he conquers the listener with noble artistry."
Jussi och den ungerska sopranen Maria Németh (1897-1975)
In the performance of Aida Jussi sang his role in Swedish, the others in German. The role of Aida was sung by the Hungarian soprano Maria Németh, one of the foremost dramatic sopranos of the interwar years.
The Valkyrie Who Rejected Hitler
Amneris was sung by Kerstin Thorborg from Dalecarlia in Sweden (the same province where Jussi Björling was born). She was the leading contralto and mezzo-soprano of the world's opera stages at the time and by the side of Jussi the greatest Swedish name on the international opera circuit, in particular as Wagner singer.
Kerstin Thorborg was engaged at the Vienna State Opera 1935-38 but Metropolitan later became her home-ground, where she sang more than 300 performances. The conductor Toscanini named her "The Caruso of the Contraltos" and she often sang with the greatest conductors, like Wilhelm Furtwängler and Bruno Walter.
Kerstin Thorborg 1896-1970
Thorborg was engaged at the Berlin State Opera 1933-35 but gradually she became ever more hateful towards Nazism and didn't renew her contract. Upon "The Third Reich" annexation of Austria in 1938 she immediately broke her contract with the State Opera, arousing quite some stir. For this she derived a fair amount of scorn in Stockholm newspapers.
The Conductor Victor de Sabata was fascinated by Jussi's singing.
Victor De Sabata 1892-1967
The person most impressed with Jussi's Ramadés was the conductor, as Jussi himself recalled "Maestro (Victor) de Sabata was so fascinated by my singing that he wanted me to go immediately to Italy with him, but I had engagements at the Stockholm Opera and couldn't accept his invitation. Accordingly to my contract I had a couple of months' leave, and I was to honour all my foreign commitments during this time".
It was true; Jussi received many contract offers, but the restrictions imposed by his contract with the Stockholm Opera obliged him to turn most down.
Richard Tauber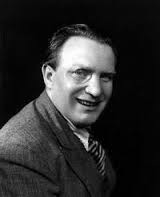 Richard Tauber 1891-1948
One of his nights off, as Jussi had from his earliest years, Jussi went to hear other singers perform, as much for musical enjoyment as for learning experience.
When he went backstage to congratulate the soloist of Franz Lehár's latest operetta, Giuditta, he developed an instant rapport with the famous Austrian tenor Richard Tauber.
Jussi wrote:
"During my sojourn in Vienna, I was often with Richard Tauber. Tauber was charming company, and we had a good time together. He noticed my youthful admiration, but his natural manner and self-irony helped me get over my awkwardness. Although I have met many good friends and unpretentious people, very few have been like Tauber. I wonder sometimes if the really great artists ever need to put on airs".
JohnForsell visited Vienna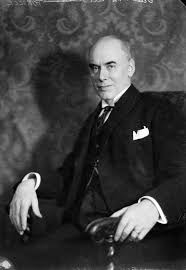 John Forsell 1868-1941
John Forsell, manager of the Stockholm Opera, and his son Björn had travelled to Vienna to support Jussi in his first performance in one of Europe´s great music centers, and Jussi was delighted they were on hand for his triumph. In New York Herald Tribune (5 July 1936), Herbert F. Peyser reported that the Viennese expected just another songbird to pass through the city but were completely taken by what they heard. With his reputation with Austrian audiences secured, Jussi was invited to return next year for a longer period.
Listen to Jussi from Aida in Vienna
Listen here to two short excerpts from Verdi's Aida at the Vienna State Opera on 7 June 1936. What is available on CD is a private recording with excerpts and fragments from the performance with Jussi as Radamès and Maria Németh as Aida. Jussi sings in Swedish and Maria Németh in German. Conductor is Victor de Sabata. Unfortunately there is a short technical drop-out in the aria Celeste Aida.
Pur ti reveggo, mia dolce Aida, 2:10 min. (Jussi och Maria Németh)
Reviews in Austrian Press
We have translated four different newspaper reviews from Jussi's performance of Aida on 7 June 1936.
(Neues Wiener Journal)
Jussi Björling as Radamès
The Opening of the Wiener Festwochen at the Vienna State Opera
After Manrico and Rodolfo Björling has now also been singing Radamès in Aïda at the State Opera. And once more the young Swede demonstrated all his tenoral credentials. Bravely he went at the very beginning of the opera in clinch with the, by most tenors so fearsome, romance and gained with his brilliant sustained B a victory, which in the later ensembles was emphatically confirmed. As in his earlier appearances one has to call attention to, in particular, Björling's musicality, his ability to identify with the role and his appealing acting.
To the excellent performance – the actual opening of the State Opera's Festwochen – Maestro Sabata's powerfully dramatic conducting contributed greatly. The rest of the cast was more or less identical with the one at the premiere: Maria Németh (Aïda), Kerstin Thorborg (Amneris), Alexander Svèd (Amonasro). To this can be added Hofmann's rounded beautiful bass voice in the role of High Priest.
(Neue Freie Presse)
Theatre- and Art News
(State Opera) If Jussi Björling from the Royal Opera in Stockholm already had evoked universal admiration, he could as Verdi's Egyptian commander strike the third and decisive blow and, in the words of his character, "return victorious". As early as in the romance Mr Björling sang so effortlessly and tastefully as only the one who has his youth and vocal glory to scoop from.
About the quality of this also technically well-endowed tenor we have already said all that needs to be said. As far as we were able to follow the Sunday evening Aïda performance, the vividly applauded guest seemed more convincing in the lyric moments than in the more heroic. The reason for this is probably his not yet fully developed artistic personality. Since the voice has both impact and metallic lustre. Thus we see possibilities of development all along the line and are happy to have, quite unexpectedly, encountered such a talent and hope that it can be possible to book Mr Björling for further guest appearances.
With Nemeth, Thorborg and Hajmassy and Sved, Hofmann, Bec and Kurz there was an outstanding Aïda ensemble at hand. In spite of brilliant achievements from the ensemble – chorus and ballet in the production staged by Hans Duhan shouldn't be forgotten – it was still Viktor de Sabata who won the game. As sforzato-conductor he is certainly without peer. One can hear in his headstrong, searching reading several new accents, surprisingly slow and surprisingly fast tempos and the most glaring dynamic contrasts. All in all a sparklingly nimble and temperamental reading that was enthusiastically received by the sold-out house.
(Wiener Tag)
The singular behaviour of fiery conductors gave the Aïda performance a vide scope, even though de Sabata time and again violated the singers who couldn't unfold their voices freely. With a prima donna on the rostrum it isn't easy to sing. If this development is to continue we will in the future only see singers gasping for breath, while the conductor on the rostrum theatrically moulds the music with hypnotizing movements. Brilliant voices like Nemeth's and Sved's are certainly not easily subjugated. The made, also this evening with licentious conductor antics, a great impression. Mrs Thorborg held her own as Amneris with the coolness in her dramatically insightful singing. As Ramfis Hofmann made a strong impression, visually as well as vocally.
Jussi Björling's Radamès resisted going astray: he remained the natural singer with gleaming tenor height, sang calmly his melodies with a voice of great lyrical charm, which is at its most beautiful in lyrical roles. Certainly, but where are the heroic tenors who are able to sing Radamès? But, when they yesterday had the delightful voice of the priestess sounding from a loudspeaker, probably one day they will equip lyric tenors with electric sound-boxes, which transform them into heroic tenors. Would it then be possible to make the conductors invisible through ultra violet radiation, the enjoyment of opera would be complete.
(Unknown Austrian Newspaper)
Opening of Festwochen: Aida
There was indeed no shortage of international elements at yesterday's Aida performance: one one guest from Sweden on stage, one guest from Italy in the pit, in the stalls Indians in foreign national costumes, Englishmen in tails Viennese ladies in evening dress … The festive atmosphere in the auditorium was however matched by sense of festivity with which the work was presented: Sabata's musical temperament was discharged like a thunderstorm. Out of dark compressed clouds of sound flashes of lightning from a true artist's soul fulminated, their bright light created contrasts with often uncanny clarity. With intuitive, towards the goal rushing energy Sabata keeps the masses of tones together with exemplary flexibility, so that they, at once stiff and slender, shoot up like Egyptian obelisks and then again spread like the mighty pyramid, at the foot of which Aida's destiny is fulfilled.
With well-founded expectations we waited for Jussi Björling: also in the role of Radamès the lyric portions are close to perfection. The enchanting tenderness that the voice possesses in every detail when he sings about love and tries to achieve love, but also in the heroic outbursts the by all means still developable intensity is in evidence, less through physical power than through radiance, which also manages to shine through dynamically imposing ensembles. A thunderous opening of the Festwochen which was also met by thunderous ovations.