The Jussi Festival at Voxna Attracted Record Audience
"The opera festival that constantly renews itself."
On Monday 7 July 2014 the church bells were heard all over Voxna ringing in the Jussi Festival for the 14th time. The first heat-wave of the year didn't put off the audience from going to Voxna Church which was crammed with people full of expectations. Due to the wide public support there were two concert the same day.

The secretary of the Jussi Björling Society and responsible for the Voxna Jussi Festival, Stefan Olmårs, had put together a varied two-day programme. Day No 1 started with the two concerts at Voxna Church followed by a dinner buffet at Voxnabruk Manor and was rounded off with a request programme with Jussi recordings, led by Harald Henrysson.
Day No 2 opened with a conversation between Nils-Göran Olve and tenor Erland Hagegård about the latter's successful career. Anna-Lena Carlsson presented the history of Voxnabruk "In the footsteps of the Björling Family". After lunch there were opportunities to visit historic houses in the region on the UNESCO World Heritage List as well as the Jim Reeves Museum in Voxna.
Voxna Bruk
The monument of Jussis Ancestors
300 YERAS AGO Voxna was mainly wilderness. But in the 1720s iron ore was found at Gymåsberget, and within a few years a prospering industry developed. Many workers for some reason came from Norrbärke in the south part of Dalarna.
One of them was Anders Andersson. He arrived in 1747 and since many of his colleagues were named Andersson they called him Björn (Bear), since he was big and strong and rather impudent. This fits well to later generation
of the Björling family as well. The Björn family worked for generations at the industry, primarily at the blast-furnace. There were through the years 17 ironmasters at Voxnabruk and Jussi's ancestors worked for all 17. The last one was Jussi's grandfather Lars Johan Björn. In 1867 he moved to Strömsbruk where he was employed as senior smith.
In 1880 the family moved to the home district of his wife Matilda in Finland. It was at that time they adopted the family name Björling. When times grew bad in Finland the whole family moved to Borlänge. One of the sons was David (born at Strömsbruk). He had four sons: Olle, Jussi, Gösta and Karl. Jussi was originally named Johan but probably got his pet name from his grandmother who was Finnish.
Thus it is to the honour of Jussi Björling that the Jussi Festival is carried through for the fourteenth year in a row and Jussi Björling's spirit certainly hovers above Voxna.
The Concert at Voxna Church
The visitors to the concert were met by Helsingeblecket Brass Septet. A nice welcome. In the packed church they were treated to thrilling and unexpected artists and choice of music that gave an extra dimension to the concert.
Stefan Olmårs introducing soprano Sanna Gibbs
Stefan Olmårs had this year invited tenor Martin Nyvall, sopranos Anna Eklund-Tarantino and Sanna Gibbs and violinist Joel Nyman. At the piano the permanent accompanist at the Jussi Festival, Lennart Eng.
The concert opened according to tradition with a recording by Jussi singing Sommarnatt by Schrader.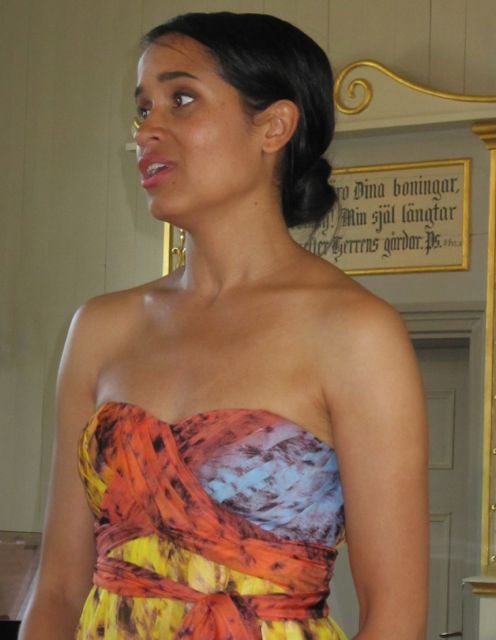 Soprano Sanna Gibbs is studying her last year at the University College of Opera in Stockholm and has recently been Papagena in Die Zauberflöte at the Royal Opera in Stockholm. She sang Till en ros by Stenhammar, Äppelträd och päronträd and Den ängen där du kysste mig by Bo Linde, Ach, ich fühl's from Die Zauberflöte, Giunse alfin il momento from Le nozze di Figaro and as an encore I feel pretty from West Side Story.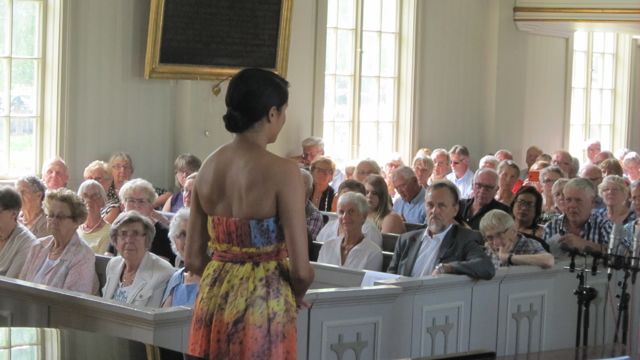 Martin Nyvall, tenor, who lives in Germany and has had many leading parts in Germany and Switzerland, made his debut at the Royal Opera in April in Tannhäuser. He sang Bland skogens höga furustammar by Peterson-Berger, Nu är jag pank och fågelfri by Millöcker, Tonio's aria from La fille du régiment by Donizetti and 'O sole mio by Di Capua. His encore was Till havs by Gustaf Nordqvist.
For the first time an instrumentalist also took part in the festival – the young and very promising violinist Joel Nyman. He has, among other things, a Bachelor exam from the Royal Danish Conservatory of Music, where he left with the highest grades in solo playing and chamber music. He has played in the Swedish Radio Symphony Orchestra as well as the Stockholm Philharmonic Orchestra. Joel was in 2014 accepted for solo education at the Royal Danish Conservatory of Music, starting this autumn and expecting to make his debut in 2016.
Joel played Salut d'amour by Edward Elgar and the very beautiful Meditation from Massenet's opera Thais.
Anna Eklund Tarantino, well known soprano with more than thirty leading roles to her credit, also arranges her own opera festival at Dala-Floda and is artistic director for Musik på Slottet (Music at the Royal Castle).
She opened with a traditional hymn from Dalecarlia (Text Rune Lindström) and then followed Vocalise by Bo Nilsson, "The Genius from Malmberget", specially written for Anna, where she displayed the impressive range of her voice and her strength. She continued with Morgen by Richard Strauss and the well-known Un bel di vedremo from Madama Butterfly by Puccini. As an encore she sang the waltz song from Roméo et Juliette by Gounod.
Finale with community singing
The artists performed together Brindisi from La traviata by Verdi and the concert at Voxna Church concluded with artists and audience standing singing Land du välsignade by Althén.
---
Erland Hagegård Reminiscing his Career.
The main attraction on Tuesday morning was Erland Hagegård looking back to his career in conversation with Nils-Göran Olve, former chairman of Operavännerna (The Friends of the Stockholm Opera).
Erland Hagegård was born in Brunskog in the province of Värmland on 27 February 1944. He is first cousin to baritone Håkan Hagegård.
Cousins Erland (left) and Håkan Hagegård
First Recording
Erland started by playing a track from his very first recording, O Helga natt (O Holy Night), recorded in Stockholm in 1965 during a couple of hours' leave during his military service. Piano accompanist was Lennart Eng, who was a member of the orchestra playing on the record.
Education
Hagegård got his education at the College of Music in Ingesund with Hans Wihlborg as one of his teachers (Music Teacher Exam) and at the Royal College of Music in Stockholm with among others Arne Sunnegårdh, and at Hochschule für Musik und darstellende Kunst with Erik Werba in Vienna. He also took master classes with Erik Werba and Gerald Moore.
He also studied Lied-interpretation with Paul Schilhavsky at Mozarteum in Salzburg and with Hans Gertz and Hjördis Schymberg. Hagegård was a baritone until 1977 when he transferred to tenor.
Debut
Erland Hagegård's first role was Erik in Värmlänningarna 1963-65 (Arvika and Skansen, Stockholm).
While Rikskonserter (the State-owned organisation for art music) was still "The National Experimental Work with Rikskonserter) he was selected as their first concert debutant with a song recital in Stockholm in 1965. The main debut was preceded by a tour on the West Coast. The reviews the next day were ecstatic: A sensational debut (Svenska Dagbladet), An artist steps forward (Stockholmstidningen), Sweden has got its Fischer-Dieskau (Dagens Nyheter).
Stage Debut in Vienna
Erland Hagegård made his stage debut at Volksoper in Vienna in 1968 and was engaged there and in Frankfurt until 1974. He was engaged at the State Opera in Hamburg from 1974 and was a regular guest at the Vienna State Opera and the Royal Opera in Stockholm, where he sang e.g. Germont in La traviata 1976 with his cousin Håkan in one of the other roles. On international stages he has taken on Escamillo in Carmen and the title role in Don Giovanni.
From Baritone to Tenor
In 1977 he changed from baritone to tenor. The first tenor role in Sweden was 1979 at the Drottningholm Court Theatre where he was the protagonist in Handel's Xerxes. At the Stockholm Opera his first tenor role was Rodolfo in La bohème 1981.
Erland Hagegård as Rodolfo in La bohème at the Royal Opera in Stockholm 1981 with MariAnne Häggander
Among his ca 45 roles the following, besides those already mentioned, can be noted:
Volksoper in Vienna: Belcore (L'elisir d'amore), Peter I (Zar und Zimmermann), Ravenal (Show Boat)
Frankfurt Opera: Valentin (Faust), Danilo (Die lustige Witwe)(also in Teheran), Marcello (La bohème)
State Opera Hamburg: Peter I (Zar und Zimmermann), Herr Fluth (Die lustigen Weiber von Windsor), Dandini (La Cenerentola)
Leaves Opera and International Career
In 1985 Erland realized that he was singing everywhere, in Germany and Sweden, opera and Lieder, and the family suffered. He decided in November 1985, after appearances in Stockholm on two consecutive days, to call it a day and leave opera and international career after fulfilling contracted engagements in early 1986.
Community Singing by River Klarälven
Having left opera and international career he made a break for a year and after that he has mainly appeared as recitalist and arranged evenings with community singing by River Klarälven in Karlstad where he lives.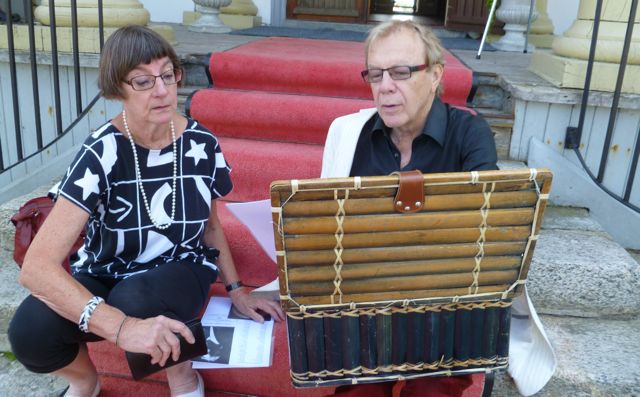 Erland Hagegård selling records to an admirer
During the conversation with Nils-Göran Olve the audience were treated to several recordings from Erland's successful 49-year-long career, both as baritone and tenor.
When finally Nils-Göran Olve posed the question what Erland Hagegård wished his posthumous reputation would be his answer was: "Versatile".
This versatile artist here performs with his very beautiful tenor voice Jag är blott en stackars vandrargesäll (Ich bin nur ein armer Wandergesäll) from Der Vetter aus Dingsda in his own translation to Swedish. Recorded in 1979. Listen and enjoy!
"Jag är blott en stackars vandrargesäll"