Jussi of the Month October 2014
Jussi in L'Africaine at the Stockholm Opera, October 1938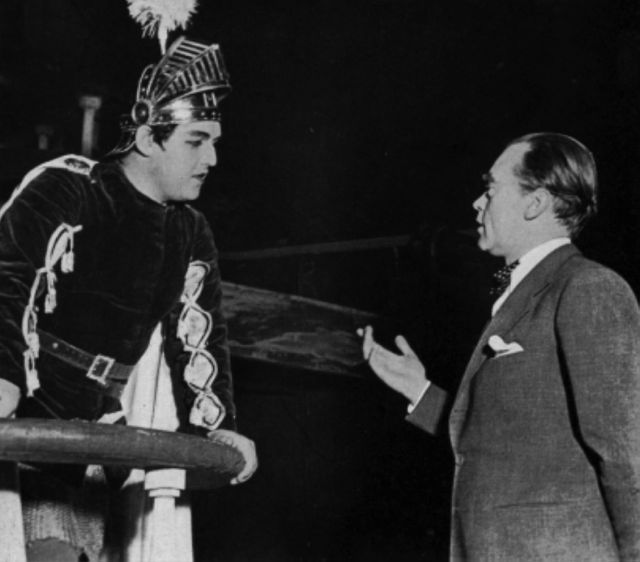 Jussi is given instructions from stage director Harry Stangenberg
The role as Vasco da Gama in L'Africaine was the last role Jussi learnt in Swedish and the last role during his permanent contract with the Stockholm Opera, where he during nine seasons had learnt and sung 52 roles.
In October 1938 he did six performances of L'Africaine and the premiere took place on 4 October.
Click the poster and it will enlarge, and then once again and you will get maximum enlargement.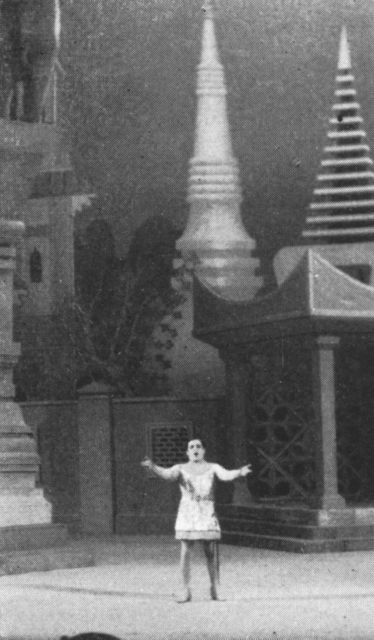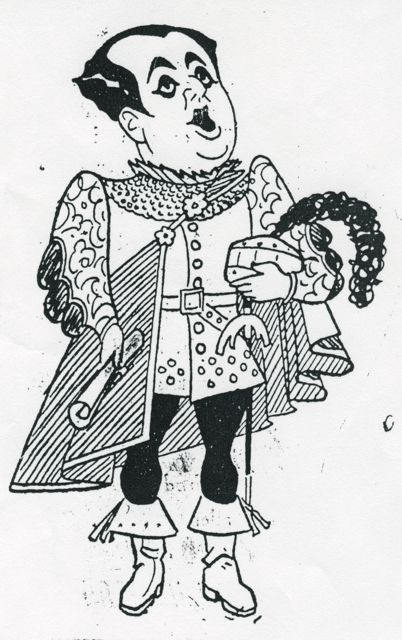 The opera L'Africaine was composed by the German composer Giacomo Meyerbeer (1791 – 1864) and was his last opera. He started working on it in 1837 and worked almost to the end of his life. It was premiered posthumously in Paris in 1865.
With the early romantic German opera as his starting point, combined with Italian and French traditions, Meyerbeer with his stylistically cosmopolitan works became possibly the most representative advocate of the spectacular plays with often sensational extrinsic attributes (mass scenes, choruses and ballet) that are labelled grand opera.
Until the end of the 19th century he was the most celebrated and admired composer in the genre in Europe. His vocally extremely demanding works reached an enormous popularity with a large number of performances all over the world, but around the time if WW1 they relatively rapidly lost their positions in the repertoire and after 1945 they practically completely disappeared.
Meyerbeer's most successful operas were Robert le diable (1831), Les Huguenots (1836), Le profete (1849) and L'Africaine (1865). All of these were premiered in Paris and were also performed in Stockholm. Les Huguenots and L'Africaine are regarded as his best works.
In Stockholm L'Africaine was first performed in 1867 as Afrikanskan and was seen 143 times during the period 1867 – 1888 and during the end of the century enormously successful around the world. Today it is rarely seen. The best known aria is the Paradise aria (Pays merveilleux … O, paradis), recorded by a great number of leading tenors.
The picture to the left shows the original score from the Paris premiere in 1865.
Click the picture below and it will enlarge, and then once again and you will get maximum enlargement.
Sketch of stage design for the five acts of L'Africaine at the premiere in Paris 1865/
L'Africaine takes place in Lisbon and on the coast of East Africa at the end of the 15th century. The main characters are Vasco da Gama, Portuguese explorer (tenor), Inez, daughter of the grand admiral and Vasco da Gama's beloved (soprano) and Sélika, African Queen (soprano).
The last time L'Africaine was seen at Gustavus III's old opera house in Stockholm was in 1888. Later the house was pulled down and the new and present house was inaugurated in 1898. 50 years were to pass before the opera was seen again in Stockholm, 1n 1938, then with Jussi Björling as Vasco da Gama, Hjördis Schymberg as Inez and Inez Köhler as Selika. Among the other participants Leon Björker, Carl Richter, Folke Jonsson and Sigurd Björling can be mentioned. Jussi's friend Gösta Kjellertz appeared in a small role as a sailor. Direction: Harry Stangenberg.
The performances were conducted by Kurt Bendix (1904 – 1992) who led many performances with Jussi at the Stockholm Opera. One of the most famous is the complete Rigoletto from 5 January 1957, available on Bluebell ABCD 044, issued in 1992.
Kurt Bendix was born in Berlin in 1904 and arrived in Sweden in 193 and became chorus master and conductor at the Stockholm Opera. 1942 – 1968 he was master of music at the University College of Opera and 1945 – 1957 leader of the Stockholm Chamber Orchestra. He was appointed Royal Court Conductor in 1968.
There doesn't exist a complete recording of L'Africaine with Jussi Björling. The only performances he took part in were those given at the Stockholm Opera 4 – 17 October 1938 and no recordings were made then.
One sole aria from the opera was recorded by Jussi – the well-known Pays merveilleux... Ô paradis (French title) Mi batte il cor….O paradiso (Italian title), which is more or less the only number from the opera that is heard today. Jussi first recorded it on 4 September 1937, more than a year before he sang it on stage, and he was to record it six more times, the last time at Skansen on 25 May 1952.
At the bottom of this page you can listen to two recordings with Jussi.
Jussi had good reviews
The singers at large had positive reviews. In particular Jussi. Here are a few excerpts from the reviews:
The young, talented Jussi Björling's magnificently ringing Vasco da Gama and his song in the fourth act was met with intense applause.
Jussi had a lot of lustre in his voice.
Vasco's Paradise aria, known through recordings – rather typical by the way. Mr /Sigurd/ Björling was very Italianate. His role he sang, however, like a man – the partly exquisite second act aria was for example brilliant. His namesake Jussi, the heroic tenor, sang Vasco da Gama's part with credit. The Paradise aria was sung with a lustre that put all gramophone recordings in the shadow – except Caruso's.
The vocal artists had all over a successful evening, Jussi shone mainly vocally, dramatically he couldn't do much of the palely delineated Vasco da Gama.
The production got mixed receptions, from write-offs to praise:
Lavish production, sets, costumes, lighting effects and exotic dances. The composition uneven from immensely beautiful and original music, but a lot that sound empty and banal.
The packed auditorium applauded lavishly both artists and sets.
The Stockholm Opera's latest reprise premiere is rather embarrassing for Swedish musical life. The most banal and shallow work from the deepest degeneration period of serious music drama, the Meyerbeer epoch, has been seen suitable for present day audiences. "L'Africaine" should have been allowed to continue her half-century long sleep in the archives. The summary of this scrutiny is that "L'Africaine" isn't worth while a new production.
His Majesty the Kind and the Princes Carl and Eugen together with "the Court Dames" attended the performance.
The Swedish newspaper Aftonbladet:
African Opera Evening
L'Africaine belongs, as is well-known, to the "colossal" operas, child as it is of a time when "colossal" was in vogue, when effect replaced expression and when an artful cadenza was more worth than human expressivity, in short the decades of the 19th century when Beethoven and Schubert died and Paganini scored triumphs with Meyerbeer.
This is a thing one mustn't forget when watching an opera like this one. One can't demand too much of it. One can't demand psychological deep-drilling à la Tristan. Meyerbeer is no Wagner. One can only demand eclectic music, echoes of early Italian operas, but if one gets there with only those pretentions one gets one's fill, because L'Africaine is a masterpiece in its genre, this cannot be denied. Then one may express one's contempt for the genre in itself, which of course represents a period of deterioration in taste, an epoch of bad taste.
But of course it was a "colossal" premiere last night at the Opera. And I have to say, at the risk of being put under a ban from the great music inquisitors, that I found it in a way grandiose. For Meyerbeer was not some ordinary Berlin Jew. What he did, he did well, even though he did it wrong. He knew his trade. And his trade was opera.
He sacrifices everything for the effect, the music aesthetics say, turning up their noses. But one could write theses on opera and effect and get to the conclusion that Opera after all is Effect. Meyerbeer's L'Africaine is once and for all Effect, but that way it also becomes Theatre, even great Theatre and with that also great Opera. Of course one can laugh one's head off if one is in that mood, at his equilibristic capacity to create commonplaces, to throw up bombasts, to make things sugary when they should be bittersweet, to quote Fröding.
But I would like to face the person who denies his ability to create dramatic situations. And what is theatre founded on if not dramatic situations? Moreover the libretto was written by Eugene Scribe. That means a built in drama. But it also means proficiency, it means playable roles. Be sure that here are playable roles!
Harry Stangenberg has obviously had the right attitude to this. Here was played Grand Theatre and Grand Opera. And this suited the artists eminently well. What has made Jussi Björling begin to show unsuspected gifts? Here one has gone for years and become more and more distressed about his mediocre creations of heroes, and so one night he suddenly acts with passion and fury that seems totally Italianate. His singing gained on this free acting. I have never heard Jussi Björling develop such vocal splendour as here, and not only in the big act four aria but also in the passionate outbreak in the first act towards the councillors and the big duet, in short everywhere.
I have, moreover, never heard Sigurd Björling as good as in this opera, where he to be sure is ideally cast as the slave Nelusco with dark-eyed passion and explosive affects, which he delivered to perfection to the very end. His voice has become infinitely more flexible, but his intelligent and dramatic gifts would do himself even more justice if he could moderate his forte fortissimo once in a while. Not even very passionate people cry out everything as loud as possible. When Sigurd Björling has learnt to soften his magnificent vocal resources, he will be ready for the Metropolitan …
Hjördis Schymberg already belongs there. Her Inez belongs to the most beautiful I have heard and seen on an operatic stage. What else can one actually demand from an opera singer than that she sings perfectly, acts perfectly and moreover is young and beautiful. She must have a luminous future ahead. Lucky Hjördis Schymberg!
As for Inez Köhler finally, to ungallantly mention the title role last, the role of Sélika suits her almost to perfection, apart from the little coloratura curlicues she is forced to sing in the second act. Here she is allowed to be tragic in the grand manner and it suits her, remarkably enough, since she comes from operetta and the character of the role meant that one wasn't disturbed either by her slightly insecure top or her at times strong wobbles.
On the whole the theatre had done their utmost to produce a completely continental production. For a listener it is of course impossible to decide who should be credited for the fact that this time everybody surpassed themselves: Leon Björker as Don Pedro, Carl Richter as Hjördis Schymberg's father, Simon Edvardsen as Jussi's faithful friend, Folke Jonsson as the Grand Inquisitor and Conny Molin as the High Priest.
Is it really possible that all this is Stangenberg's work? That he has some part in it cannot be called in question, and in that case he has a mission at the Royal Theatre. There is a shortage of opera directors in this country.
Gunnar Broberg's capacity should by now be rather well-known. He made the third act decorations and the machinery to the great shipwreck. It fulfilled all expectations at the premiere. Jon-And's sets were not more remarkable than usually, but this is chiefly praise. And in the fourth act Julian Algos' ballet finally arrived. It was very lively but I wonder if this isn't where cuts have to be made, since the performance lasted for four hours and that is too much.
Kurt Bendix conducted. Sometimes there were discords between strings and winds, especially the brass. But by and large the orchestra was good. That is usually to the credit of the conductor as much as the orchestra.
And guess if it was a full house!
Gösta Rybrant, Aftonbladet
Listen here to Jussi singing the Paradise Aria in Italian:
Carnegie Hall, New York, 5 December 1937
Hilversum, Holland, 8 June 1939