Jussi-festival at Strömsbruk 2014
Photo: Pelle Jansson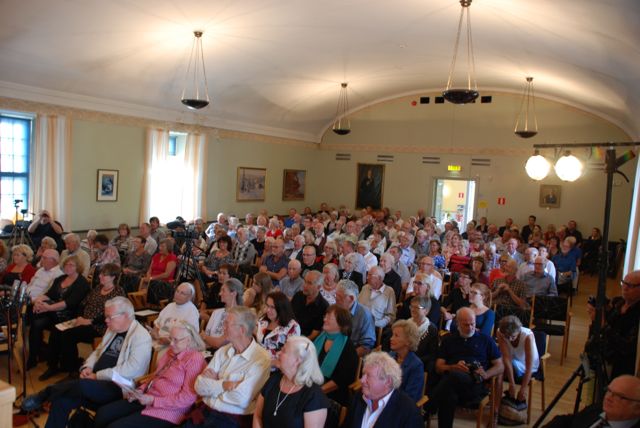 It was not only the summer weather of 2014 that became memorable. The Jussi summer was also worth remembering for all the fine arrangements that our Society carried through.
We have earlier reported from Voxna, Kungsträdgården and Skansen. Now it's time to report from the Jussi Festival at Strömsbruk 7-8 September.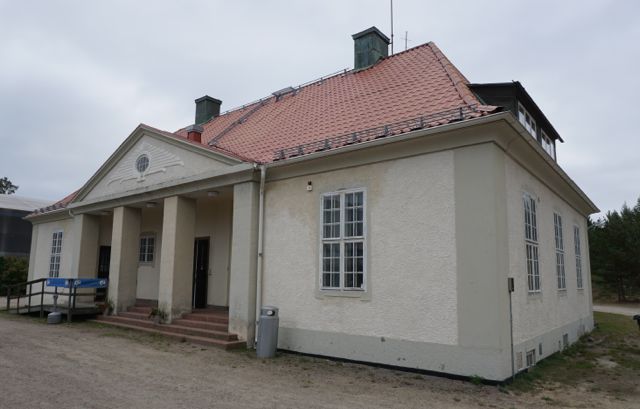 The assembly hall Strömshall (left) and David Björling's birth place (right)
Two Day Opera Festival at Strömsbruk
During two days our Society arranged, for the ninth year, the Jussi Festival at Strömsbruk, the old industrial village 20 kilometres north of Hudiksvall. Jussi's grandfather, Lars Johan Björn, was blacksmith there and Jussi's father David was born there in 1873. The house where he was born is still there. In the Mission House David and his sons Gösta, Olle and Jussi sang.
The fiery spirit and secretary of the Society, Stefan Olmårs, together with the non-profit organisation "Strömfacklan" saw to it that the arrangement became a true opera festival. The full audience at Strömshall were offered opera singing in the highest division. Stefan is keen to let young gifted singers have a chance to appear before a large and knowledgeable audience.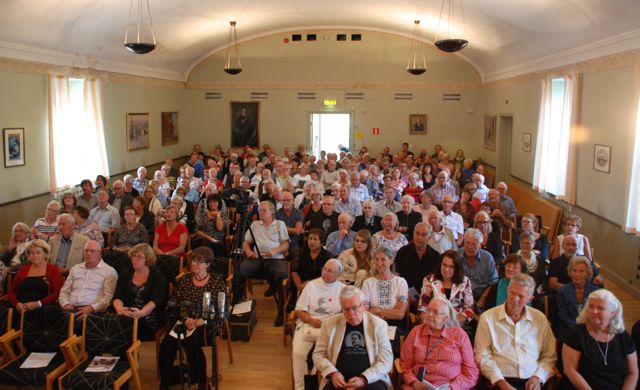 After a warm-up session from Ströms Bruksorkester basso Mattias Olsson opened the concert. Mattias, who recently sang in Die Zauberflöte at the Stockholm Opera, has a deep and really thunderous bass and sang If ever I would leave you from Camelot by Loewe/Lerner and You'll never walk alone from Carousel by Rodgers/Hammerstein. Mattias then treated the audience to two opera arias: O patria, o cara patria from Les vêpres siciliennes by Verdi and Gremin's aria from Eugene Onegin by Tchaikovsky.
Rebecca Rasmussen, soprano, married to Mattias Olsson, sang Meine Lippen sie küssen so heiss by Franz Lehár and Zueignung by Richard Strauss, the habanera from Carmen by Bizet and Mimi's aria from La bohème by Puccini, a role she sang at Norrlandsoperan. She rounded off with I could have danced all night from My Fair Lady.
The married couple Mattias Olsson and Rebecca Rasmussen offered a duet from Le nozze di Figaro by Mozart, Cinque, dieci, venti, trenta.
Tenoren Tenor Daniel Johansson earlier this year received the Jussi Björling Society's Prize at Skansen. Daniel who, among other things, has done leading parts in La bohème and Die Zauberflöte at the Stockholm Opera and L'elisir d'amore at the Gothenburg Opera, presented two classic Jussi Björling numbers, Kung Heimer och Aslög and Trollsjön by August Söderman. There were also two opera arias from Jussi's repertoire: the Flower Song from Carmen and E lucevan le stelle from Tosca.
Christer Bladin, tenor, with a long international career, contributed Jeg elsker dig by Grieg to a text by H.C. Andersen.
The Jussi festivals traditionally present a young promising local artist. This year it was tenor Mikael Onelius born in 1984 and grew up in Söderhamn. He appeared in Sommarnatt by Schrader and Lensky's aria from Eugene Onegin by Tchaikovsky. Mikael is in his first year of the two-year-long master education at the University College of Opera in Stockholm.
At the end of the concert the soloists and the audience joined forces in Land du välsignade.
It was a wide-ranging concert, spanning from rumbling deep bass tones to the soprano high notes that nearly brought the roof down. Everything was accompanied by Lennart Eng, a real pillar of strength at the Jussi festivals.
Request Concert with Jussi Recordings
After the concert there was an Italian buffet, and after that a request concert with Jussi, where among others Kerstin Meyer, Jussi's daughter Ann-Charlotte and Christer Bladin requested some of their favourite Jussi recordings. Ann-Charlotte was present in Vienna 12-19 June 1960 when Jussi recorded Verdi's Requiem and chose Ingemisco from that occasion, and from the very last recorded concert in Gothenburg on 5 August 1960 In fernem Land from Lohengrin by Wagner.
Kerstin Meyer, who sang with Jussi, chose among other things En ferment les yeux from Manon by Massenet.
Christer Bladin wanted to hear Donna non vidi mai from Manon Lescaut by Puccini, recorded in Gothenburg on 5 August 1960.
As a fitting conclusion of the request concert Jussi as "Erik Odde" sang Säg mig godnatt (Bid me good night), recorded 13 February 1931.
At the bottom of the page you can listen to some of the recordings that Ann-Charlotte Björling, Kerstin Meyer and Christer Bladin requested.
The Jussi Festival, Day II
The second day opened with Johan Adlercreutz, who runs the youth hostel in Strömsbruk, telling the visitors about the thrilling history of the place. An industrial village with both iron works and paper mill in the past. Some building are still intact but now housing other industrial activities. There is a museum telling the history of days gone by. The youth hostel, situated in the old industrial office, offers canoes and boats for hire, sleeping accommodation, a gallery, a camera museum and a shop.
Royal Court Singer Kerstin Meyer in Conversation with Tom Sandberg
After Johan Adlercreutz Royal Court Singer Kerstin Meyer and broadcaster Tom Sandberg entered the stage.
Tom Sandberg received his education at the University College of Music and the State Music Dramatic School (today University College of Opera). He was employed in 1981 at P2, the Music Radio at Swedish Radio, where he was active until 2007 as music producer, programme producer and broadcaster, including presenting innumerable opera performances from Swedish as well as international stages. In recent times he has stepped in as producer of two programmes in the popular programme Sommar on Swedish Radio's Programme 1: when Kerstin Meyer took part in 2013 and when Loa Falkman was host in 2014.
In conversation with Tom Sandberg Kerstin Meyer recalled her outstanding career.
She studied for among others Arne Sunnegårdh at the University College of Music in Stockholm 1948-1952 and was engaged at the Royal Opera 1952-1961 and 1969-1981. She also had engagements at Deutsche Oper, Berlin, Metropolitan and Hamburger Staatsoper 1962-1976. She was principal at the University College of Opera in Stockholm 1984-1994.
Kerstin Meyer made her debut at the Stockholm Opera in 1952 as Azucena in Il trovatore. The big breakthrough was in 1954 with the title role in Göran Gentele's production of Carmen. Other big roles were Orphée in Gluck's Orphée et Eurydice and Brangäne in Tristan und Isolde. Besides her permanent engagements she appeared as guest in many big houses around the world, e.g. Teatro alla Scala, the Metropolitan, Vienna State Opera, the Salzburg Festival and the Paris Opera. She made her last appearance in Der Rosenkavalier in 1984. In the spring of 2013 she was Madame Armfelt in Sommarnattens leende (A Little Night Music) at the Malmö Opera.
Kerstin Meyer sang several times opposite Jussi Björling, whom she found wonderful to work with and who always gave her valuable support. She thinks her best performances were the ones she sang opposite Jussi. Among those is Rigoletto recorded complete at the Stockholm Opera on 5 January 1957 with Jussi as the Duke and Kerstin Meyer as Maddalena. She also took part in Jussi's very last appearance at the Stockholm Opera on 6 March 1960 in Il trovatore, also recorded complete. Jussi is Manrico, Kerstin Meyer is Azucena.
Honours
She was elected member No. 713 of the Royal Music Academy on 12 December 1963. She was appointed Royal Court Singer 1963, was awarded Litteris et Artibus in 1975 and got the title of professor in 1987. From Queen Elisabeth II she received CBE, (Commander, Order of the British Empire). In 2007 she was elected Honorary Member of the Jussi Björling Society.
Kerstin Meyer's conversation with Tom Sandberg was a very fine conclusion of this year's Jussi Festival at Strömsbruk.
Listen here by clicking some of the requested recordings with Jussi that were played at the Jussi Festival at Strömsbruk.
Ann-Charlotte Björling's request: Ingemisco ur Verdis Reqium from 1960.
Kerstin Meyer's request: En ferment les yeux ur Manon av Massenet from 1938.
Christer Bladin's request: Donna non vidi mai ur Manon Lescaut av Puccini, from 1960.