Jussi of the Month April 2015
Jussi's last tour in USA and last performances abroad
On 15 March 1960 he had a heart attack just before the curtain was to open for the performance of La bohème at the Covent Garden Opera in London. In spite of this he was able to carry through the performance, and he was on stage again three days later. "He sings wonderfully", said one of the listeners.
Rosanna Carteri and Jussi in La bohème, Covent Garden March 9, 1960
After the performance he returned to Stockholm and a little more than a week to rest before it was time for a minor tour of California. It started in San Francisco where he was to sing in two performances with the Cosmopolitan Opera Company and a concert and then another two concerts at Pasadena and Santa Monica.
On 29 March he made his debut at the War Memorial Opera as Manrico in Il trovatore. The press eulogized his achievement. "He [sang] with a vocal mastery, quality and fire that only a couple of other tenors in the world could hope to march", wrote Alexander Fried in San Francisco Examiner, and also his partners were hailed, not least Cornell MacNeil in the role of Conte di Luna. He had however been furnished with a costume that was exceedingly unbecoming.
On Friday 1 April it was time for Faust, which was to be his very last opera performance. In the cast was also the young bass Norman Treigle as Mephistopheles and the Russian baritone Pavel Lisitsian as Valentine. Alexander Fried wrote in his review: "One thing that attracted the overflow audience was the first appearance in local history of a Soviet Russian singer in an opera role. Another was the fact that popular Jussi Bjoerling sang Faust."
About Jussi's achievement he wrote: "Bjoerling at first appeared to have lost some of the volume of his voice in the bushes of the aged Faust's Santa Claus beard. When at the cost of his soul Faust turned into a youth, the famous tenor's tone poured out freely with flexible feeling, with musical art; with romantic sound and the kind of tenor that audiences love.
Bjoerling transposed the Salut demeure down a half tone for vocal comfort. As a result, the aria (with the high B in place of the C) excited the public less than if it had remained in its original, more brilliant key.
Dean Wallace in San Francisco Sunday Chronicle found the production meagre – apart from the singers: "Bjoerling was in splendid voice, underscoring the general feeling that this is one of his finest seasons to date."
Frederick Schauwecker
Two days later Jussi gave an afternoon concert at the opera house with his regular American accompanist Frederick Schauwecker. The programme contained
Dies Bildnis ist bezaubernd schön
from
The Magic Flute
(sung in Swedish), a handfull of German Lieder (Brahms, Liszt, Strauss) and
M'appari
from
Martha.
After the interval he sang
Song of India
from Rimsky-Korsakoff's
Sadko
and the
Cavatina
from
Prince Igor
,
followed by three Nordic songs:
Sibelius' Demanten på marssnön, Peterson-Berger's Jungfrun under lind and Grieg's En dröm and finally Come un bel di di Maggio from Andrea Chenier. This was the announced programme. But the audience wasn't content with that. Peggy Wilberg opened her review in Mill Valley Record thus:
"'Because you have been so nice to me, I will now sing for you Because'. With these words, introducing his seventh encore, Jussi Bjoerling concluded his concert at the San Francisco Opera House Sunday.
The gracious gesture was typical of the celebrated Swedish tenor who has been a Bay Area favourite for many years.
Acclaimed as one of the world's greatest singers, decorated by kings, queens, and presidents, he has remained completely unspoiled, a man who does not care for glamor, but values the friendliness of his public more than anything else.
The ambitious program he presented demonstrated again Mr. Bjoerling's superb musicianship and versatility. To cite just a few highlights:
He sang Strauss' Traum durch die Dämmerung and Rimsky-Korsakoff's Chanson de l'Indou with a touching quality of tenderness and lyrical phrasing.
His brilliant rendition of arias from Andrea Chenier and Tosca brought the audience to their feet in a rousing ovation."
In Pasadena Civic Auditorium on 5 April he sang the same programme as in San Francisco but had exchanged the Nordic songs for three American songs but in deference to requests he chose to cut out the American songs and replace them with two Swedish songs, which Schauwecker announced. Those songs turned out to be by Sibelius (Finnish) and Grieg (Norwegian)!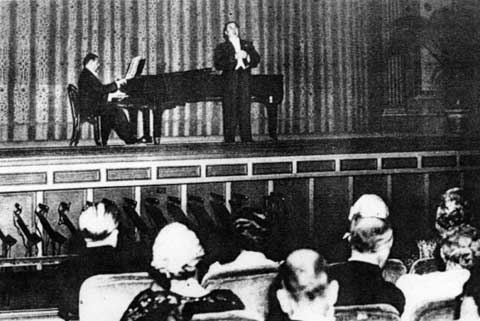 Jussi in Pasadena Civic Auditorium. The photo is taken on earlier occasion
Albert Goldberg from Los Angeles Times was present: "Mr. Bjoerling was in his finest form. There was a period of apprehension when he left the stage after singing the first song of his second group. Mr. Wilson [the Pasadena impresario] announced that the singer would resume shortly, and the pianist, Frederick Schauwecker, played two solos during the interval.
Mr Bjoerling was reported to have suffered a brief recurrence of his recent heart ailment, but he returned to finish his program and to sing two encores at the end. At no time was there any evidence of physical distress either in Mr. Bjoerling's appearance or in his singing. The voice sounded uncommonly fresh and pure, and his artistry was as distinguished as ever."
He also praised Jussi for, unlike most singers who warm up with "innocuous Italian antiquities" starting with something substantial, Tamino's aria from The Magic Flute, which he sang "as flexibly and surely as if he had had an evening's singing behind him, and in impeccable Mozart style". Goldberg's admiration was boundless – and obviously also the "usually staid Pasadena audience", which after the Martha aria began cheering and "continued to the end of the recital at every opportunity". Goldberg went on: "The suave bel canto type of singing of which Mr. Bjoerling is so distinguished a master was revealed to its fullest extent in the Song of India from Rimsky-Korsakoff's Sadko, sung in Swedish, and in the Cavatina from Borodin's Prince Igor, sung in Russian." There is every reason to question the last remark. Jussi sang the role (in Swedish) at the Swedish premiere of the opera in March 1933 and did it in toto 36 times. It was recorded the same month and at the re-recording in January 1957 he still sang it in Swedish, and also at the only live recording in July 1960.
In Santa Monica on 7 April there were only a few printed programmes available. The arrangers were used to relatively few visitors but this time thrice as many as expected came, so Frederick Schauwecker had to double as program announcer. And the lack of printed programmes was of little consequence because Jussi digressed frequently from the announced numbers.
In Santa Monica Outlook Raoul Gripenwaldt wrote: "Bjoerling's voice has lost none of its luster which this reviewer first heard in 1938 and heard throughout subsequent years. It is as solid as a rock, an instrument of beautiful equalization. When he spins a fused pianissimo tone it is projected to the far reaches of the auditorium and heard as audibly, and with the same volume, as the tone is heard in the front row. This is a lost art. The singing is effortless throughout its range. B Flats are tossed off with as much apparent ease as are tones in the middle voice and the lower register projects as much as do the high notes. There are no histrionics to Bjoerling's singing. He stands motionless and there is little expression on his face. There is nothing but pure bel canto and undisputed artistry."
After the final number, E lucevan le stelle from Tosca, there were standing ovations, which to the best of Mr Gripenwaldt's knowledge, was the first time a classical artist had been honoured in that way. He finished the review:
"It is understandable that Bjoerling should be economical with his encores. If he is, indeed, suffering from a heart condition, his energetic output last night – without encores – was formidable. In addition he had to catch a plane. As you read this, Bjoerling is in Stockholm where he will take a well- deserved rest…"
This rest lasted until 8 May when he gave a concert at the Concertgebouw in Amsterdam, his first visit to the Netherlands since 1939. It was his last appearance outside Sweden.
Mimi Aarden and Jussi, Concertgebouw 1960
In June he recorded Verdi's Requiem in Vienna and in connection with this Du är min hela värld, which was to be included in the gala concert in Karajan's recording of Die Fledermaus, and in early July he was in Rome to record Un ballo in maschera with Georg Solti, the unfortunate occasion when conductor and tenor fell out and the recording was cancelled. It is unknown if anything recorded by Jussi has survived.
Fritz Reiner, who conducted the Requiem June 1960, and Jussi
Some recordings from this or close to this period:
1 Faust from Metropolitan 1959 Dec 19 with Jussi and Elisabeth Söderström
2 Jussi sings Ingemisco from Verdi's Requiem, recorded 1960 and conducted by Fritz Reiner
Pavel Lisitsian
Pavel Gerasimovich Lisitsian was born in 1911, the same year as Jussi Björling, and died in 2004. He is regarded as one of the foremost Soviet opera singers, and anyone who has heard his warm, velvety baritone voice is not likely to forget it. His breath control was legendary and it seems he was the only baritone in the world who could sing the first three phrases of Germont's aria Di Provenza il mar from La traviata on one breath. His voice was decidedly Italianate – also when he sang his Russian roles.
He was born in Armenia and returned there every year throughout his career, first as a solo artist, later together with his three children Karina, Rosanna and Ruben. He sang in amateur choirs as a young man and managed in due time to be admitted to the Leningrad Conservatory, where he besides vocal training also played the cello and the piano. But his studies were frequently interrupted and in between he earned his living as a welder. His breakthrough came when he was engaged at the opera house in Yerevan, where he sang the big baritone roles so successfully that the rumour reached the Bolshoi Theatre, and there he was engaged for 26 years until 1966. During the Second World War – known as the Great Patriotic War in the Soviet Union – he gave more than 500 concerts, on the front-lines and in the rear. This rendered him the distinction People's Artist of the USSR.
Besides the big baritone roles in Tchaikovsky's operas, Eugene Onegin, Queen of Spades, Mazepa and Iolanta, he sang Verdi, Bizet (there is a live recording of Carmen), Gounod and a lot more. 1800 performances at the Bolshoi and the same number at a great number of opera houses all over the Soviet Union say a lot about his working capacity. He was also the first Soviet artist who sang at the Metropolitan Opera in New York. It was as Amonasro in Aida on 3 March 1960, a month before he sang opposite Jussi Björling in San Francisco.
About his appearance in Faust, Alexander Fried wrote in San Francisco Chronicle: "Lisitsian was an immediate success. His voice has a virile and appealing Slavic flavour. The best thing about it is its musicianly flow and grace of delivery. He is more a lyric than a heroic baritone. Since he is said to be in his late 40s, it was no surprise that his stage manner was confident and mature. He was a thickset figure, with an intent soldierly eye. The intensity turned to dramatic force in his quarrels with Mephistopheles, and finally rose to touchingly strong, Russianly melodramatic death scene."
Dean Wallace in San Francisco Sunday Chronicle was also impressed: "The debut of Pavel Lisitsian, one of Russia's top baritones, was an additional treat. Once the audience accepted the incongruity of a bel canto baritone singing Russian in a German setting while everyone else sang French, they were thoroughly captivated by the man's charm, excellent voice and phrasing, and superb acting ability."
You can watch and listen to Pavel Lisitsian on this link:
"Di Provenza il mar il suol" ur La Traviata
By Göran Forsling