Concert again at "Kungsan"!
On Monday 3 August it was time again for "Birgit and Jussi at Kungsan", the joint concert from the Birgit Nilsson Society and the Jussi Björling Society at Kungsträdgården (The King's Garden) in Stockholm., this time for the fourth time in a row. The sun was shining from an unclouded sky and it was time for concert start at 12.15 the seats in front of the stage were filled with expectant listeners, in spite of lack of information from the Stockholm newspapers. Sören Tranberg, editor and publisher of the periodical Opera, was the compere.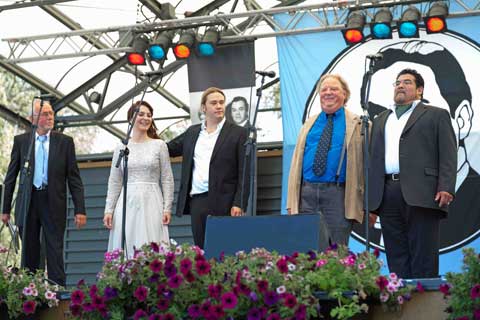 Anders Wadenberg, Amelia Jakobsson, Valentin Lundin, Bengt Krantz and Francisco Almanza
Participating singers were soprano Amelia Jakobsson, student at the University College of Music in Malmö, at the master programme for solo song, and moreover professional freelance cellist, tenor Valentin Lundin, also former student at the University College of Music in Malmö, graduate in solo song, but this autumn beginning a bachelor education at the Universität für Musik und darstellende Kunst in Vienna, Austria, tenor Francisco Almanza, born in Mexico and trained at Shepherd School of Music at Music at Rice University in Houston, Texas, and our chairman Bengt Krantz, trained at Operastudio -67 and the National Music Dramatic School in Stockholm, since the 2007/2008 season permanent soloist at the Malmö Opera.
The four singers offered beautiful singing in a varied repertoire, including arias, songs and duets, pliably and flexibly accompanied by pianist Anders Wadenberg.
Amelia sang three opera arias, Salomé's Il est doux il est bon from Hérodiade by Jules Massenet, Rusalka's song to the moon from Antonin Dvorak's Rusalka and Liù's Tu she di gel sei cinta from Turandot by Giacomo Puccini, with with good phrasing and beautiful high notes.
Valentin opened with a Nordic song, Jag längtar dig by Hugo Alfvén, and after that Don José's Flower Song from Carmen by Georges Bizet and a German Lied, Zueignung by Richard Strauss, expressively an with lyrical tone.
Together Amelia and Valentin also performed the duet Stranger in Paradise from the musical Kismet by Robert Wright and George Forrest, based on music by the Russian composer Alexander Borodin.
Amelia Jakobsson and Valentin Lundin
Francisco and Bengt have, during the spring and summer toured in Sweden with the opera La Gioconda by Amilcare Ponchielli in a production from Operafabriken (Opera Factory), and from that opera they sang the duet Enzo Grimaldo, the real name of the tenor, who in the opera gives himself out as Enzo Giordano.
Bengt then sang Barnaba's aria O monument from the same opera, and two Nordic songs, I drömmen du är mig nära by Emil Sjögren and Demanten på marssnön by Jean Sibelius with excellent enunciation and expansive top notes.
Francisco also opened with an aria from La Gioconda, Enzo Grimaldo's Cielo e mar and after that Mattinata by Ruggero Leoncavallo and No puede ser from the zarzuela La taberna de Puerto by Pablo Sorazábal, with fine atmosphere and great bravura.
Francisco Almanza and Bengt Krantz
This should have been the end of the concert, but there were generous applause that inspired two encores, Ragnar Widestedt's Nämner du Sverige, sung by Bengt and Agustin Lara's Granada sung by Francisco as a grand finale! The audience seemed happy and satisfied. One listener, who has worked with sound recordings, stated however that the microphones were not sufficiently good.
Berit Sjögren
Photo: Calle Friedner