Jussi of the Month September 2015
Farewell concerts 1945
September 1945 was Jussi's last month in Sweden before he once again began his American tours after the long WWII hiatus. In the USA he had not been heard since his Rigoletto at the Met on February 27, 1941.
Before his October 1 departure, he had a packed September schedule. It began with gramophone recordings under Nils Grevillius the 6th and 7th of September, among them Ah! fuyez, douce image from Massenet's Manon, which can be heard here (from Naxos 8.110788, Jussi Björling Collection, Vol. 4).
From the 10th to the 16th of September he made guest performances at the Royal Opera in four different operas: Roméo et Juliette, Rigoletto, Trovatore and Bohème. About the first of these roles, Roméo, William Seymer wrote:
"The singer was extremely well-disposed and sang not only brilliantly but also with intense feeling and passion in his expression." Trovatore was visited by a Dagens Nyheter columnist who was evidently a music amateur but had "for years thought one has to hear Jussi, he who is so wonderful on record." She thought that Jussi "sang like a dream," and also gave her the impression of being "cute in his little silk tunic over sequined tights which shone like fish scales, and he was so kind to his Gypsy mamma, the dramatic Gertrud Pålson-Wettergren."
Naturally the regular reviewers took most interest in Jussi's real farewell performance of Bohème. Svenska Dagbladet described how he "was thanked during thunderous applause from a full house with an official laurel wreath and lots of flowers." The reviewer found that "this evening the singer was not only generous with his beautiful sound but also did his very best from an artistic viewpoint" and asked if "Rodolphe is not his best role, in which he has most to give, and which he characterizes with finer feeling for the nuances than maybe anybody else."
Ragnar Hyltén-Cavallius thanks Jussi after the Bohème performance 16 September
However the last farewell to the Stockholm public was given in the form of a concert in the Concert Hall on September 20 (see program). The well-known critic Teddy Nyblom thought that it "was precisely like all the other festive farewells we have experienced during his glorious singing career.….He is still Jussi with the difference that six or seven years ago, he was even more generous with the volume of his voice and his spontaneously-sounded top notes---in front of empty auditoriums. Now people have opened their eyes and ear for Jussi's greatness, and better late than never." Turiddu's aria, La Rêve from Manon, and the Grail Song were most praised by reviewers.
Program for farewell concert 20 September
The farewell to the Swedish public was not to the whole of Scandinavia since on September 23rd Jussi appeared at the Royal Theater in Copenhagen in Ballo in maschera. Here, as at the Met, he appeared as Gustavus III rather than as Riccardo. The original version with the king had been adopted earlier in Copenhagen than in New York.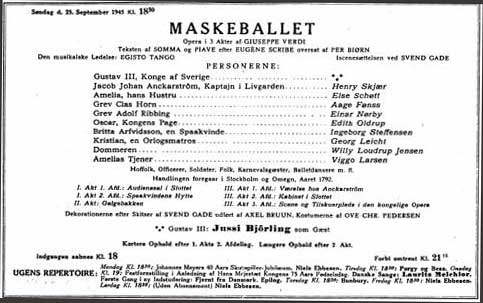 Program for Ballo in maschera 23 September in Copenhagen
Under the heading, "Enormous success of the international tenor star" he got a very warm salute from Hugo Seligmann in Politiken: "Thou blessed land----what didn't you do for us during these years of evil! Was it to crown what you did that you sent us your most precious singer? He is going far away now but before that he wanted to sing his farewell to us."
Seligmann recalled that even the first time he heard Jussi he thought "for my humble ear, it sounded still more extraordinary when this square, I dare say, singer let his voice be heard than when Gigli himself let his be heard." And now Seligmann described Jussi as "Sweden's great tenor, the world's great tenor, perhaps in this moment, I would say the greatest tenor of them all."
The photo shows stage director Svend Gade thanking Jussi after the performance 23 September.
The Swedish people would be reached by another farewell greeting from Jussi. He returned to Stockholm to give a radio broadcast without audience on the 28th of September from the Concert Hall under the direction of Tor Mann (see radio program below).
Tor Mann and Jussi in the artist box 28 September
This concert has been issued on CD (Bluebell ABCD 036). Click on the link below to hear Jussi's only preserved recording of Jules Massenet's Elégie ---- sung in Swedish, unlike the Manon aria.
As Stephen Hastings has noted, "The song is a true test-piece and the finest recordings (at least by male voices) tend to be those by the greatest singer of any era," an assessment that Jussi lived up to.
Harald Henrysson