Ten-year-anniversary at Strömsbruk
For the tenth year in a row the Jussi Björling Society arranged the annual Jussi Festival during the weekend 5-6 September 2015 at the beautiful industrial community Strömsbruk in north-east Hälsingland, where Jussi's father David was born. An audience full of expectations entered the concert hall Strömshall on Saturday 5 September, while Ströms Bruksorkester (a local brass-band) entertained with captivating wind music.
Lennart Eng, Christer Bladin, Christina Nilsson, Roma Loukes and Markus Pettersson
At 4 p.m. it was time for the concert entitled "Jussi in Our Hearts". The secretary of the Jussi Björling Society Stefan Olmårs greeted everybody, whereupon the band opened with two well-known pieces, Torbern Cassel's Kärlekens rödaste rosor (The reddest roses of love) and Paul Lincke´s Berlinerluft.
It is always thrilling to listen to young, promising singers, which was also the case this afternoon. The first of them was soprano Christina Nilsson, recipient of the Jenny Lind Prize in 2014 and the Birgit Nilsson Prize in 2015. She is a student at the University College of Opera in Stockholm. She opened with Leonora's aria Pace, pace mio Dio from Verdi's La forza del destino and sported a lyric, expansive soprano and a beautiful pianissimo. Henceforth she sang three Nordic songs, Jean Sibelius's Flickan kom ifrån sin älsklings möte (The Tryst), Wilhelm Peterson-Berger's Aspåkerspolska and Ture Rangström's En gammal dansrytm with good feeling for the texts.
Christina Nilsson
After that it was time for tenor Markus Pettersson, recipient of the Jussi Björling Society's Prize for 2015. He also studied at the University College of Opera in Stockholm, graduating in spring 2015. We were treated to Emil Sjögren´s I drömmen du är mig nära and Danish composer Mogens Schrader's Sommarnatt in nuanced and tender readings. Further on in the programme he sang Macduff's aria Ah, la paterna mano from Verdi's Macbeth and Agustin Lara's Granada, temperamentally and with tenoral brilliance.
Markus Pettersson
The third singer was soprano Roma Loukes. She has previously studied at Birmingham Conservatoire and later at the University College of Opera in Stockholm. She performed two opera arias, first Rusalka's Song to the moon from Dvořák's Rusalka, followed by Floria Tosca's aria Vissi d'arte, vissi d'amore from Puccini's Tosca, both sung with natural, lyric voice production.
Roma Loukes
The fourth and last singer was to have been bass Nils Gustén, also a former student at the University College of Opera in Stockholm, graduating in spring 2015. Unfortunately he was prevented from coming. In his place we had the pleasure to listen to tenor Christer Bladin, who stepped in at short notice. He has appeared previously at several concerts arranged by the Jussi Björling Society, and he has had a long career in Germany as opera- and concert singer. Now he performed two Nordic songs, Edvard Grieg's Jeg elsker dig and Hugo Alfvén's Så tag mitt hjerte, with great sincerity and exquisite voice production. The closeness to the texts was further enhanced since they were sung in Danish, the original language.
Christer Bladin
Finally there was a cavalcade of encores, and the audience expressed their gratitude with copious applause for pianist Lennart Eng, who throughout the concert accompanied the singers sensitively and flexibly. When Stefan Olmårs had handed out presents (instead of flowers) to the artists, everybody stood up and sang in unison Ragnar Althén's Land, du välsignade.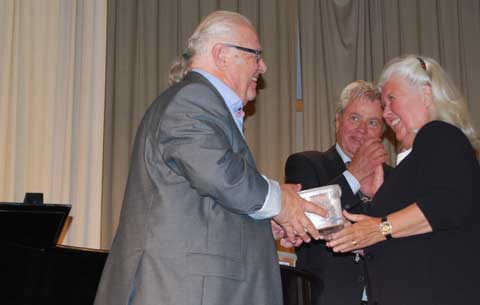 Lennart Eng and Ann-Charlotte Björling
Having eaten Noël's tasty Italian buffet, we rounded off the day with "Önskekonsert with Jussi" (Request concert with Jussi). It was a fine and memorable conversation between Jussi's daughter Ann-Charlotte Björling, Harald Henrysson and Stefan Olmårs, where we, besides enjoying favourite recordings with Jussi, also were treated to Anna-Lisa Björling´s beautiful soprano, in solos as well as in duet with her husband Jussi, and also a film where she was interviewed by Lars Tilling.
Sunday 6 September started, just as in previous years, with Johan Adlercreutz, owner of the youth hostel at Strömsbruk, who briefly told us the interesting history of the ironworks.
After that opera singer Gitta-Maria Sjöberg, initiator and leader of the Nordic Song Festival in Hudiksvall and Strömsbruk, informed us about this song festival, which started in 2014 and also took place in the summer of 2015.
Gitta-Maria Sjöberg and Christer Bladin
Last but not least we listened to author Björn Ranelid, who expertly and entertainingly told us about his deep love of Jussi Björling's art of singing, and how important it has been for him to listen to Jussi's recordings. Some of them we were also treated to, and this was a fine conclusion of this year's Jussi Festival at Strömsbruk.
Björn Ranelid
Berit Sjögren
Translation: Göran Forsling