Jussi of the Month October 2015
Jussi's first Radamès
After his debut at the Stockholm Opera on 21 July 1930 in the small role as Lamplighter in Manon Lescaut, Jussi had before him a long and hardworking period, which his brother Gösta in "Jussi – The Book about my Big Brother" (only available in Swedish) calls "The seven meagre years". As a permanent member of the opera you don't make money hand over fist and there were constantly new roles to learn. During the first few years there were several minor roles but soon enough the strenuous big roles became his bread and butter and when he left the opera in 1938 for an international career he had during these seven meagre years amassed 52 roles. Even during the first six months he was allotted five roles and in 1931 no less than nine.
Jussi as Nemorino 9 September 1932

In 1932 the starry roles started coming, the Duke of Mantua in Rigoletto, for instance, and Nemorino in L'Elisir d'amore as well as another five. Even worse was 1933 with no less than eleven new tasks, of which Romeo and Cavaradossi (Tosca) were to follow him for the rest of his career. Among seven new roles in 1934 Riccardo (Gustavus III) in Un ballo in maschera, Faust and Rodolpho in La bohème may be noted. In 1935 he was the star tenor in Stockholm but still had to learn six new roles while in 1936 there were only five. In 1937 one and 1938 two – and that's it. During the remaining 22 years of his career only two roles were added: Don Carlos and Des Grieux in Manon Lescaut.

One of his really big roles, which he retained for the rest of his life, was Radamès in Aida and that role he sang for the first time on 12 October 1935 at the Royal Theatre, as was the name of the Stockholm Opera at the time. During the spring season that year he had made his debut in three new roles, among them Turiddu in Cavalleria rusticana, in June he had married Anna-Lisa and the autumn season had already seen two new roles. On 17 August he first sang Manrico in Il trovatore, one of his signature roles, and on 17 September, less than a month before the Aida debut he was Alfred in a well-received Fledermaus.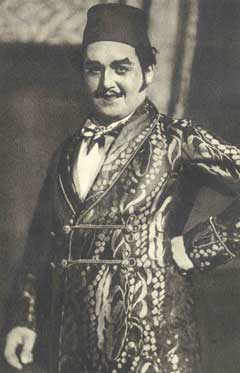 Jussi as Alfred in Fledermaus 17 September 1935

In Stockholmstidningen Kurt Atterberg wrote "… Jussi Björling was brilliant – vocally as usual of course, but also through the screamingly funny mask and air he had adopted. A tenor parody that took the audience by storm." Moses Pergament in Svenska Dagbladet was less enthusiastic: "Jussi Björling made a laughable type out of the singer Alfred, but it had been more suitable as Don Juan in Grönköping (a fictive town with a high-flown weekly newspaper issued monthly!) than as secret lover of Mrs Eisenstein. This is not a criticism directed towards the singer, who obviously did what he was supposed to do."
Gösta Rybrant in Aftonbladet was more positive: "Jussi Björling parodied a tenor in a way that probably only a really great tenor can do. The mask was a real find. He looked exactly like a picture postcard, which certainly was intentional." Curt Berg in Dagens Nyheter also hailed Jussi: "One shouldn't forget Mr Björling who with natural comical effect acted his role as the podgy tenor Alfred. He was said to be indisposed but even so he managed his singing boldly." In Nya Dagligt Allehanda William Seymer wrote: "Jussi Björling was a first class surprise. Not only did he sing elegantly, he also showed talent for great comedy – his Alfred was admirable."
Jussi, Brita Hertzberg and Emile Stiebel, Fledermaus 17 September 1935
The step from comedy to tragedy is not long in the world of opera. On 12 October it was time for Jussi's first appearance in the role of Radamès in Aida. This was not a new production, but three of singers were new to their roles and a fourth was a young singer who made her Stockholm debut as Amneris – according to Moses Pergament not terribly successfully. Otherwise was his evaluation of the tenor's role debut: "A vocally brilliant achievement was Jussi Björling's interpretation of Radamès part. In the big first act aria the brilliance was however allowed to dominate at the cost of subtlety of phrasing: every ascending phrase represented a crescendo up to a forte, and that doesn't accord with the mood of the aria. But during the evening Björling showed that he is able to turn an extraordinarily beautiful phrase above the stave also at pianissimo. Concerning his acting it can be said that even though it was somewhat more flexible than usual, it never went beyond the hitherto staked out limit for Björling's acting ability."
Poster for the performance 12 October 1935
Dagens Nyheter had in an unsigned review (presumably Curt Berg) some objections: "Also Björling, who usually doesn't show nervousness, forced to begin with. One would think that the role offers so rich opportunities to impress with flowing metal that a singer in Björling's division wouldn't need to search them in the first act aria, but should make it the discreet and delectable thing it should be. He demonstrated in the last act than he knows how to do it."
Role portrait 12 October 1935
William Seymer had filled his fountain-pen with as much ink as vitriol when he wrote his review in Nya Dagligt Allehanda: "Then there was Helga Görlin as Aida and Jussi BJörling as Radamès. One can hardly say that either of them fulfils the requirements of Forsell's slimming decree from anno dazumal. /…/ Jussi Björling should learn a thing or two from his partner's ability to sing artfully soft and delicate – since the part of Radamès also requires that. Those in the auditorium who enjoy a proud,
trumpet
blaring tenor sound certainly got their share yesterday – it sounded magnificent and secure and Mr Björling articulates convincingly. But when it comes to dramatic shaping his Radamès is a pure white plaster – not a trace of life and feeling in the role."
In Socialdemokraten Patrik Vretblad wrote: "As the leader of the Egyptians Jussi Björling appeared. He hasn't got an imposing exterior, but instead he dazzled with the beauty of his voice and the southern glow of the singing. This glow wasn't quite enough for the dramatic expression, but there were promising attempts."
Gösta Rybrant in Aftonbladet was in the main positive but: "One can possibly criticize that Jussi BJörling still doesn't sin' softer nuances than mezzoforte …".
Kurt Atterberg, composer and music critic
Stockholmstidningen's Kurt Atterberg was on the other hand in his sunniest mood and was of the opinion that the choice of repertoire was well timed: The Royal Opera keeps à jour with the political situation in the world. Now, when the war rages at the Abyssinian border, they had for their Saturday performance of
Aida
mobilised their strongest forces on the Abyssinian – Ethiopian – side as well as on their aggressors'. Helga Görlin thus sang
the Abyssinian princess Aida, and it was Jussi Björling who commanded the attack against her compatriots. Both were in sterling vigour, and it was a true delight to listen to them. For the first time it was also possible to hear what Aida and Radamès had to say, and there is no harm in that. Radamès is a great role for Björling and Radamès costume suited him better than any other hero's has so far."
Jussi as Radamès, on stage 12 October 1935
Jussi's little brother Gösta was of course also there on 12 October and 10 years later he writes in his Jussi biography: "All connoisseurs, who are familiar with the Carusoan breathing technique in the aria
Celeste Aida
in the first act, were stunned by his singing of this particular aria. It was the breathing technique that was remarkable about him, which shows that his technique is perfect and that he has good lungs. How many prescribed pauses doesn't Jussi leave out, when he sings about his love, and how often doesn't he tie together the phrases with retained air-supply and no need to breathe. It is quite simply one of his most outstanding master-pieces technically speaking
and in the same class as Lawrence Tibbett's for the same reason in singer-circles acknowledged prologue from Pagliacci."
It should be added that Jussi a little more than a year later, on 1 December 1936, in the Small Hall, today the Grünewald Hall, at the Stockholm Concert Hall, recorded the tenor aria Celeste Aida and on the same occasion Che gelida manina from La bohème. The two arias were issued the next year on HMV's international label (DB 3049) and that recording more than anything else paved the way for Jussi's international career. The noted British critic and voice expert John Steane describes the Aida-aria as "the finest studio rendition of the aria in the late78 period: We can take joy in the legato, the ring, the youthfulness and maturity of that sound". Steane's only comparison is Placido Domingo's first studio recording from 1968. Domingo was then 27 years while Jussi was 25 when he recorded his version. Domingo, who started as a baritone, has not unexpectedly an even richer, rounder tone.
To sum up Steane writes: "It is doubtful whether either of these tenors improved on his earlier recording."
Listen to Jussi in Celeste Aida recorded 1 December 1936
Göran Forsling