Jussi of the Month November 2015
Jussi in USA November 1948
Houston and Kansas City
At the beginning of November 1948, Jussi Björling left California, where he had been singing with the San Francisco Opera after his arrival from Sweden one month earlier. His tour continued with a recital in Houston, TX, on the 5th. The critic called this "an evening of refined song" by "one of the great tenors of the day", but he was still disturbed by what he called "a stiff formality and a too-much-rehearsed quality" which caused "lack of simpatico between listener and performer". But two encores, Schubert's Ständchen, in "the most exqusitely lovely interpretation of the melody ever heard" and the Bohème aria, gave the critic rich compensation.
In connection with this recital, Jussi received from Sheriff Buster Kearns an unusual distinction: a sheriff deputy's badge. The Texas hat is a gift from the president of the Scandinavian Club in Houston.
After Jussi's next recital, in Kansas City on 8 November, the reviewer recalled Jussi's first performance there in 1941. What he now appreciated most was an aria from Manon (probably "Ah! fuyez, douce image"), which "established beyond doubt that the Swedish tenor has grown in musical stature and sensibility".
Telephone Hour
On 15 November, Jussi Björling appeared on the radio program The Telephone Hour, which was sponsored by the Bell Telephone Company and broadcast from Rockefeller Center in New York. The program series had begun in 1940; Jussi made his debut there in March 1948, and 1949-51 he would return five more times. On all these seven occasions, the conductor was Donald Voorhees (1903-89) (see picture).
All these concerts were recorded and are now released on CD (West Hill Radio Archives WHRA-6036 viz. Bluebell ABCD 116), where they are a valuable contribution to Jussi's discography.
On Jussi's program at this concert (on the left advertisement for this Telephone Hour), one of Francesco Paolo Tosti's most beautiful songs, "L'alba separa dalla luce l'ombra" (The Dawn Separates the Dark from the Light) appeared for the first time. Jussi's agent Fred Schang, who had once worked for Caruso, wanted to find something new in Jussi's repertoire that would fit him perfectly. He came to think of this song, which Caruso used to sing as an encore. He called Jussi and asked him to come to his office, where he played Caruso's 1917 version of the song.
What happened then is described in Jussi by Anna-Lisa Björling and Andrew Farkas: "When the record was over, Jussi said, 'Play it again!' Freddie did. 'Again!' commanded Jussi. This time he took off his tie, unbuttoned his collar, and at the top of his voice sang along with Caruso. … Jussi took the record from Freddie and listened to it again and again. He frankly modelled his own interpretation on Caruso's, not to imitate him, but in an artistic tribute to the immortal model.
His rendition on the Telephone Hour caused a sensation, and he recorded it the following year…"
Click the link to listen to Jussi in "L'alba separa dalla luce l'ombra" from Telephone Hour (Bluebell 116, CD 1:22-23)
L'alba separa dalla luce l'ombra
Appreciation from Quincy
After Jussi's recital in Quincy, Massachusetts on 17 November, the reviewer tried to describe his qualities as a singer: "Nature equipped Mr. Bjoerling with a voice of surpassing excellence, but his singing doesn't stop there. It is difficult to recall a contemporary singer who possesses his musical virtues; tones of sweetness matched only by those of the proverbial nightingale 'sweetest bird that never were;' the ability to project and sustain a note without forcing his voice; swelling resonances or perfected pianissimos in which each note can be caught by the listening ear; and that even rarer quality that sets a musician apart as an artist worthy of commanding any attention – musical 'understanding.'"
On 23 November, the Swedish newspaper Aftonbladet published this picture of Jussi and Anna-Lisa walking in Central Park, New York.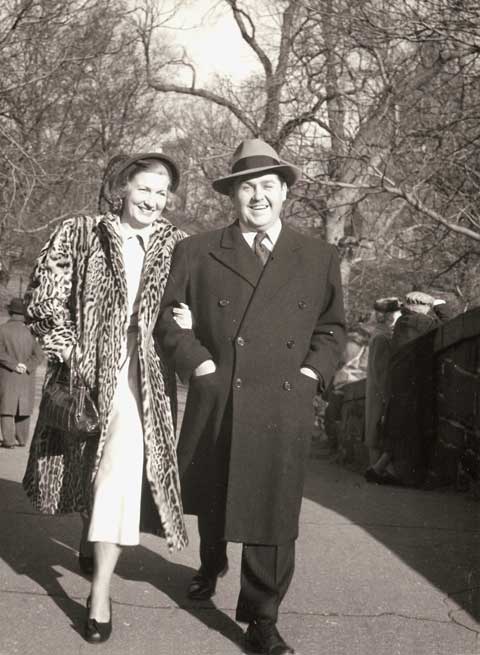 "Jussi got angry"
On 29 November, Jussi Björling sang for the first and only time in Madison Square Garden in New York. The occasion was an annual "Star-Spangled Carnival," the proceeds of which would be used to let professional musicians visit veteran hospitals and assist in teaching various instruments, organize choirs and orchestras, etc.
An Aftonbladet correspondent was there and reported under the heading "Jussi got angry" that his appearance was very nearly cancelled. Jussi had promised to contribute if he was picked up at 10 p.m. and could sing without delay, but after having waited for more than 1 ½ hours, "he had had more than enough of this and decided to cancel and leave the Garden. He had reached the exit door and already had one leg in the street, when a representative of the arrangers came running and pleaded with Jussi to come back. The kind-hearted Jussi finally yielded and returned to the stage, where he had already been introduced to the audience, which had waited for several minutes, not knowing what had transpired".
The correspondent also reported that it was Jussi who finally brought the house down and ended, quoting him: "'I was so angry that I was inspired in my singing,' Jussi said when he left the Garden, maintaining his self-respect".
Jussi and Anna-Lisa together with his accompanist in Madison Square Garden, Arne Sunnegårdh, and his wife.
Harald Henrysson