Jussi of the Month January 2016
The new year 1959 was celebrated by Jussi Björling in Sweden with his family. He had sung there during December after returning from the USA at the start of the month. But already on January 3rd, he and his wife flew out of the country again, this time to London. His appearance there the next day in the program Sunday Night at the Palladium would be the last time he appeared on TV. Unfortunately there is no video known of that appearance and the sound recording that exists is not of the best quality and has not been issued at all.
"No Doubt He's the World's Top Tenor," was the headline over an article by Dick Tatham. He is shown below in the picture together with Jussi after the rehearsal at the Palladium. Tatham managed to get past Anna-Lisa, who tried to save the tired Jussi from yet another interview, and was met by "a charming grin, and a handshake as solid as a singer's diaphragm." There was only time for a couple of questions. Jussi had time to say that he thought his most requested encore was "Nessun dorma!," but his favorite was "Mattinata." He said that he thought that public interest in good singing was on the increase, and "it greatly encourages me that my own audiences contain a large proportion of young people."
Jussi's part of the Palladium program was short, only "E lucevan le stelle" from Tosca and Turiddu's Farewell from Cavalleria, performed together with his long-time accompanist on British soil, Ivor Newton. According to Tatham "he rendered these with immaculate mastery of range, tone and volume."
He was especially impressed by the Tosca aria. As positive as Tatham was about Jussi, he was equally critical of the "amateurish way he was presented." His opinion of another singer on the program was devastating, asking "what talent this young lady is supposed to have"?
Dick Tatham and Jussi
On January 13, the newspapers announced that Jussi Björling was forbidden to sing by his doctor, so that a sold-out concert in Helsinki the same day had to be cancelled. It was never made up, and Jussi's appearances there in 1955 were his last.
Jussi on stage as Des Grieux on 20 December 1958
On January 20 he was on stage in Stockholm again, as Des Grieux in
Manon Lescaut.
This was the third of four performances in a little less than three months spent in Sweden, from December to February. When he returned to the role in December of 1958, it had been seven years since he had sung it in Stockholm. The January performance took place two days after a guest appearance by Nicolia Gedda, and public interest was strong for both tenors.
A review confirmed that Jussi sang with "his voice in its best shape, brilliant
and
exceedingly beautiful from start to finish." The ovation surprised even the reviewer---it went on for 30 minutes!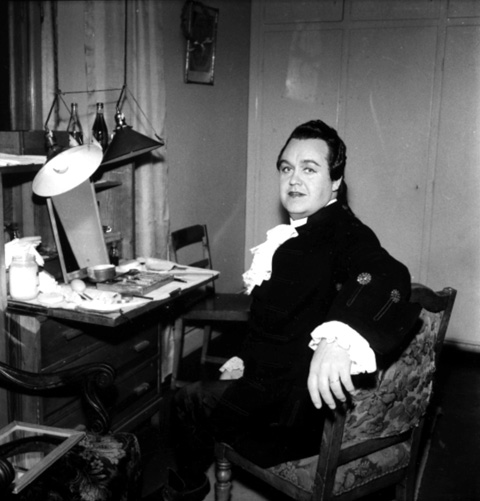 Jussi backstage on 20 december 1958
Jussi's Manon in these four performances was Elisabeth Söderström. Besides two performances as Lola in Cavalleria in Stockholm in 1954 and 1955 and two as Marguerite in Faust in New York in December of 1959, these were the only times she sang with Jussi. Manon Lescaut left a vivid memory which she recalled in the Minnesbok which came out after Jussi Björling's death. She later recalled the moment also in a 1991 interview with Andrew Farkas (for the biography JUSSI, pp 313-314), but this is a translation of her earlier memory.
"It was a surprising experience. Surprising, because I had not expected the intense and inspiring action I felt with him. I had imagined that it would be fantastic to sing with an artist who was such a master of his voice that one could feel positively influenced by his technique: It was like a light oil shower in your throat. The whole performance was unconsciously a long singing lesson.
But to meet Jussi as Des Grieux also meant that I could immerse myself in the role of Manon. He never for a moment lost his stage personality, but acted in every moment as a quite convincing chevalier."
After the fourth performance in February, Elisabeth dared to politely ask the Court Singer to use the familiar "du" with her. She got a hearty response from Jussi, as has already been described in "Jussi of the Month" for December 2015.
Listen to Jussi in (from Bluebell 028)
"Ah! Non v'avvicinate!" (harbor scene) from Manon Lecsaut, Act 3. Stockholm 1 Nov. 1959
A few days after the January 20 Manon Lescaut, Jussi's heart condition forced him to about a week's stay at the Red Cross hospital. This caused the postponement of a planned Tosca performance in Stockholm to the next month.
Harald Henrysson