The Jussi Björling Society's annual meeting, in Stockholm, Saturday January 30, 2016
42 members took themselves to the JB Society's annual meeting which began at 1 PM. Before that, as usual, there was coffee and cookies before the members took their seats. The meeting began with remembrance of Lars Hemmingsson, who was one of the founders of our Society, and was its chairman from 1995 to 2004, and thereafter Honorary Chairman. Current chairman Bengt Krantz read his obituary of Hemmingsson, and the ceremony concluded with Board member Berit Sjögren singing C.J.L. Almqvist's "Du går icke ensam" a cappella.
Thereafter, the formal meeting began. It was decided to add a new member to the Board, and Annicka Englund was elected.
Treasurer
http://jussibjorlingsallskapet.com/admin/Styrelseledamot%20Lars%20Tibell%20och%20Ann-Charlotte%20Bj%C3%B6rling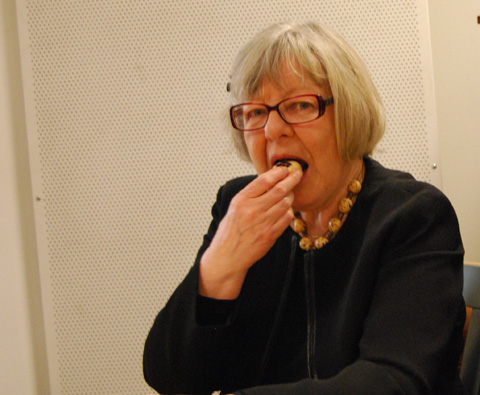 http://jussibjorlingsallskapet.com/admin/Bluebells%20Hanna%20Hedman
Efter avslutade förhandlingar fick vi lyssna till Calle Friedner, mångårig medarbetare på Sveriges Radio och nu redaktör för Jussi Björlingsällskapets tidning, som med värme och kunnande berättade Jussiana med fina och väl utvalda ljud- och bildillustrationer. Han avtackades välförtjänt med vackra rosor.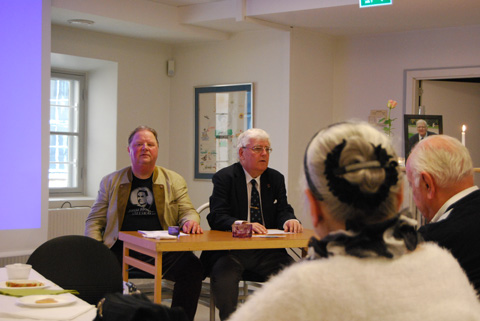 http://jussibjorlingsallskapet.com/admin/Bengt%20Krantz%20och%20Calle%20Friedner
Jussi Björlingsällskapets pris 2016 har tillfallit tenoren Ole Aleksander Bolstad Bang, student på Operahögskolan i Stockholm, mastersprogrammet opera med inriktning sång. Prisutdelning kommer att äga rum vid konserten "Jenny och Jussi" på Skansen lördagen 6 augusti 2016 där han kommer att sjunga.
Kortfakta om årsmöteshandlingarna
Resultatet för 2015 blev 8 7 73 kr
Budgeterat resultat för 2016 är 2 370 kr
Medlemsavgifterna är oförändrade för 2017