The Jussi Björling Society's annual meeting
Stockholm, Saturday January 30, 2016
42 members took themselves to the JB Society's annual meeting which began at 1 PM. Before that, as usual, there was coffee and cookies before the members took their seats. The meeting began with remembrance of Lars Hemmingsson, who was one of the founders of our Society, and was its chairman from 1995 to 2004, and thereafter Honorary Chairman. Current chairman Bengt Krantz read his obituary of Hemmingsson, and the ceremony concluded with Board member Berit Sjögren singing C.J.L. Almqvist's "Du går icke ensam" a cappella.
Thereafter, the formal meeting began. It was decided to add a new member to the Board, and Annicka Englund was elected.
Treasurer Per Bäckström
Lars Tibell and Ann-Charlotte Björling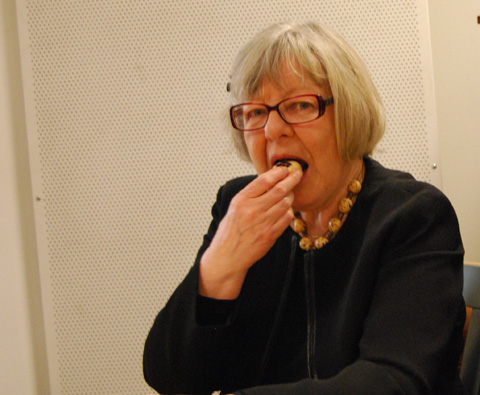 Bluebells Hanna Hedman
It was announced that the recipient of the Jussi Björling Society's prize 2016 is tenor Ole Aleksander Bolstad Bang. He will receive the prize in connection with a concert at the Solliden stage at Skansen, Stockholm on Saturday 6 August 2016, when Ole also will perform.

After the formalities, we heard Calle Friedner, broadcaster at Swedish Radio for many years, and now editor of the Society's journal, who warmly and knowledgeably related some Jussiana with fine and well-selected sound and picture illustrations. He was well-deservedly thanked with beautiful roses.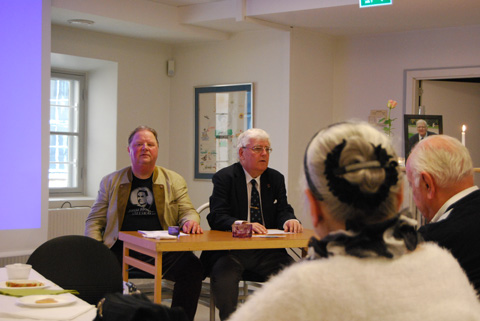 Bengt Krantz and Calle Friedner
Short facts from the annual meeting
Net income for 2015 was 8,773 kronor
Projected net for 2016 is 2,370 kronor
Membership dues for 2017 are unchanged