The 16th Jussi Festival at Voxna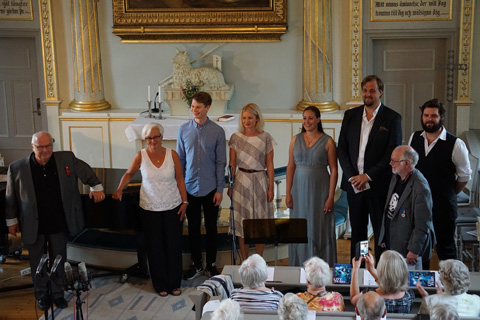 Lennart Eng, Lena Rieback, Axel Ryhed, Hilda Ryhed, Karolina Andersson, Anton Ljungqvist, Stefan Olmårs and Markus Pettersson
On Monday the 11 July 2016 it was time for Jussi Festival and concert at Voxna Church, honouring Jussi Björling, for the sixteenth time. As in previous years the concert was doubled, at 2 p.m. and 5 p.m. with full church on both occasions. I listened to the second concert, which opened with beautiful bell-ringing. After that we could enjoy an excerpt from the CD Jussi Björling Copenhagen Concert from Voice of Firestone on 10 March 1942, where Jussi sings "If I Could Tell You" by Idabelle Firestone, whereupon secretary of the Jussi Björling Society Stefan Olmårs welcomed us heartily.
Baritone Anton Ljungqvist then had the honour to open the concert. He was born and grew up in Gothenburg, and finished his studied at the University College of Opera in Stockholm in 2011. He has appeared at Folkoperan, Malmö Opera, Den Nye Opera in Bergen, Vattnäs Concert Barn, Bergen Nasjonale Opera, Wermland Opera etc. Now we were treated to two arias with different characters. First a temperamental reading of Escamillo's toreador song "Votre toast" from Bizet's opera Carmen and after that a relaxed, sonorous version of Lancelot's "If ever I would leave you" from the musical Camelot by Lerner and Loewe. Anton returned later in the programme with a couple of nice Swedish songs, "Sång efter skördeanden" by Peterson-Berger and "Helgdagskväll I timmerkojan" by Sven Scholander.
After this we got to know soprano Karolina Andersson. She grew up in Arvika and studied at the College for stage and music at the University of Gothenburg, where she finished in 2007. She has been engaged at Komische Oper, Berlin and appeared at Opéra National de Paris, Staatsoper, Berlin and Volksoper, Wien. She started with Clara's tender-hearted "Summertime" from Gershwin's opera Porgy and Bess and Musetta's waltz song "Quando m'en vo" from Puccini's La bohème. Karolina has a lyric soprano with a beautiful pianissimo, and later in the programme she demonstrated what a good Mozart singer she is. Then she sang first Susanna's rose aria "Deh vieni, non tardar" and then the duet "Crudel! Perché finora" with Anton Ljungqvist as Count Almaviva, both from Le nozze di Figaro. The numbers were sung in Swedish translation, with lightness and elegance.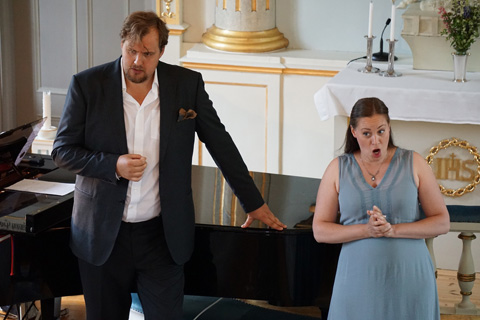 Anton Ljungqvist and Karolina Andersson
Our third singer, tenor Markus Pettersson, also recipient of the Jussi Björling Society's Prize 2015, has delighted us with his singing on various occasions during the last year. He was born at Rengsjö, not far from Bollnäs and studied at the University College of Opera in Stockholm. Next season he is contracted to the Gothenburg Opera, where he will be singing Mats in Rangström's opera Kronbruden. He opened this time with two delicate songs by Hugo Alfvén, "Saa tag mit hjerte" and "Jag längtar dig" in inward readings. When he somewhat later returned he offered something different. We got beautiful, languorous tenor singing in "E lucevan le stelle" from Puccini's Tosca and "Två mörka ögon" from Kálmán's Die Zirkusprinzessin.
Markus Pettersson
We also met two young artists, the siblings Hilda Ryhed, soprano and Axel Ryhed, baritone, from Alfta in Hälsingland, who in two musical numbers showed singing joy and stage presence. Hilda sang Millie's "Not for the life of me" from Jeanine Tesori's Thoroughly Modern Millie while Axel had chosen Leo's song "It's hard to speak my heart" from Parade by Jason Robert Brown. With further studies both can have successful careers. They were accompanied by Lena Rieback, while the other singers were accompanied by Lennart Eng.
Axel and Hilda Ryhed
As finale all the singers offered encores, much appreciated by the audience. Particularly appreciated with standing ovations was Markus and Anton's well-sung performance of the duet "Au fond du temple saint" from Bizet's Les pêcheurs de perles. The concert ended with everybody singing Ragnar Althén's "Land, du välsignade". In the evening we ate a tasty buffet at Voxnabruk Herrgård and listened to Jussi's wonderful voice in recordings presented by Harald Henrysson. At the outset a lady in the audience requested "Una furtiva lagrima" from L'elisir d'amore by Donizetti, but the rest of the programme was devoted to recordings from the Copenhagen CD, mentioned above. The fine hour was rounded off with a recording of Lilian Ray's "Säg mig god natt" (The sunshine of your smile).
The following day we gathered again at Voxnabruks Herrgård at 9.30 a.m. and listened to the story of world tenor Gösta Winbergh's career. Nils-Göran Olve, former chairman of Operavännerna (The Friends of the Stockholm Opera), who supervised a conversation with Bo Tanem, who had been tutor to Gösta. We got an interesting glimpse of Gösta's childhood, studies, the beginning of his career and great successes. It was a good conclusion of the Jussi Festival 2016.
Nils-Göran Olve and Bo Tanem
Text: Berit Sjögren
Translation: Göran Forsling
Photo: Göran Forsling and Pelle Jansson