Jussi of the Month: October 1933
During October 1933, Jussi Björling was busy both at the Royal Opera and in the recording studio. On the first day of the month, he appeared as Haroun in Bizet's Djamileh and during the following ten days he sang twice in Martha and once in Prince Igor. On the 8th, he had to cancel a concert in Gothenburg, being replaced by the baritone Einar Larson. But two days later he was in the recording studio together with Nils Grevillius. Of their two recordings, Ninon was a film tune introduced by the tenor Jan Kiepura, while Gitarren klingar (Sounds of Guitar) was a serenade, dedicated to Jussi by the Danish composer and bandleader Hugo Gyldmark (also known as Sid Merriman). In this picture he is presenting his music to Jussi:
Gitarren klingar (from Naxos 8.110740)
On the same day, Jussi changed identity and conductor and recorded the two last of his twelve tunes as the vocalist Erik Odde, with an orchestra led by Sune Waldimir. One of these tunes was Dina blåa ögon lova mer än dina röda läppar ger (Your blue eyes promise more than your red lips give) by Jules Sylvain (one of many pseudonyms for the prolific Sten Hansson). Another Sylvain film tune, Säg, att Du evigt håller mig kär (Say that you will love me forever), was on the program when Jussi returned to the recording studio on 25 October, then being himself again though still with Waldimir's orchestra. In the Swedish HMV Christmas catalog supplement, Jussi was on the same page represented twice by himself and twice by Erik Odde:
Dina blåa ögon lova mer än dina röda läppar ger (from Naxos 8.110790S)
When Jussi on 16 October 1933 appeared in Helsingborg in the southernmost Swedish province of Skåne, it was actually not the first time – he had sung there more than ten years earlier, at that point still as a member of the Björling Quartet. This time he contributed to a concert by the Helsingborg Quartet Song Society: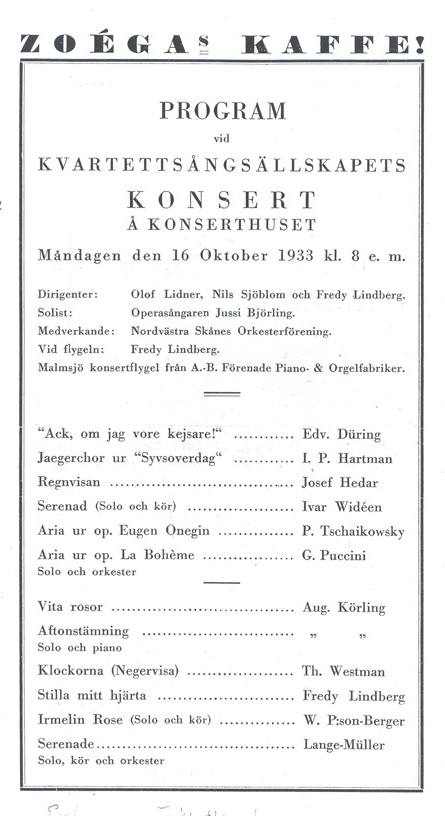 As the program shows, this was one of the occasions when Jussi appeared as a choral soloist in a song which was not otherwise in his repertoire: Wilhelm Peterson-Berger's Irmelin Rose. Though Ivar Widéen's Serenad was a song he sometimes performed, unfortunately no recording has been found. A song by the Dane Peter Lange-Müller is also on the printed program, but was probably not performed, since it was not mentioned in any of the three rather detailed reviews.
The reviewers did their best to surpass each other in praise of the soloist's singing, especially noting his performance of the opera arias. "It would hardly have been possible to make a better choice", Helsingborgs Dagblad wrote, for "this almost desperately young singer is not only eminently gifted as far as his voice is concerned, but also an excellent artist. His "free and well equalized tone production" was especially stressed by the reviewer, who thought that "such tremendous acclaim has never before been heard in the concert hall."
Skånska Socialdemokraten emphasized that Jussi Björling was already known as a "phenomenally gifted tenor", but still "the greatest expectations were surpassed" and he was found to be "a very sympathetic and unaffected artist who directly enters the hearts of his audience". A reviewer in Öresunds-Posten thought that Jussi "unites with all youthful charm in his tone a very unusual both musical and dramatic security, an eloquence in both voice and expression, which totally conquered the most reserved listener, and the critic simply doesn't find anything to criticize, except possibly – the choice of program". The conclusion was that "with serious ambition, he will be able to reach the pinnacles of art. He is no doubt divinely gifted."
Jussi Björling (in the middle of the front row) with the Quartet Song Society
When Jussi Björling made his debut as Cavaradossi in the Royal Opera's Tosca performance three days later, on 19 October, it must be regarded as the most important event in his career this month - it was the first time he sang one of the great Puccini roles.
The well-known critic Teddy Nyblom asked if "Jussi Björling had sounded better any time earlier at the Opera than in this first of Tosca. The high notes had a radiance on a par with Caruso." Patrik Vretblad in Social-Demokraten, on the other hand, was especially impressed by "how beautifully he sang his arias and duets in the last act"; he also found "his interpretation of the role quite satisfactory – he begins to get stage experience".
Jussi Björling as Cavaradossi 1933
Moses Pergament in Svenska Dagbladet joined in the praise of "an excellent voice, both dramatically dynamic and warmly lyric. It is a true pleasure to listen to this human organ when it, without being restrained by the acting, lets its fervently radiant flow of tones stream over the orchestra." He, too, noted the dramatic development. Curt Berg in Dagens Nyheter agreed that "Jussi sang very musically and could actually not be blamed for anything but a few unnecessary fermatas. The acting was good."
Recondita armonia (Det sköna står att finna, recorded the month after the debut; from Naxos 8.110722)
Tosca was repeated on 27 October, and before that, Jussi had also sung a performance of Rossini's Barbiere. On the 29th, he first sang L'illustre Fregona at a Sunday matinee and then in the evening Djamileh, and the next day finished his operatic month with Roméo et Juliette.
Harald Henrysson