Nicolai Gedda has passed away
By Bengt Krantz
Our cherished honorary member, Royal Court Singer Nicolai Gedda, is dead. A paralysing emptiness surrounds me while writing these words. As it often is with utterly alive people who are available through their recordings, thus it is also with Nicolai.
The immediate reaction on the news of his death was for me to at once play some favourite recordings and convince myself that an artistry like his, through the brilliant recordings from 1952 and all the way into the 21st century, can never really die. The same way that we keep the memory of Jussi Björling, and many of his singer colleagues, alive through all the well preserved documents we have available, so new listeners will little by little be captivated by Gedda's voice and all the expressivity his vocal art conveys. A singer, who all his life devotes himself to the art of the moment, continues to live in his recordings that defies the dark death. It is almost like the priest's confidence and the promise of eternal life at a funeral. A singer without a posthumous treasury of records, would faster go down into history. Nicolai Gedda had time, during his long and versatile career, to do so much more than only deliver a limited number of opera roles on the stages worldwide. Since he was in command of and developed so many genres, his concert activities were just as important.
To the title opera singer can with emphasis be added operetta singer, lieder singer and concert singer. Even though some of these disciplines weren't exactly practised on stages and concert platforms, he produced such a lot of exquisite recordings, not least within the operetta genre, recordings that in most cases today are regarded as unsurpassable, although he didn't create so many of them on the stage, and place him in the front line by the side of singers like Richard Tauber and Rudolf Schock.
We usually talk about the ability to be idiomatic, to do justice to the most variable material, via language, style and expression. Here Gedda was an unbelievable master, when he ploughed through so many various styles within vocal music through the centuries. He was an outstanding interpreter of sacred works from Bach an onwards, to the Russian-Orthodox church music. He sang baroque music with great ardour. It was a delight to hear him singing Mozart (the picture to the left is from Idomenoe by Mozart and Gedda is together with Elisabeth Söderström. Photo by Enar Merkel Rydberg). At the same time he was a brilliant exponent of both the French art music with its advanced texts, by Fauré, Poulenc, Debussy and Reynaldo Hahn, but also phenomenal as German Lieder singer. The Nordic romances were a solace to hear, with every syllable so thoroughly penetrated, vocally as well as textually. Not least the Russian romances found in Gedda one of the foremost interpreters. German operetta adopted radiance when Nicolai took on Danilo, René, the Gipsy Baron and a number of other chiselled out characters.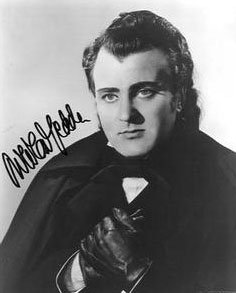 When we then reach opera and its characters he was just as at home as a Rodolfo in La bohème as a Lensky (see picture to the left) in Eugene Onegin. Just as obvious as Faust and Romeo as Benvenuto Cellini or the false Dimitry in Boris Godunov. An outstanding Gustavus III and a close to unsurpassed Hoffmann.
Rarely has a singer's technique been reflected more distinctly in his apparition than by Nicolai Gedda. Only listening to his recordings and studying his posture on stage is the best of schools. He is a representative of the so called internal smile, which creates a platform for placing, articulation and expansion. He was a singer who didn't find the language and the words a hindrance for the vocal treatment. On the contrary he made use of every vowel and consonant as turning points which make his expression constantly present and appropriate.
Breath-control, equalisation, legato and dynamics were practically perfect in his voice. Wise and aware of both limitations and suitability, he chose repertoire with great judiciousness and insight. He dared to make experiments but always took the consequences of things that worked less than perfect and excluded those things from his repertoire.
In spite of all the evil rumours of Nicolai as an intellectual snob or too academic and exclusive singer, all of us who knew him and saw him at close quarters know that this wasn't the case. In the midst of all nobility he was a kind of relaxed chap who loved funny stories with fine punch-lines. He adored Laurel and Hardy and W.C.Fields and other fine comedians and crazy artists. So Nicolai was a singer of the people. Who willingly contributed to charity galas and took part in TV-shows. He was certainly also a very private person with high integrity, but always ready for friendly words and crazy jokes.
This also made him an excellent vocal teacher and coach who could arouse enthusiasm. But there were problems, since the rush of students, not least from Japan, who wanted to study with him when he began to teach on a small scale, grew too much and since his friendliness and benevolence to help was so great he was forced to ration among his students, and like many of his great predecessors, help colleagues in the midst of their careers, to get a 'push' in the right direction as a first priority. Few could, like Nicolai, give a tip-off about tricks-of-the-trade through a phone-call. He was not a method-singer but could 'read' a voice and what was needed to do with it. With his roots as a Stockholm-chap and closeness to everything Russian through his adopted father who was a Don-Cossack, and also a stay in Germany as a boy, he early became cosmopolitan, and there was his foundation for his brilliant linguistic proficiency that never eluded him. Gedda was a singer with unique textual awareness in the midst of his accomplished and illuminating way of singing.
Nicolai Gedda never forgot Sweden however and his repertoire encompassed a large number of Swedish romances and songs and he was the only one, besides Jussi, who regularly sang patriotic songs, which have also been preserved in fine recordings, among other things with the Stockholm Academic Male Chorus.
Through his modest and unobtrusive disposition he enjoyed in more limited degree the admiration and exultation from a wider audience, but the well-informed audience and all his fascinated colleagues will never forget him. His posthumous reputation will be: an unbelievably great singer and a boundlessly amiable personality.
May he rest in peace!
Bengt Krantz

Chairman of the Swedish Jussi Björling Society
Translation by Göran Forsling