Jussi of the Month May 2017
On Saturday 2 May 1959 Ann-Charlotte Björling was confirmed at Engelbrekt Church in Stockholm. Jussi and Anna-Lisa had just returned home from New York and couldn't manage to be present at the ceremony. Vicar Alvar Cedermark asked however Jussi whether he could imagine singing something at the morning service the next day, in connection with the confirmands' first communion. He was willing to do that, and immediately after the ringing of bells he sang from the gallery Beethoven's Song of Praise, "with eyes brimming over with emotions", as those present could relate. According to other witnesses he also sang Land du välsignade.
The America tour had been strenuous with nineteen appearances in two months and constant travels across the continent. Now he had a well-deserved pause before he was scheduled to appear at the Djurgården Exhibition at Skansen on 23 and 24 May. It was the 25th Anniversary for the exhibition and the troop of artists was overwhelming. At the Grand Gala on Sunday afternoon there was parade of soldiers, Pony Cavalry, variety music and show, a number of leading actors, including Signe Hasso singing Marlene Dietrich repertoire, ballet dancers from the Royal Opera, numbers from My Fair Lady which was a success at the Oscars Theatre, the then famous Norwegian actor and entertainer Per Aabel and finally, as the plum of the cake, Jussi Björling in brilliant shape. He sang Wagner, Sibelius and Brahms and the audience – 25,000! – was ecstatic.
The audience at Skansen on a later concert 6 June 1959
When the ovations had calmed down actor Gunnar Sjöberg awarded Jussi the Theatre Union's gold medal "for extraordinary artistic achievements". In his speech Mr Sjöberg expressed his admiration in lyrical words: "With your singing, which is not just the sonority of a voice, but something that comes from your heart, you elevate mankind to higher spheres than those where we usually dwell." Jussi thanked by singing Land du välsignade and the enthusiastic audience responded with a fourfold "hurray".
Djurgården Exhibition 24 May 1959. Behind Jussi is Gunnar Sjöberg
Indeed, the success was so great that "Edvin Adolphson, the boss of the exhibition, had tears in his eyes out of sheer sentimentality", one newspaper reported. But for Jussi this appearance was just warming up before what was to follow. Only the next day Anna-Lisa and Jussi travelled to Oslo, where they upon arrival "were attacked by sheer blitz bombardment by the press photographers", according to Morgenbladet's advance article, headed "The Great Jussi in Oslo". Interest was enormous, Jussi had not set foot in Norway since he sang at Jordal Amphi in 1955, together with Elisabeth Schwarzkopf. The reporter of Morgenbladet noted that Jussi had become thinner since then, and Jussi patted his stomach and said jokingly "Thin, thinner, tenor" and "was proud like a vain woman" for the compliment.
The University Great Hall was sold out on 26 May, in spite of raised ticket prices. At the piano was Norwegian master pianist Robert Levin. In the programme Jussi was presented as "The Tenor of Tenors" and the repertoire was "a veritable request programme", as Hans Jørgen Hurum wrote in Aftenposten. "The only unknown number was a captivating lyric ballad by Swedish great Romantic August Söderman, Kung Heimer och Aslög". More familiar with Jussi's repertoire was Børre Qvamme, Morgenbladet, who in his review called the song "the indestructible ballad Kung Heimer och Aslög, which always was one of Jussi's real hits". As often was the case the preliminary programme was rather short: Handel's Largo, followed by four Schubert songs, three by Grieg and the Flower Song before the interval, and two Sibelius songs, Kung Heimer and Come un bel di di Maggio from Andrea Chenier after the break – the latter particularly suitable a beautiful day in May! But the audience didn't give in until "the charming tenor" had sung a number of encores, including E lucevan le stelle from Tosca and Till havs.
Jussi and Robert Levin, Oslo 26 May 1959
Qvamme appreciated the songs, which he sang "well without manners and cheap effects. "But one would have been disappointed if one hadn't also been treated to some opera arias, and the appreciative buzz that went through the auditorium when Robert Levin as the first encore played the introduction to E lucevan le stelle, revealed that Jussi had guessed their wish correctly. It is only in opera his vocal splendour comes on its own, the thundering top notes that can be held forever, which make the candelabras vibrate and the hearts throb at double speed. In the Italian arias from Fedora and Andrea Chenier there was such warmth in his Nordic voice that explains why he has been called Caruso's heir." After some laudatory words about Robert Levin's accompaniment, Qvamme ended his review:
"There was such violent applause that one feared that the Great Hall would collapse, and encore followed encore until Björling said farewell with Richard Strauss's Zueignung: Hab gedank – and this also expressed the feelings of the audience."
Similar expressions are also found in other reviews, and also in Swedish papers there were notes about the event. Aftonbladet wrote laconically "As usual …", while Svenska Dagbladet's header read "Great Success in Oslo for Jussi Björling". Expressen said: "The Great Hall of the University in Oslo had the great day of the year on Tuesday evening when Jussi Björling came, sang and triumphed. The ovations were heard also out to Karl Johan (the High Street of Oslo) and people were jostling also in the cload room."
From a Norweigan obituary, the photo is probably taken at Porsgrunn
But Jussi's triumphal march went on. The year before he had had to cancel a planned concert in Skien and now he was able to fulfil that promise. This happened in Porsgrunn Kino (Porsgrunn/Skien is a municipality southwest of Oslo). Expectations were high also here. The concert was to take place on 28 May and the day before Porsgrunns Dagblad wrote: "Yesterday he sang in Oslo before a packed house and ear-splitting ovations, but Oslo was only a touchdown on the way to
Porsgrunn." Porsgrunn could not, however, offer a concert venue of the same calibre as the touchdown place Oslo, and the reporter of Porsgrunns Dagblad complained about acoustics, lighting and miserable space on and behind the stage. The only gleam of light was "that yesterday one anyway got comfortable for the expensive ticket". The opening of the review was the more positive:
"What vocal glory! What natural talents! What supreme nuances, what superb control of all the expressive means of the singing, from the mighty surge of the arias to the faintest diminuendo of the songs. Naturally everyone came with the highest expectations to last evening's Jussi Björling concert.
But, gosh, the encounter with the world's foremost tenor superseded everything one had wished, hoped for and rejoiced at. This was singing of the highest order!"
The programme corresponded largely with the one in Oslo two days before (the Flower Song was in Porsgrunn one of the encores, for instance) and the reviewer was just as lyrical about the choice of repertoire as about the performance. Interestingly the review was illustrated by ink drawings of Jussi and Robert Levin instead of photos – possibly out of consideration towards the artists: In the lousy lighting one could hardly have taken photos without flashlight.
Porsgrunn 28 May, with Anna-Lisa, Elsa-Mai Gottschalk, Jussi, Robert Levin and Per Gottschalk
The month of May was nearing the end but Jussi had one more appearance scheduled, and not any appearance. On Sunday 31 May he sang, with Ivor Newton at the piano, an extensive programme in the enormous Albert Hall in London. The repertoire was quite different from Oslo and Porsgrunn: no Handel, no Schubert, no Grieg and of the three Sibelius songs only Säv, säv, susa was performed in Norway. The Flower Song was there but for the rest there was Beethoven, Wolf, Brahms and Richard Strauss and after the interval two rare birds: Louis Campbell-Tipton's Spirit flower and Charles Spross's Will o' the wisp. The final number was Donna non vidi mai from Manon Lescaut. And encores of course, no fewer than six, so certainly the listeners in Albert Hall got value for money.
Listen to Spirit flower from 1952 with Ivor Newton (Naxos 8.101101):
The header of The Times' short review read "Golden Voice":
At his recital last night in the Albert Hall, Mr. Jussi Björling showed us once again that he has a tenor voice of remarkably even quality from top to bottom, warm and full in tone and every dynamic degree from the quietest mezza voce to the triumphant fortissimo with which Puccini's "Nessun dorma" ends.
Is it ungrateful to complain of a golden voice that it is monochrome? Ungrateful, perhaps, but relevant in a programme that includes lieder by Wolf, Brahms, Strauss and Sibelius as well as songs more obviously designed for vocal display.
True lieder-singing demands more subtlety of colour, more dramatic light and shade than Mr. Björling brings to it, but on one score at least it would be impossible to fault him: his diction is so crystal-clear that every word could be heard, even in the cathedral spaces of the Albert Hall."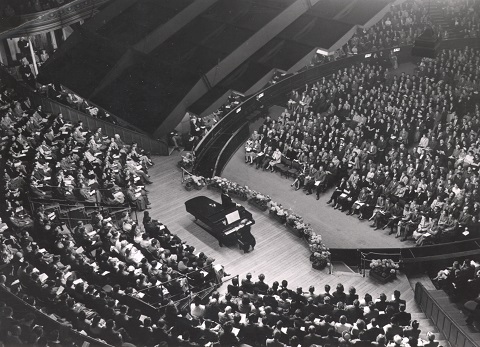 A Jussi concert in Royal Albert Hall 1952
The signature D. A. W. M. in Daily Telegraph highlights in his headers "Björling's Rare Vocal Beauty" and "A Tenor's Spell": However often the great tenor Jussi Björling has delighted us one is impressed anew not only by the rare beauty of his voice but also by the integrity of his musicianship.
His programme at the Albert Hall would have satisfied any gathering of musicians and he sang it right through without departure from his own unimpeachable standards.
His German group contained only one quick song (Strauss's "Ständchen") and yet so perfect was his sustained line and so purposeful his pulse that there was never any hint of monotony. Perhaps he cast his strongest spell with Wolf's "Verborgenheit" and Strauss's "Morgen", no mean feat in such a big hall.
A Sibelius group was wonderfully effective and his operatic contributions from "Carmen" and "Turandot" made one hope that the rumour is true that he is to sing at Covent Garden next year."
The rumour was true. In March 1960 he sang four performances of La Bohème.
Göran Forsling