Jussi of the Month October 2017
After a fairly intensive summer of 1958, where in particular the latter part of August was filled – among other things Jussi sang at the Stockholm Stadium during the inauguration of the European Athletics Championship on 19 August – he in due time set off for the US at the end of September. Just as previous autumn it was primarily a matter of opera performances, with Verdi the dominating composer. It started on the West Coast and then Il Trovatore was almost exclusively on the agenda. With the San Francisco Opera ensemble, he sang Manrico in four performances, on the home stage as well as guest appearances in Sacramento and Los Angeles. Georges Sebastian conducted and Jussi's colleagues were far from nobodies. Mezzo-soprano Irene Dalis sang Azucena and the Canadian baritone Louis Quilico was Count Luna; both received rave reviews.
Jussi as Manrico and Louis Quilico as Count Luna 1958
As Leonora the dramatic soprano Eileen Farrell was scheduled, but she fell ill and had to cancel, and in her place the young up-and-coming Leontyne Price stepped in at short notice.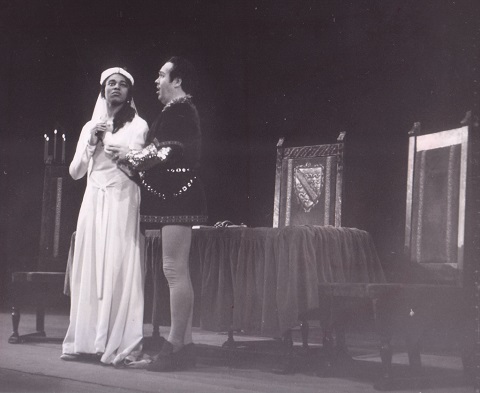 Leontyne Price as Leonora and Jussi as Manrico 1958
She was to become the probably foremost lyric-dramatic soprano during the sixties and seventies. Her Metropolitan debut took place a little more than two years later, also then in Il Trovatore and together with another debutant, Franco Corelli. Together they received among the longest ovations ever at the MET. But the audiences in California were also appreciative. In Los Angeles Herald Express Alma Gowdy wrote: "Longest ovation of the current opera season went to Leontyne Price yesterday afternoon at Shrine Auditorium" and went on: "However, there had been fine singing throughout the afternoon and the cast was one of the best assembled thus far this season. Jussi Björling as Manrico was in top voice and in complete command of the role. His 'Ah si, ben mio' toward the end of act 3 and the famous 'Di quella pira' were performed with vocal assurance".
Listen to 'Ah si, ben mio' (Naxos 8.110754S, från 1939)
Her colleague Albert Golding at Los Angeles Times also hailed Leontyne Price and in particular her aria in act 4. He continued: "To add the vociferous excitement of the afternoon Jussi Björling made his first appearance of the season. It was the first really rousing tenor singing there has been this year, and Björling gave forth lavishly with the style and voice that have made him so pre-eminent in his profession. There was always an admirable flow of legato tone and plenty of the ringing top tones the public adores. He is not the first tenor to cut the repetition of 'Di quella pira' but there was plenty of bravura and the high C at the end of the scene was firmly in place."
Also Patterson Greene in Los Angeles Examiner was satisfied: "…by the time he had warmed up to the 'Ah si, ben mio' in the third act he was in his best voice, and his best voice is not to be surpassed among tenors of the day."
In San Francisco Examiner Alexander Fried found that "Aside from the fact that Björling fell a little short of his usual fire in the 'Di quella pira' (in which he pinched off his high C too abruptly) he gave a performance worthy of his renown. He has developed into a more supple, thoughtful musical artist than he used to be, to make up for the shade of gloss that time has rubbed off some of his tone. Friday's audience loved him as much as it did Miss Price."
Between the Trovatore performances in San Francisco Jussi also took part in a performance of La bohème, put up for the 100-year anniversary of Puccini. Jean Fournet conducted and beside Jussi's Rodolfo was the outstanding Austrian soprano Lisa Della Casa as Mimì, Rolando Panerai as Marcello, Giorgio Tozzi as Colline (who sang the same role on the legendary recording with Jussi and Victoria de los Angeles two years earlier) and the young Eugenia Ratti as Musetta. Unfortunately, no reviews of the performance have been preserved. The same is the case with the Gala Concert, "Fol de Rol", held at the San Francisco Opera on 8 October. It was conducted by Karl Kritz and among the participants can be mentioned Giorgio Tozzi, Claramae Turner (who alternated with Irene Dalis as Azaucena in Il trovatore), Lisa Della Casa, Leonie Rysanek, Irene Dalis, Leontyne Price and Lawrence Winters (they sang the duet 'Bess, you is my woman now') and Jussi who sang 'For You Alone' and Elizabeth Schwarzkopf who performed the czardas from Die Fledermaus.
Listen to 'For You Alone' (Naxos 8.110792S från 1937)
At the Civic Opera in Chicago Jussi also sang a number of performances, including three Trovatore.
Jussi in front of the curtain in Chicago 1958
Chicago Tribune's review was adorned with a photo of Jussi and Claudia Cassidy opened her article thus: "With two magnificent singers, Jussi Björling and Giulietta Simionato, and one of magnificent potential, Ettore Bastianini, the Lyric had the misfortune to lose first its conductor, Giannandrea Gavazzeni and then its Leonora, Eileen Farrell … With an incompetent conductor [Lee Schaenen] and a neophyte Leonora [Elinor Ross] the evening's stars did what they could.
Elinor Ross as Leonora and Jussi as Manrico Chicago 1958
Mr Björling had his major innings with the third act arias, spinning out the lovely legato of 'Ah si, ben mio' and the steely glint of 'Di quella pira'.
Listen to Di quella pira (Naxos8.110754S, från 1939)
Miss Simionato sang Azucena as a Spanish gypsy who just happened to have the full Italian opulence of song, with a drifting chromatic scale to drown the ears in delight. Mr Bastianini's baritone has its own opulence, plus the gravity of splendid shadows. I don't know why he doesn't always thrust it out in all its splendour, for he has such a right to be proud. So here they were, these three superb voices, with William Wilderman in the Rembrandt picture as a good Ferrando. Otherwise there was not much to be said for the performance. Miss Canali sounded unaccountably like a parrot with a cold, and the chorus was either tired or unable to recover from the muddle Mr Schaenen made of the anvil chorus."
Jussi later sang in Don Carlos, Rigoletto and Aïda, but then we are in November and it is beyond the scope of this edition of "Jussi of the Month".
Göran Forsling