Jussi of the Month November 2017
November 1953
That autumn Jussi Björling had arrived in America at the beginning of October and given a couple of concerts the same month before singing on the 31st at Hunter College in New York, a performance the New York Times called "magnificent". After that, he began to prepare his third season opening at the Met (after Ballo in maschera 1940 and Don Carlo 1950), Gounod's Faust. In the US, Jussi had already sung the title role nine times with the Met between 1939 and 1951, and twice with the San Francisco Opera.
In 1953, however, the production was a new and for that time rather sensational one by the 29-year-old Englishman Peter Brook, making his Met debut as a stage director. The age difference was great between him and the 78-year-old French-American conductor Pierre Monteux, who had made his Met debut with the same opera already in 1917! Brook had moved the action to the composer's own time, the 19th century, and unlike the previous production, there were no renaissance costumes but both Faust and Méphistophélès appeared in frock coats.
Anna-Lisa helps Jussi with Faust's frock-coat.
Brook's concept did of course invite strong reactions, and already before the premiere was the reason that the famous bass Boris Christoff declined to sing Mephisto's role. Opera manager Rudolph Bing, with whom also Jussi had strained relations, felt offended by this, and Christoff would never sing at the Met. Jussi was positive about the production in a preserved radio interview soon after the premiere, but a few years later he was more open in San Francisco. Then he called the production "ridiculous" and thought that "these anachronistic flights of fancy are aberrations, and disturbing: they are out of character with the opera and help to defeat opera's purpose."
Listen to Jussi in an interview with Ruby Mercer in November 1953. (First download the file. Faust starts 04:57)
Olin Downes in the New York Times looked back and recalled that Faust had also been the opening performance of the opera house 70 years earlier. Actually, there was a person in the audience who had attended that performance, too!
This Faust remained the only production where Jussi sang on stage opposite Victoria de los Angeles. But already in January of the same year, he had recorded Pagliacci with her in the studio, and later they would make famous recordings also of La bohème and Madama Butterfly. Christoff's replacement as Mephisto was the Italian-Russian bass Nicola Rossi-Lemeni, who had earlier sung with Jussi as Colline in Bohème. Robert Merrill sang Valentin, as he had done in 1946 when he met Jussi on stage for the first time, in the Met's earlier production.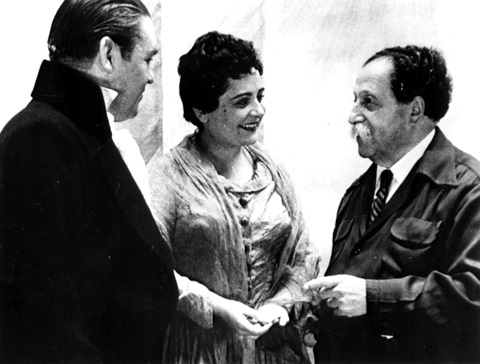 Jussi and Victoria de los Angeles discuss with conductor Pierre Monteux.
Rehearsals were reported to have gone well, except that Jussi protested against Brook's fencing lessons; he thought he had come to sing and not to fence like Eroll Flynn, and what he had done earlier in the duel scene should be good enough.
Jussi having a fencing lesson. In the background, director Brook.
The premiere on 16 November was well received, and the conductor Monteux was generally praised. In the New York Times, Olin Downes wrote: "Mr. Bjoerling headed the list of five voices with his wonted mastery of the vocal art. One could not claim for this gifted exponent of song a romantic appearance or histrionic power. But when he communicates the amorous sentiments and soaring line of Gounod's music, or looses the high C that most other tenors may vainly envy him,… the singer will cast his spell." The New York World Telegram and Sun thought that Jussi "took a good long time to warm up" before he swung "into that lovely, controlled spinning of tone that we know so well."
Listen to Jussi in Salut! demeure chaste et pure, studio recording 9 March 1951 (from Naxos 8.101101)
Jussi repeated Faust on the 24th and 28th of November, but at the beginning of December, a persistent laryngitis set in which prevented him from singing three more Faust performances (among them a broadcast), forced him to discontinue a fourth and after that also prevented his participation in a Toscanini broadcast of Ballo in maschera.
Before the laryngitis, Jussi and Anna-Lisa had found time for a charity concert at the Swedish Seamen's Hall in Brooklyn, a benefit for Christmas gifts to Swedish seamen. This caused a review in an unusual place, the magazine Sjömannen (The Seaman): "Jussi was in top form, with reference both to the perfection of his voice and his sympathetic manner, and wife Anna-Lisa, with her youthful beauty and modest female charm, moved all."
Harald Henrysson