Jussi of the Month October 1940
Twelve and a half minutes from Verdi's Un ballo in maschera with Jussi Björling from October 1940 may help us to understand something which has left few audible traces: his US performances in opera outside New York.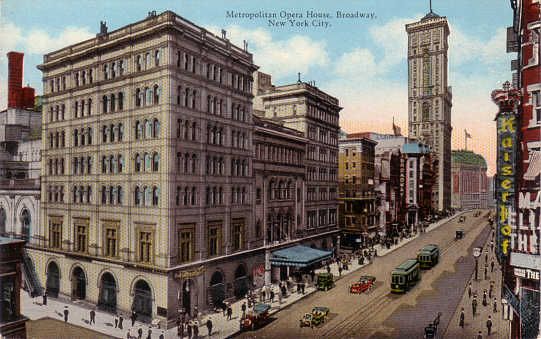 Old Met
Spring 1939 saw the end of Jussi's fixed employment at the Stockholm Opera, where he had started his operatic career precisely nine years previously. He was now internationally recognized and in high demand, with the Metropolitan Opera
House in New York as the centre of his activities. But its season started only in November, and Jussi did not belong, neither then nor later, among the singers who participated throughout the entire season. For most artists the Metropolitan, and the income from it, served as a base which proved that you were a recognized artist, not least through broadcasts. Today's direct transmissions "in high definition" to cinemas around the globe of Saturday matinees had their predecessors in broadcasts over the American continent, which had started on a small scale already in 1931. If you were "of the Metropolitan opera" you could also count on other broadcast appearances, concert tours and invitations to private soirées – all more financially rewarding than the ten or so performances at the Met which often were Jussi's entire annual workload there.
Jussi at La Guardia 1940-10-08
In 1939 and 1940 he therefore established a pattern which would continue most of his remaining years, with exception for the war years. In September or October Jussi would go to America, and the autumn would be filled with other appearances before it was time for the Metropolitan. It was mostly during the autumn that he performed with other US opera companies, especially San Francisco and Chicago whose seasons in those days were in the autumn. A
utumn was when Met artists had time for engagements elsewhere
, but these two stages also took pride in introducing new European stars to USA who had not yet had their Met debuts.
In all, Jussi performed in opera in the
United States 210 times 1937-1960: 91 with the Metropolitan in New York, 29 on Met tours, and 90 times with other companies. Of the 91 a dozen are preserved in complete recordings, but of those given elsewhere very little remains. The document we will discuss here is at the same time highly interesting and frustrating.
It is from 23 October 1940 when Jussi Björling sang for the second time at the San Francisco Opera. He had made his debut there five days earlier in La bohème. The local custom was that the radio company NBC would make direct transmissions of one act of some of the season's productions, but the planned time slot rarely coincided with how the performance progressed. This evening the "gallows scene" from Verdi's Un ballo in maschera had been allotted half an hour, and we can participate from its start and 24 minutes onwards: Amelia's aria, her duet with Riccardo and the start of what happens next, namely that Amelia's husband Renato arrives and the conspirators arrive in the distance. This is where the recording breaks off and the announcer takes over.
Margit Bokor, Richard Bonelli, Paul Walti together with Jussi in Un ballo in maschera 23 October 1940
This is of course frustrating, and the quality of the recording also leaves much too desire. In its latest issue (Guild GHCD 2238/40) the sound has gained in range, its pitch has been corrected and some missing bars for the soprano have been filled in, in a way that can barely be noticed, from recordings with other singers. But it is understandable that this recording has seldom been reissued. It exists on Youtube, but from one of its previous issues where it sounds considerably worse.
Click here to listen to a part of Un ballo in maschera 23 October 1940 (from Youtube)
And yet it is interesting for many reasons, not just for Jussi. As far as I know it is the only live recording where one of the interwar period's great German sopranos Elisabeth Rethberg (1894-1976) sings Amelia. Here we get to hear both her big aria, the duet and a little of the continuation. In Stockholm in the thirties the extremely young Jussi Björling obviously sang mostly with co-artists who were his seniors, but in the recordings we most often hear – those from his years out in the big world – they tend to be of his own generation. Here we meet a 29-year old Jussi with a 46-year old soprano who had 25 years of career behind her - she had debuted already in 1915 in Dresden. Granted, a four-year old Jussi also made his first public appearance that year. Rethberg settled in the US and sang a lot at the Met 1922-1942, with Aida as her first and last part. Somehow, my impression is that stylistically they are very well matched: what Jussi learnt from his father and Forsell was not that different from Rethberg's training in the 1910s!
I find that she still sounds fresh in the Ballo recording, although it is often claimed that her voice started to deteriorate already from the mid-1930s. Compared to others at the time she has a rather straight and clear but extremely carrying sound, with good equalizing of registers and ability to vary dynamics. One hears why she was considered a good musician. Both she and Jussi take the score's indications seriously, which other singers in the heat of the battle tend to neglect. Maybe Rethberg's voice is a little harder in tone and has lost some of its shimmer compared to her studio recordings ten years earlier, but such comparisons are problematic.
Jussi and Elisabeth Rethberg in Un ballo in maschera 23 October 1940
For Jussi Ballo is one of a hand-full of operas in the limited repertoire he sang internationally where no studio recording was completed. What we have is an excellent live version from the Met seven weeks after the San Francisco performance, and a rather little-known one from New Orleans ten years later. Stephen Hastings therefore devotes one whole page in his excellent book on all Jussi's recordings to this San Francisco excerpt, which he describes as more lyric than the latter two. Especially in New Orleans Jussi sounds more self-assured and authoritarian than in this fragment from San Francisco, where his Riccardo seems younger and more varied in dynamics and phrasing. Age, experience and colleagues of course have an impact, but this makes the San Francisco recording an interesting complement.
The San Francisco Opera at that time had a season of roughly three weeks. Like I said Jussi sang in Bohème 18 October and Ballo 23 October. For us the repertory looks strange: ten operas were given once each, in most cases with singers who knew their parts from the Met (and may have brought their own costumes). Opera enthusiasts were expected to subscribe and come to most performances during these intense three weeks. Rehearsals must have been few. Between these ten evenings four of the operas were given with the same casts in something called the "popular series", among these one more Bohème with Jussi on 29 October. Towards the end of the season two of the operas were also given as "young people's performances", in one case with alternative singers. "Popular" performances were one third less expensive than ordinary ones, youth performances even cheaper. We may imagine the chaos with five performances per week of so many operas, an orchestra with only once-a-year habit of doing opera, and very limited time for rehearsals. Routine and earlier acquaintance with roles and colleagues made it possible.
Click here to listen to "Che gelida manina" from "Bohème" from Ford Sunday Evening Broasdcast 1940-12-08
War Memorial Opera House
The "War Memorial Opera House" had been inaugurated in 1932 and today has 3,146 seats plus 200 standing room. It may have held even more in those days, which partly explains why most works were performed only once – the audience would not have sufficed, at least not with the
high ticket prices that are necessary in a country where tax and sponsor money cover a small part of the cost. (In 2018 the season of the San Francisco Opera lasts most of the autumn, with more in June next year. In all eight works are given, about half a dozen times each. The only Swede this autumn is Daniel Johansson.)
The Ballo in maschera in October 1940 that we can hear part of was only given once. Its love couple had never before met on stage, they had rehearsed minimally, and done their parts earlier only a few times (Jussi) or maybe never (Rethberg). Considering this, the audible result is remarkably correct and in tune with each other. In this particular case there was no Metropolitan production to fall back on, as the Met had not performed Ballo since Caruso's days. Jussi had done Riccardo precisely twice: in Stockholm in Swedish once in 1934, and in Vienna 1937, also then only once. So this was a welcome rehearsal for the Met, where he would sing in a new production five weeks later. In that he would wear a costume meant to represent Gustav, although the Italian text was unchanged; in San Francisco he was governor of Boston, as the opera was mostly given in those days. According to Anna-Lisa Björling's book he was dressed in moustache, beard, shoulder-length hair and a musketeer's uniform with a plumed hat which he strongly disliked. Rethberg never sang Amelia at the Metropolitan, and the performance we hear part of, and a repeat in Los Angeles 4 November, remained the only encounters between her and Jussi on stage.
Anna-Lisa was not in San Francisco, which may have contributed to some liberties Jussi is rumoured to have taken. A book by Arthur Bloomfield about the city's operatic history tells us that his "power, perfect intonation, and that floating freshness of youthful tone" were hailed. But also that he sneaked on stage before the Momus scene in La bohème to put real beer in the mugs, and softened his throat with raw eggs in sherry.
After the war Jussi Björling returned to San Francisco for six similar seasons, in some cases like 1940 including additional performances of the same productions in Los Angeles. His very last appearance on an operatic stage also was in the San Francisco War Memorial Opera House, but with a competing, short-lived company. That was in Faust 1 April 1960, followed by a solo concert two nights later. There must have been fans there who remembered his first steps on the same stage almost twenty years earlier, in October 1940.
Nils-Göran Olve