American visitors to Strömsbruk
At the 13th annual Jussi Björling Festival at Strömsbruk on 1 – 2 September there was a special treat to have 25 members of the American Jussi Björling Society in the audience, celebrating their 20th anniversary. Their chairwoman Janel Lundgren was also there, together with our chairman Bengt Krantz and the British Society's chairman Richard Copeman. Also present, to our delight, was Jussi's daughter Ann-Charlotte and her husband.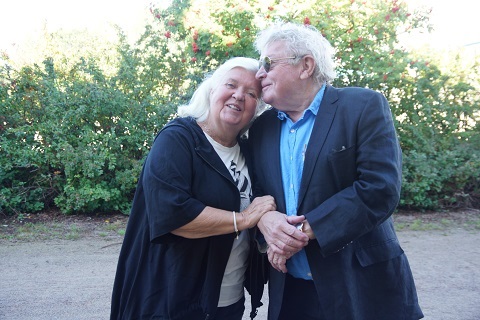 Ann-Charlotte and her husband
After one hour's "warming-up" music with Ströms Bruksorkester, the concert proper started at 4 p.m. before a practically sold out auditorium Strömshall. Stefan Olmårs, organizer of the event, introduced the proceedings by playing Jussi in Adam's Christmas song, O Holy Night in a recording from New York in 1946.
Ströms Bruksorkester
Then we met Canadian baritone with Swedish ancestry Tyler Duncan, who has appeared at the Metropolitan Opera in several roles. He was accompanied by his wife, internationally active Erika Switzer. Tyler turned out to be an excellent lieder singer and the cooperation between singer and pianist was exquisite. Later in the programme Erika also played some instrumental music, Schubert's Impromptu Op. 90 No. 1 in C minor.
Erika Switzer and Tyler Duncan
The next soloist was soprano Malin Hartelius, primarily active outside Sweden with Opernhaus Zürich as her permanent basis since 1991. Accompanied by Lennart Eng she sang Wilhelm Peterson-Berger's Four Songs in Swedish Folk Tone. Later on she took us to the world of opera with the sad but beautiful Ave Maria from Verdi's Otello with a beautiful pianissimo ending.
Lennart Eng and Malin Hartelius
The third singer was tenor Yinjia Gong from Sichuan in China. He opened with Benedictus from Bach's Mass in B minor in a light and lyrical reading. As a contrast he then sang Celeste Aïda with brilliant top notes, In his second part he sang more opera, from Un ballo in maschera and La fille du regiment.
Tenor Yinjia Gong
The evening ended with Request concert with Jussi, but before that the three chair persons were honoured with a round of applause, whereupon the British chairman expressed gratitude to Stefan Olmårs for an excellent arrangement.
Distinguished present and former presidents: Dan Shea, Janel E Lundgren, Richard Copeman, Bengt Krantz, Harald Henrysson and Sue Flaster
At 10 a.m. the next morning Nils-Göran Olve presided over interviews with the soloists from the previous afternoon and as conclusion former chief dramaturge at the Royal Opera, Stefan Johansson talked about Birgit Nilsson, whose Centennial this year was. He opened with a recording from 1958, where Jussi and Birgit sing together from the last act of Turandot.