Jussi of the Month February 2020
Laborious Opening of the Leap Year 1932 for Jussi
Click here to enlarge the image

When January 1932 dawned, less than one and a half year had passed since Jussi made his debut at the Stockholm Opera and he had already learned 14 roles. Several of these were minor roles, but a number were rather extensive: Don Ottavio in Don Giovanni, Arnold in Guillaume Tell and Jonathan in Carl Nielsen's Saul og David were his three official debuts and after that Walther von der Vogelweide in Tannhäuser, Erik in Der fliegende Holländer, Count
Almaviva in Il barbiere di Siviglia and Narraboth in Salome had been added. Undeniably a rather assignment for a youngster who not yet reached lawful age. At that you didn't reach that age until you were 21, and Jussi had still a good month to get there when the New Year's Bells tolled.
During the new year another seven new roles were in the pipeline, three of them during January and February, and to this must be added numerous performances of those operas he already had in his repertoire. During the first two months of the year he was to enter the stage twenty times, plus probably an appearance at a folk dance gathering on 7 February – even though documentation is dubious. Just to throw light on the work-load I list all the appearances below:
Jan 3 Guillaume Tell
Jan 6 Salome
Jan 9 Tannhäuser (the title role was sung by Martin Öhman
as guest)
Jan 13 Zoraima
Jan 16 L'Illustre Frégona (roll debut and premiere)
Jan 18 L'Illustre Frégona
Jan 23 L'Illustre Frégona
Jan 24 Tannhäuser
Jan 25 Salome
Jan 30 L'Illustre Frégona
Feb 1 Roméo et Juliette (Jussi sang Tybalt, a relatively small
role)
Feb 6 Il barbiere di Siviglia (Figaro was sung by Set Svanholm,
at that time still baritone)
Feb 7 Folk dance gathering (uncertain)
Feb 10 L'Illustre Frégona
Feb 15 Tristan und Isolde (Jussi sang Sailor, role debut)
Feb 17 Tristan und Isolde
Feb 22 Il barbiere di Siviglia
Feb 25 Rigoletto (role debut as the Duke of Mantua)
Feb 26 Il barbiere di Siviglia
Feb 28 L'Illustre Frégona
Feb 29 Rigoletto
As can be seen from this compilation the first premiere took place as soon as February 16. L'Illustre Frégona was a rather recent work, from 1931, and it is a zarzuela, a kind of Spanish operetta. Just as in the Viennese operettas there is quite a lot of spoken dialogue, something that opera singers of that era were not very good at. L'Illustre Frégona was based on Cervantes, the creator of Don Quixote, but the composer, Raoul Laparra (May 13 1876 – April 4 1943), was French. He was however deeply influenced by Spanish and Basque folk music. The critics in general were not particularly impressed by the music. It was regarded as superficial and the story wasn't much to write home about. On the other hand they were impressed by Jon-And's sets, which were "brightly coloured, beautiful and fanciful". And the audiences liked the piece. It was played 22 times, which must be regarded as a success.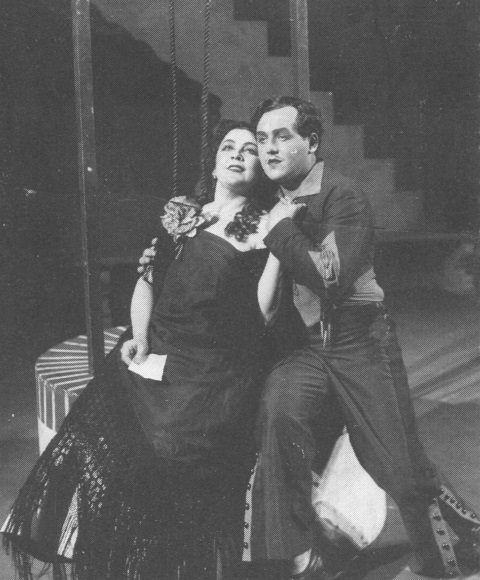 Ruth Nordström as Fregona and Jussi as Tomas 16 January 1932
The two young lovers Fregona (Ruth Nordström) and the student Tomas (Jussi Björling) were praised. Svenska Dagbladet thought that they "had many opportunities to unfold the sonority their voices possessed. Albert Henneberg (1901 – 1991), composer but also reviewer, wrote: "Jussi Björling as Tomas has become freer in his appearance and also seemed more secure. He also had opportunity to develop his vocal splendour in a couple of lyrical stanzas." Henneberg also noted that "in the packed audience one also found the Crown Prince couple and Prince Carl, and several members of the Spanish colony." Kajsa Rootzén was sceptic to the choice of repertoire: "There are about the same amount of spoken dialogue and singing. What little song that occasionally occurred, was however, in particular from Ruth Nordström and Jussi Björling, done justice." Curt Berg, in many situations a rather severe critic, also appreciated "the young lovers who should be praised for their beautiful singing; the male party could also incidentally treat himself to acting that in no mean degree seemed like the opera manager in miniature edition." It may be noted that at least at the second performance, two days later, Fregona shared the stage with Hugo Alfvén's ballet Bergakungen (The Mountain King).
Click here to listen to Jussi's "Fylld av vemod sänker sig natten" from L'Illustre Frégona, recorded 1933
A month later it was time for Jussi's next role debut, as the Sailor in Wagner's mighty Tristan und Isolde. It is a small role which he sings at the beginning of the first act. Henneberg's composer colleague Kurt Atterberg thought that "Jussi Björling's Sailor Song was, in spite of vocal splendour, not palatable; one was sitting all out of breath, fearing that the singer would end up in the wrong key – but fortunately it went well." Patrik V. in Socialdemokraten felt no such fear: "Jussi Björling sang beautifully in the sailor song", on the other hand he observed that "HM the King attended the performance and took part with obvious liveliness in the ovations."
The role as the Sailor was mostly a parenthesis for Jussi. He sang it on four occasions. The next new role, the Duke in Rigoletto, was on the other hand to be one of his big roles. He was to sing it frequently and also made a famous recording in the 1950s, where the title role was sung by his good friend Robert Merrill. Maybe it was unwise of the opera manager John Forsell to let Jussi tackle the role so early in the career, which also is evident from the reviews.
Jussi as the Duke in Rigoletto 25 February 1932. Photo by Kautern/Riwkin
The production was not new but the German master conductor Leo Blech, who had accompanied both Caruso and Beniamino Gigli, had been entrusted the leadership and several of the singers made their role debut. Both Einar Larson in the title role and Astrid Ohlson as Gilda were new – as was Jussi – and the one who was most successful was Astrid. Einar Larson was regarded as too tall and handsome for the role as the hunchbacked jester and his voice had already begun to sound worn. Considering Jussi opinions were divided. An unsigned review said: "New was also Jussi Björling as the Duke of Mantua, of whose Don Juan-type his boyish looks and stiff appearance didn't convey much illusion. But there was tenoral brio and schmeltz in the singing, which is more difficult to do without in this part than scenic credibility". Patric V., however, established laconically that "as the Duke Jussi Björling anew produced beautiful singing, especially in his aria in the third act."
L.F. in Arbetaren was more exhaustive: "Jussi Björling sang and made love in the role of the jolly Duke of his heart's content, even though more maturity is needed for this vocally utterly demanding role. One thought that Rigoletto could have forgiven this Duke quite a lot for the sake of his youth. 'Ja, som ett fjun så lätt' (La donna è mobile) was sung rather heavily and nervously – not least because the audience were sitting there waiting for that song. It sounded considerably better when the Duke had entered his room upstairs in the inn."
In Nya Dagligt Allehanda at that time, composer William Seymer – known in Scandinavia for his little piano piece Solöga – worked as reviewer, and he tried to put some pedagogical aspects on Jussi's handling of the role: "About Jussi Björling's singing in the part of the Duke, on can only say that it sounded neat, sober, proper, well-rehearsed – hardly more. He has excellent material, and when he in spirited forte gets to fire off a couple of top notes it sounds goddamn well. But he has to get rid of a somewhat senile-sounding nasal tone, which sometimes creeps in. And first and foremost he should sing with more abandon, more ruthless passion, more tempestuous wildness. Otherwise one doesn't believe in the dangerous and hot Duke. And then one wants to hope that the years – he is very young – will give him the courage to let go of his restraint in his acting and his stiff facial expressions."
Not only Patrik V. was laconic. F.S. in Folkets Dagblad expressed himself concisely: "The Duke Jussi Björling: a beautiful vocal achievement, the acting rather tame; does a Italian Duke in the 16th century make love [like that]?"
Restrained was also Kurt Atterberg: "Jussi Björling sang the part of the Duke with vocal brio and all the proper charming impertinence."
Curt Berg, music critics and author
In Dagens Nyheter Curt Berg mentioned with emphasis that
Rigoletto
certainly wasn't his cup of tea. When he reached the achievement of the tenor the strains went like this: "Leaving the part of the Duke of Mantua to Jussi Björling was a little too venturesome, he is still too much of a pupil to impersonate this Italian Don Juan with enough authority. One notices, however, some well-considered details in the singing, obviously due to natural aptitude,
and the impression would probably have been still better if he hadn't so often presented disturbing singing under the note."
Moses Pergament in Svenska Dagbladet could also see a promising future for the young singer: "Jussi Björling's splendid voice lent redeeming glory to the acceptably sympathetic Duke's outpourings. It was a pleasure to listen to the young tenor's phrasing and diction. As for the phrasing, he as well as the others were greatly helped by Blech. When he becomes freer in his acting he will give us even more satisfaction."
Kajsa Rootzén put a damper on the atmosphere – but also she saw and heard gleams of hope: "Vocally [Jussi Björling's] Duke was sovereign enough, but authority as a one-hundred-per-cent Don Juan he was not able to muster, in gestures and general acting the young man seemed an ordinary self-satisfied and well-mannered modest young man at a fancy-dress party."
Click here to listen to Jussi's "Ack som ett fjun så lätt" ("La donna è mobile") from Rigoletto, recorded 1933
Well, the master was once an apprentice too – and Jussi had just turned 21. But within a few years he was beginning to conquer the world of opera. Then the reviewers changed their tune.
Göran Forsling
Click here for Jussi of the Month Summary