Jussi of the month March 2020
March 1935: a normal month's work
Portrait of Jussi by Verner Molin 1935
The Stockholm Opera's new star tenor probably experienced March 1935 as an average month's work. He had turned 24 in the previous month. In December 1934 he and Anna-Lisa had announced their engagement, and the marriage was booked for June. According to Harald Henrysson 1935 would be the year he performed the greatest number of times he ever would: 144!
Like most months recently March included one new role for Jussi Björling which must have required rehearsals. He recorded a disc with two arias, which show remarkable developments since
his latest exactly one year earlier – maybe a result of the advice received from tenor colleague Joseph Hislop during the previous summer (see Jussi of the Month for April 2019). On his work programme for March were:
Eleven performances at the Royal Opera in seven roles
Two concerts: Beethoven's Missa Solemnis at the Opera, plus one with the Royal Orchestra on tour in the grand hall of Uppsala University
One "soiré dansant" at the Felix Kronprinsen restaurant – surely a freelance gig, late one evening when he had sung in Eugene Onegin at the Opera. Lenski dies already in act 2, so he will have arrived towards 11 pm having removed his makeup and taken a taxi to Adolf Fredriks kyrkogata
A recording session for HMV – also a welcome extra income.
On average one performance every two days, plus rehearsals for his new role of the month, and probably also for Beethoven's Mass. He had sung it before, but different from the opera performances this season's concert was a one-off event.
Jussi as Turiddo in Cavalleria rusticana 1935
All operas were performed in Swedish, and searching the Royal Opera's archive (freely available on the Internet) we can see that a total of seventeen different operas and operettas were given that month, plus some ballets. I then count
Cavalleria rusticana
(under the name of
På Sicilien
– "In Sicily") and
Pagliacci
as one, because as so often they were given together the same evening. So Jussi Björling took part in almost half – when
Cav
and
Pag
were given together only in the first, though. Seventeen operas is more than the Stockholm Opera does in a year nowadays.
Jussi Björling was not alone in having much to do. The leading tenor parts in other operas featured his colleagues Einar Beyron and David Stockman. Beyron was 34, Jussi's senior by almost exactly ten years. Both were pupils of John Forsell but Beyron had started a little later, so his lead career-wise was roughly four years. Like Jussi he sang eleven performances this month, but of eight operas. The 55 year old Stockman only did five. Together they covered the month's entire repertoire, except that the busy Spieltenor Simon Edwardsen was entrusted two Turiddus in Cavalleria, in addition to his many secondary parts – all those servants to the lead tenor.
The casting provided excellent opportunities for comparisons, when opera fans could watch their young tenor favourites in a broad spectrum of roles every week. As if the quantity was not remarkable enough their scope fascinates: Jussi's seven parts would today be considered suitable for three different kinds of tenors, while Beyron's more spinto-like repertoire includes playing a charming leading man in the operetta The Csárdás Princess.
Jussi made his gramophone record of the month already on the 4th, as usual with a small orchestra conducted by Nils Grevillius. This took place in the Stockholm Concert Hall, and Harald Henrysson's register does not tell exactly where. But usually it was in the Attic Hall, the same room that after rebuilding (and made slightly smaller) now is called the Aulin Hall. The result was issued by HMV on X 4436. All Jussi's discs were still released on the X label which designated local issues for Sweden and Scandinavia, almost always sung in Swedish and in the smaller 10-inch size. The record was put on sale already in May.
On one side of it there was a novelty: Martin Skarp's aria from Atterberg's opera Fanal, which had had its first performance one year earlier and was shown a total of thirty-one times up till 1957. In March 1935 it was performed twice.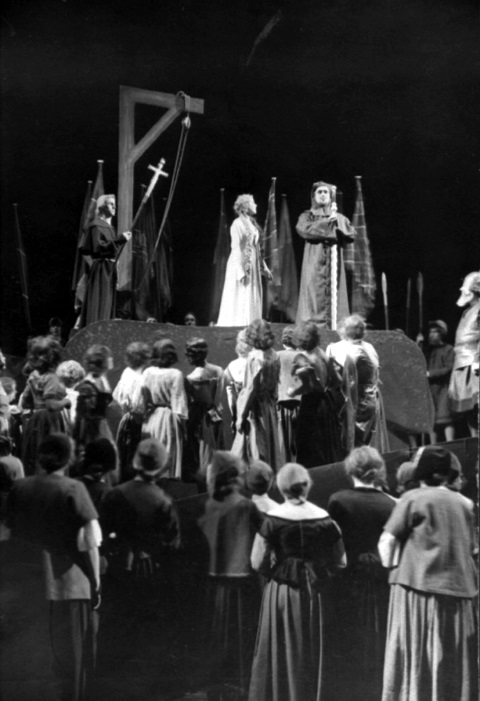 Fanal March 1935. Helga Görlin as Rosamund and Jussi as Martin Skarp in act 2
Young Mr Björling had been in the first-night cast, but in the 1940s and 50s Set Svanholm would take over for its final eight performances. The very last was broadcast and a recording can be bought on CDs from the German label Cantus Classics. It shows the Heldentenor Set Svanholm as highly suitable for his role. 24-year old Jussi had not had reason to sound this heroic in his earlier gramophone records:
Click here to listen to "I männer över lag och rätt" from Fanal, recorded March 1935
A fragment of the opera's finale has also been preserved with Jussi Björling from January 1934, issued on a Bluebell CD. It is the earliest live recording we have with him, but it says less due to bad sound and that he sings together with several others.
The second side of X 4436, also recorded 4 March 1935, is Dick Johnson's aria from the last act of Puccini's La Fanciulla del West (given as Flickan från Vilda Västern – nowadays the Royal Opera has dropped "Vilda" – wild – from the Swedish title). Its first night in Stockholm had been 29 December with Jussi Björling. That too was given now in March: the performance on 8 March was its eighth and final, and the next-to-last time he sang it. There was to be yet one more performance at the Vienna Opera in 1937. He would sing the aria two more times for the gramophone, then in Italian – 1937 and 1957. After 8 March 1935 the opera would not be performed by the Stockholm Opera until 2011, then in a production which is due to be revived soon when I write this. According to Svenska Dagbladet the reason it was given just eight times in 1934/35 was that the "decorative material" had been lent by the Berlin State Opera and had to be returned.
Click here to listen to "Låt henne tro" ("Ch'ella mi creda") from La Fanciulla del West, recorded March 1935
Both Martin Skarp in Fanal and Dick Johnson in Fanciulla were among Mr Björling's seven roles this March. Taking the others in the order of performance they were:
Turiddu in Cavalleria rusticana by Mascagni
Almaviva in Barber of Seville by Rossini
Lenski in Eugene Onegin by Tchaikovsky
Belmonte in Abduction from the serail by Mozart
Florestan in Fidelio by Beethoven.
Rossini and Mozart would today be deemed suitable for a purely lyrical voice, while Turiddu and Lenski require more force and vocal maturity. For Martin Skarp, Dick Johnson and Florestan we would expect dramatic and heroic voices.
He sang Belmonte for the last time ever – the first had been at the end of January, and there were only four performances. This was the last revival of a production from 1899 – at least its scenography.
Jussi as Belmonte in Abduction from the serail March 1935
Almaviva was on his repertoire 1931–37, and for his Lenski there would be one final time at the end of the year.
Such facts make the month interesting for us who marvel at the number of roles Jussi Björling sang during his years as permanently employed at the Stockholm Opera. Of his seven parts in March 1935 he would soon let go of most, and many he sang no more than half a dozen times ever. This explains why his repertoire in the 1930s at the opera was so extensive. With many works being performed, often in old productions, the theatre could at short notice bring out some which were played a few times and then disappeared again. The opera audience was smaller than now but went much more often. Fixed employees were extremely busy and had to learn new things continuously.
Among Jussi Björling's seven roles in March 1935 there were actually just two that would feature much later in his life: Turiddu and Florestan. He had sung in Cavalleria for the first time in January, and it was an opera he would retain for 25 years – to the end of his life.
Florestan in Fidelio is a special case in his catalogue of roles. When he sang it first 26 March it was the first performance of four, to be given over a little more than two weeks. On 4 May 1948 in Cincinnati he collaborated in an abridged concert version in English with Fritz Busch as conductor. To me this is the Jussi concert I would be most curious to hear, but no recording has turned up. To hear his special voice as Florestan would be

thrilling indeed. It is a part that should suit him excellently – it is often sung by heroic tenors but sometimes by much more lyric voices.
So Florestan was his new part for March 1935 – and one he soon left. There never were more than these four + one performances. That Fidelio on 26 March celebrated Beethoven on his day of death, but it was of course no special anniversary. Fidelio had not received any announced new production since it came to Stockholm a hundred years earlier and no stage director was mentioned on the playbill, but in addition to a new Florestan there was the interest of a debut in Marzelline's part: Hjördis Schymberg (see poster). She already had performed smaller roles, Mimì in Bohème and Blonde in Abduction from the serail. Marzelline was her third official debut. Leo Blech conducted. The newspapers talked of a "restudied revival" and praised the conductor especially.
Inez Köhler and Jussi in Fidelio 26 March
Svenska Dagbladet said that Jussi Björling "did not really have the figure for Florestan and his means of dramatic expression seem limited to the usual small number of stereotypical gestures, combined with an immobile face – but for all these deficits, his brilliant voice compensated richly". In Dagens Nyheter one could read that he had "a vocally splendid scene in the second act, but otherwise seemed rather too exhausted from his time in prison when he ultimately was released".
Next time Fidelio returned was in 1940 with Set Svanholm as Florestan, and a stage director was listed. But it seems the scenography was still from the theatre's old inventory – the same as in 1832 can hardly have been used, even if the theatres archives claim that also the 1940s performances were of that production!
So Jussi sang Beethoven's music (Fidelio and Missa Solemnis) during three nights in March 1935, plus two more Fidelios in the following weeks. The Mass can be heard memorably with him and Arturo Toscanini from New York 1940 (on YouTube). That was the final time he sang it. Lacking Fidelio, we can take pleasure in the song Adelaide, which he did both on a 78 rpm record and in recorded concerts from the 1940s and 50s.
Here we choose instead Beethoven's Die Ehre Gottes in der Natur, in Sweden better known under its first text line "The Heavens resound". Jussi's only version of it was recorded almost 24 years after the month of this "Jussi of the Month" article, but still it may give an impression of his few performances of Fidelio. In this year of 2020 when we celebrate Beethoven's 250 years, it seems suitable to end with Jussi Björling singing his music. This Swedish RCA recording was originally issued on a 45 with Adam's Christmas song on the reverse, but we were many who liked both sides of the record equally!
Click here to listen to "The Heavens resound", recorded 1959
Nils-Göran Olve