Jussi of the Month May 2020
Operetta discs May 1938
To us the most important thing about Jussi Björling's May 1938 is that on the final two days of that month he recorded some of his most beloved records, in particular an aria from Der Bettelstudent (The Beggar Student) which he sang in Swedish as "Nu är jag pank och fågelfri" – "Now I am broke and an outlaw". That text may astonish some who are not familiar with Millöcker's operetta, as the song is extremely happy – but we'll come back to that. The song is a frequent request when we play Jussi records at meetings of the Swedish Jussi Björling Society. Its abundant enthusiasm, his use of the text, a phenomenal inserted extra-high note at the end: no wonder that it long was a favourite on radio and was included in many Jussi compilations on record. Now it is easily found on Youtube and streaming services.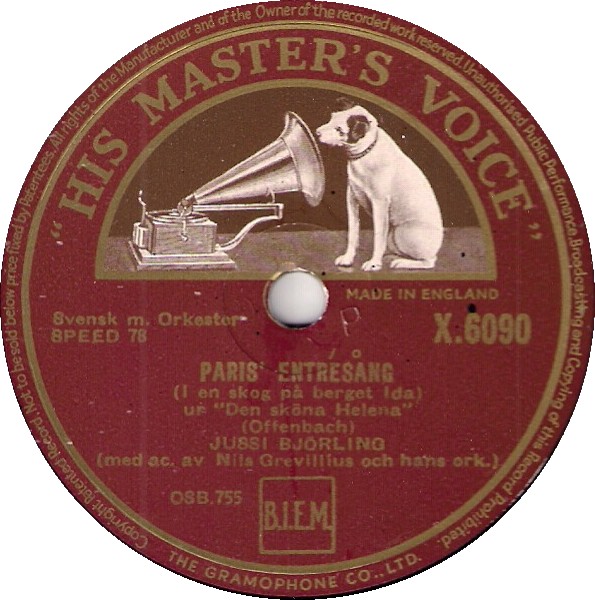 The current edition from 1938
Internationally it was however long something of a secret among collectors of vocal records. Like its reverse side as a 78, Paris's entrance song from Offenbach's
La belle Hélène
(
The Beautiful Helen
), it was sung in Swedish and only issued for the domestic market. It would take thirty years before it was included in commemorative LPs and CDs, and enthusiasts then started to
marvel at 27-year old Jussi's singing. Hastings (in The Björling Sound) calls it "astounding" and praises its combination of "full-throated exuberance and exquisite vocal finish". According to Hastings, the top note is Jussi's best recorded one over high C – yes, he finishes the song with a D flat!
Click here to listen to "Nu är jag pank och fågelfri", recorded 1938
His voice was obviously in good condition, but also apart from that this must have been a good period in Mr Björling's life. The past winter he and Anna-Lisa had been in USA, a trip which had taken two months including the boat journeys. In February they came back to Stockholm and reunited with their two-year son Anders. The trip was Jussi's first since touring in the US as a boy, and he had succeeded well in establishing himself as one of the leading contemporary tenors. In the autumn he would make his debut at the Metropolitan Opera, and on returning to Stockholm he cancelled his contract with the Royal Opera. He would still sing there at the start and end of the next season (1938/39), but his busy years as a member of its permanent ensemble were coming to an end. What he may not have known was that this also meant the end, almost, for new Jussi Björling roles. Discussions of possible new parts would continue to the end of his life, but only two were added during his final twenty years.
The Royal Opera closed early for summer that year. Like we have also experienced in recent years, the Opera prolonged its summer breaks both 1938 and 1939 for needed repairs. It seems to have been the intention to tour in Sweden, but in practice this was restricted to a couple of nights in Malmö. At its Hippodrome Theatre Jussi was Roméo and Faust on 10 and 11 May.
Roméo and Julia, Hippodromteatern 5 May 1938
Click here to enlarge the picture

In Stockholm the Opera performed three nights at the Stockholm Concert Hall with mixed programmes where these roles also featured, but also his Pinkerton and Cavaradossi (see illustration). Apart from a few additional concerts he seems to have been free – maybe useful as he now needed to learn his roles in their original languages. During the past winter's US trip he had made his American opera debut in Rigoletto in Chicago, where one reviewer reported that he sang partly in Italian, partly in Swedish.
I already mentioned that the record with The Beggar Student and The Beautiful Helen was meant for the Swedish market. It was released in the early autumn, and buyers could then also acquire another similar disc in His Master's Voice domestic X series: two operetta duets with Hjördis Schymberg and Jussi Björling. On one side there is another excerpt from The Beggar Student, on the other one from Strauss's Der Zigeunerbaron (The Gypsy Baron). A little over three minutes was the limit for what a small (10-inch) 78 rpm disc could hold, and both couplings were obviously logical. All four numbers were recorded 30–31 May 1938. That spring was actually a sort of operetta season for Jussi Björling, who otherwise did not sing much of that kind.
A few years earlier he had played Alfred in Johann Strauss's most famous operetta Die Fledermaus, then as now a fairly common work also on operatic stages. But in spring 1938 he did the title part in Der Zigeunerbaron. It proved his next-to-last new role as an employee of the Royal Opera which he sang six times during April, and one more time when the Opera opened again after the summer.
Click here to enlarge the picture
During the rest of his life, Jussi occasionally included the "beggar student" Symon's song in his Swedish concert programmes, not least in popular outdoor concerts, and a few of the lighter numbers he sang on American radio come from works that can be defined as operettas. Two arias from Lehár's Das Land des Lächelns are on an early 78, and a new recording of one of them became his final studio recordings: "Dein ist mein ganzes Herz" as a contribution to Decca's luxury issue of Die Fledermaus, where the conceit is that he is a guest at Prince Orlofsky's ball. But after 1938 he never sang any entire operetta, and of the three that are featured on his May 1938 records he did only Zigeunerbaron on stage.
Carl Millöcker's Der Bettelstudent used to be a very popular work in Germany and Scandinavia. The Stockholm Opera performed it 190 times in two productions 1927–36 and 1951–52. It had come to Sweden already in 1883, the year after its first night at Theater an der Wien, so it took long before it was regarded worth – or worthy of – a production by the Royal Opera. When it arrived in 1927 Einar Beyron was the self-evident choice for Symon for all of 67 performances, and we may guess that his colleague Jussi saw at least some of them. In January 1929, Beyron had recorded the aria with the same conductor as Jussi nine years later: Nils Grevillius who led the production's first night and many later performances. As can be seen from the playbill above Beyron also sang in an excerpt from Der Bettelstudent (or rather Tiggarstudenten) in one of the Stockholm Concert Hall programmes in May 1938.
Offenbach's La belle Hélène had also been given at the Royal Opera during Jussi's years there. In a production given 1926–32 Einar Beyron sang Paris in almost all performances. That it did not return with Beyron's younger colleague Jussi Björling certainly was because Beyron was commonly regarded as a much better actor, and one with the looks for the part. He performed often and enthusiastically in operetta roles, and in the 1950s and 60s when he had retired from the Royal Opera he directed and toured in operetta parts. In the 1930s he and Jussi shared the tenor repertoire, with Beyron singing the more dramatic parts like Don José in Carmen and several Wagner parts, but also operetta which required acting and scenic charisma.
This becomes very clear when we read the reviews of that Zigeunerbaron. Its first night 31 March 1938 was entrusted to Beyron, with Jussi Björling singing the title role four days later. Beyron sang with his wife Brita Hertzberg, as he often did, and Curt Berg in Dagens Nyheter who found the new production quite unnecessary yet admitted that their "routine that has to be respected" and that they seemed "surprisingly inspired, fresh and youthful". They "put gold [on their tasks] with their singing and elegant acting". When Jussi took over another reviewer in the same newspaper just wrote that he had "all the necessary vocal splendour" while Svenska Dagbladet (Kajsa Rootzén) was less happy:
"Jussi Björling's vocal advantages cannot be denied, but as a lover in an operetta he is misplaced, and as 'gypsy baron' he is helplessly lost. His lack of dramatic vitality and agility destroy all chances for true interaction between him and Inez Köhler, even when she tried to ignite the embers of love just slightly."
Jussi and Inez Köhler from The Gypsy Baron 4 April 1938
As is apparent here, the female lead part had also been changed. Köhler receives some praise, but on the disc with duets from The Gypsy Baron and The Beggar Student it is Hjördis Schymberg who sings – Jussi's partner on stage in many works, but not in these which she never sang at the Opera.
Click here to listen to the duet from The Gypsy Baron with Hjördis Schymberg, recorded 1938
But back to "Nu är jag pank och fågelfri". In German the text starts "Ich hab' kein Geld, bin vogelfrei", and the Swedish translation by Ernst Wallmark (1834–1910) is from The Beggar Student's first years in Sweden. It is rather faithful to the German, and an English version of the essential verses would be something like this:
Now I am broke and outlawed
And yet I will not complain.
You, my happy disposition, will have to support me
To endure my destiny!
What does it help to look sad?
That will not put money in my purse.
[…] We'll save Poland!
In spite of all misfortunes, a happy song –
Come destiny and we'll fight.
Let's see who tires first, you or I!
Conveniently, the final word ("du eller jag") has a more suitable vowel for a top note than the original German's "ich oder Du" or the English diphthong "I". "Outlawed" in the first line corresponds to "Vogelfrei" or "fågelfri". One might think it means "free like a bird" which sounds positive. But the old meaning is to have lost one's social rights, to be proscribed – one whom others may kill "as one is free to kill a bird under the heaven", as it says in an old dictionary. How has the character Symon Rymanovicz stumbled into this situation? We are in Krakow during the Swedish king Charles XII's war against Polish king August the Strong. Symon is a poor student who accepts to pose as a count in a political and amorous game of mistaken identities. Here at the beginning of the final act this threatens to be deadly, but instead everything ends happily. As it of course should in an operetta.
In spite of the reviews it may have been Jussi Björling's participation in Der Zigeunerbaron that gave His Master's Voice the idea to make these two records of classical operetta: the arias from Der Bettelstudent and La belle Hélène, and the two duets with Hjärdis Schymberg. According to the discography the first takes were attempted already on 28 April, but it was only when they continued on 30 and 31 May the results were accepted. It was not yet possible to edit such records, and we don't know if it was Jussi's singing, the small orchestra's playing, intrusive noises or technical mishaps that necessitated the retakes. On 28 April sessions were held at the Stockholm Concert Hall's Attic room (now the Aulin room), in May they moved down several floors to the Small Auditorium (Grünewald Hall).
On smdb.se we learn that the recording session 30 May was between 19.30 and 22.30. This was when the Bettelstudent aria and the duet from Der Zigeunerbaron were completed, and the Swedish song "Nämner du Sverige". The published versions were the fifth, fourth and second takes, but test pressings survive of previous attempts, and some are on a Bluebell CD.
Next day, a Tuesday, resulted in approved versions of La belle Hélène and the duet from Der Zigeunerbaron. The first take of the former was issued, but – maybe as a backup – one more take was made which also is on CD. If the session was a speedy one it may have to do with another event that day, in the afternoon. Björn Forsell, 23 that very day and son of Jussi's boss and teacher John Forsell, was getting married. He and Jussi were friends who had shared a cottage during summer studies with Björn's father. Björn also studied to become an opera singer, baritone like his father. His spouse was Birgit Kronström and they would have a big wedding at the Engelbrekt Church, followed by a dinner at the Forsell residence. In the newspaper next morning we can read that Jussi sang at the ceremony, as did Einar Larson – another Forsell pupil and employee at the Opera. "After that the newly-wed departed on a trip to the continent."
For Jussi summer holidays started, interrupted by some concerts. And surely studies for next season's work, including his Met debut.
Nils-Göran Olve
Click here for Jussi of the Month Summary