Jussi of the Month November 2020
November 1935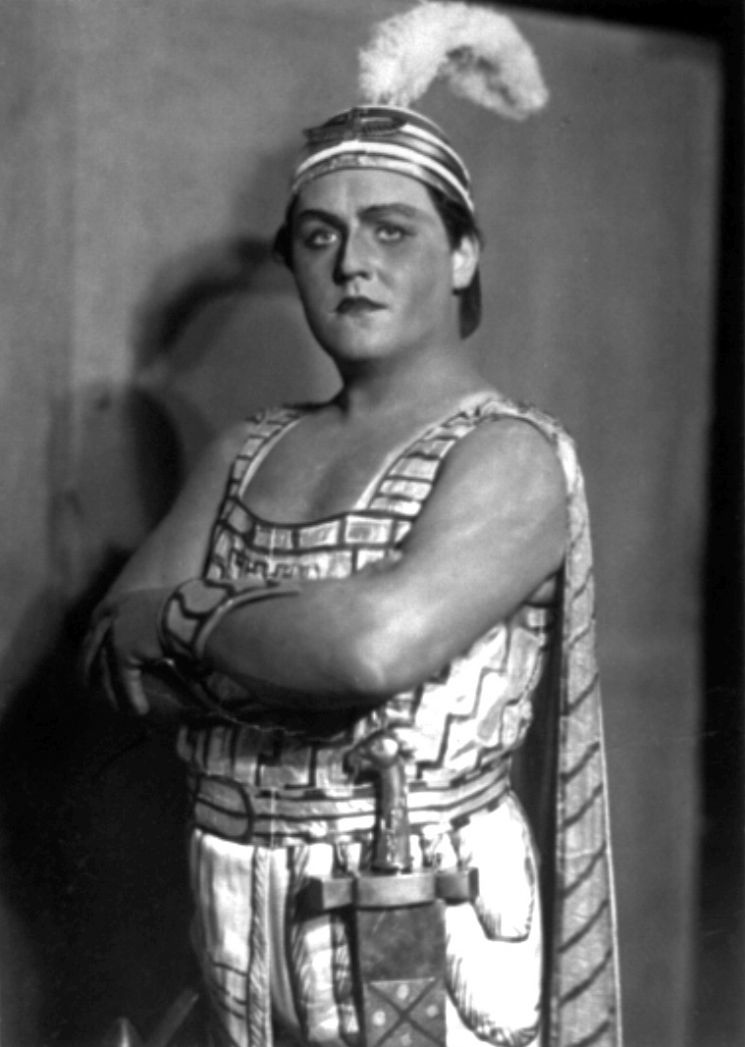 Jussi as Radames in Aïda, October 1935
Every month during the 1930s was in principle fully-booked for Jussi, and 1935 was no exception. At the Stockholm Opera, where he was a full-time employee, he had performances every week, sometimes several times a week, and in-between he had other assignments. New roles were added frequently and during the year he had studied six new parts, the latest he premiered as recently as on 12 October, and it wasn't just any role: Radamès in
Aïda,
which certainly was his heaviest so far.
November opened with two performances as Tomas in Laparra's L'Illustre Frégona. He had done the role for the first time as early as January 1932, and now it had been dusted off after an interval of a couple of years. He was to sing it another four times during November.
L'Illustre Frégona 1932 with Ruth Nordström, Jussi and Folke Cembraeus
Click here to listen to "Fylld av vemod sänker sig natten" from L'Illustre Frégona, recorded 1933
Besides that there were two Fledermaus, one Faust, one Bohème, one Mignon and, as the crowning glory, two performances of Borodin's Prince Igor with a guest appearance of legendary bass Feodor Chaliapin. I'll come back to that opera, but first I'll account for his moonlighting. The first took place on 7 November in Stora Tuna Church in his birthplace Borlänge. After his youth he, by the way, rarely visited his native town. His first appearances outside Stockholm, after he had made his operatic debut in July 1930, actually took place on 8 February 1931, only a couple of days after his 20th birthday, when he sang twice in Borlänge, whereof once in Stora Tuna Church. After that it was consequently almost five years before the next opportunity. By then he was properly established and well-known, not least through several recordings. In his company were his colleague from the Stockholm Opera, baritone Einar Larson, and as accompanist pianist Gösta Edling.
Borlänge Tidning's correspondent was solemnly impressed in his review: "A couple of the most renowned troubadours in the Nordic countries made themselves heard in Stora Tuna Church on Thursday evening, and the event had attracted many listeners. Not that the temple was crowded, but 350 visitors is good enough on a weekday with nasty damp autumn weather and roads in a bad state." Besides the locals there were numerous visitors from the surrounding regions who had travelled long to experience "the concert of the autumn".
Jussi in Stora Tuna Church 1943
The singers had no less than five entrances each and moreover one together. They entered every time in evermore brilliant disposition, just as though they had intended to outdo each other. If this was their intention, which for good reasons can be called in question, they didn't manage at all – since both of them were quite outstanding. They handled to perfection the difficult acoustics and filled the shrine with euphony. The two glorious voices, so different in registers but closely akin in timbre, complemented each other thoroughly. Jussi Björling's tenor has a light and freshness, which enchants irresistibly. Einar Larson's baritone is warm, sonorous and flexible and in possession of great dramatic means of expression, which the singer doesn't neglect to employ. He is possibly the foremost opera artist of the two while Mr. Björling takes the laurel as concert singer.
The programme was popularly compounded with old favourites like Berg's "Evening Song", Reissiger's "A Singer's Prayer" (Mr. Björling) and Alnaes' "The Last Journey" (Mr. Larson) side by side with the serious Wagner's songs from Lohengrin and opera arias by Meyerbeer and Borodin. Specifically grateful one has to be towards Mr. Larson for his three songs by Geijer. Geijer certainly deserves a continued presence on the concert programmes, and it is not unimportant if his little noble romances occasionally are performed by the country's foremost artists.
The interval before the last entrance of the singers, the joint one, was a fraction longer than the previous ones. But thus they had time to conclude peace and alliance and now sang a rarely heard duet from Verdi's La forza del destino. The voices harmonized beautifully, and the audience was breathless and spellbound. But still greater the alliance was to become. As an encore they performed Beethoven's "Song of Praise" perfectly in unison and with mightily touching effect. A beautiful end to a gigantic singers' contest! The audience demonstrated their gratitude with lively waves of handkerchiefs and programmes, which Mr. Björling acknowledged with a light and boyish smile, Mr. Larson with chivalrous bows.
Jussi and Einar Larson 1934
An excellent second, who with careful and diligent piano playing accompanied the two contest singers' achievements, was Mr. G. Edling. And now remains only a wish, that the two superior executioners won't avoid Stora Tuna Church, when they next time enter on a martial expedition."
Both Falu-Kuriren and Dala-Demokraten had correspondents on site and they expressed their appreciation with the same enthusiasm as Borlänge Tidning – but not the same verbosity.
This event took place on 7 November, but only two days later Jussi was active again, this time at an orienteering party at Berns (famous restaurant in Stockholm), arranged by Djurgården (soccer club in Stockholm) and the Sports Journalists. By the side of Jussi among others Thor Modéen (famous actor and comedian) appeared. In an interview in Dagens Nyheter Jussi hoped that Djurgården would manage to advance to the first division. One could have believed that he would rather have hoped that Brage (the soccer club in Borlänge) would advance, which they actually did in 1937!
The hectic agenda continued for the rest of the month. Between two performances at the Opera, he and Einar Larson had squeezed in a concert in the great hall at the University of Uppsala on 18 November with a programme similar to that in Stora Tuna, and then he was active almost daily. What about this?
18 Nov Concert in Uppsala
20 Nov L'Illustre Frégona (school performance)
22 Nov L'Illustre Frégona
24 Nov Mignon
26 Nov Prince Igor
27 Nov L'Illustre Frégona
28 Nov Thanksgiving party of The Swedish-American Society at Grand Hotel
29 Nov Prince Igor
30 Nov Messiah in Storkyrkan
1 Dec Bohème
3 Dec Faust
Jussi as Vladimir in Prince Igor 1933
And now we have reached
Prince Igor
. As early as March 1933 Jussi had sung the role of Vladimir in Borodin's unfinished opera, a role that he was to sing no less than 34 times during his time at the Stockholm Opera, which means that it was one his most frequent roles. When it was announced that Chaliapin was to be guest for two performances at the end of November 1935 it was rather evident that Jussi would do the role. And Jussi beside himself of joy. "Just imagine", he said over and over again, "singing with the great Chaliapin!" The quotation is from Anna-Lisa's and Farkas's biography.
Click here to listen to "Dagen gick långsamt till ro" from Prince Igor, recorded 1933
Chaliapin was born the same year as Caruso and was past 60, but basses tend to endure, and he was moreover a superb actor – and that can excuse vocal deficiencies quite a lot. The great Russian created two roles of wholly different characters. Prince Galitsky and Khan Konchak who appear in one act each and can then be sung by the same singer.
Naturally the newspapers focused on the celebrated guest. Stockholmstidningen's representative was, as were his colleagues, greatly impressed by his acting as well as his vocal expressivity. He also noted that he made Galitsky much more sympathetic than usually "One didn't get the impression that [he] was a crude and brutal rake. He became instead in Chaliapin's interpretation a chronically intoxicated and almost pleasantly intrusive and tipsy type. - - - A masterly achievement … masterly in all the infinitely alive and exact little details when it came to gestures, facial expressions, posture, gait."
He also admired his singing, in spite of his age: "One doesn't understand when he breathes. And one has always an impression of him radiating sonority, even though the voice has no youthful freshness any longer."
He admired Chaliapin's Khan Konchak for his superb mask – which the audience also did. And his conclusion was "it was a great experience to see this brilliant actor and singer." An experience, although the rest of the performance seemed improvised, to say the least. He admitted though that a lot of the singing – including Jussi's – was good.
Jussi, Chaliapin, Einar Larson in Prince Igor November 1935
One of his colleagues, however, grabbed the opportunity and singled out Jussi: "[He] developed a beauty of tone as never before. In him we have first of all the singer, from whose throat the tone literally flows forth. It is utterly seldom one gets to hear a voice with such breadth."
Jussi was also hailed by Chaliapin himself, who after the performance presented him a signed photo with the text "Bravo pour Vladimir".
They were to meet again on stage a few days later at Chaliapin's farewell performance. Then it was Faust, but about that Nils-Göran Olve will supply more information in the December edition of Jussi of the Month.
Göran Forsling
Click here for Jussi of the Month Summary