Jussi of the Month January 2021
Touring the States in January 1940
The new decade opened with a flying start for Jussi: Three performances in five days with Metropolitan Opera, the middle of which was a guest appearance in Philadelphia. After that followed a long concert tour together with pianist Harry Ebert. It had begun as early as the end of November, but then Harry was free a couple of weeks while Jussi fulfilled his obligations at the Met. A performance of Faust between Christmas and New Year preceded the triple we are going to describe next and the starting shot for the year 1940 went off on New Year's Day, not many hours after the pops of the champagne corks and the fireworks at midnight had died away, since the premiere performance was a matinée. One must feel sorry for the members of the Metropolitan Orchestra, who had to be in the fire again only some hour later for the evening performance: five hours of Tristan und Isolde!
Lily Pons. Studio photo with dedication to Harry Ebert
But the matinée wasn't exactly a settling-in period either, since Verdi's Rigoletto isn't a work which the orchestra tear off like that. No one could complain about the cast. Besides Jussi as the Duke of Mantua were Lily Pons (arguably the foremost coloratura soprano at the Met since the days of Amelita Galli-Curci) as Gilda and Lawrence Tibbett, still in his prime, as Rigoletto. Stockholms-Tidningen's correspondent reported in a note under the heading "Ovations for Jussi":
"The duet in the second act between Björling and Lily Pons was glorious. The aria La donna è mobile in the second act (Sic!) and the quartet in the last act were sung in a way that hadn't been heard at the Metropolitan in many years and the reaction of the audience explosive. The summary of the critics' judgements is that Jussi Björling's voice is to be ranked in the highest division."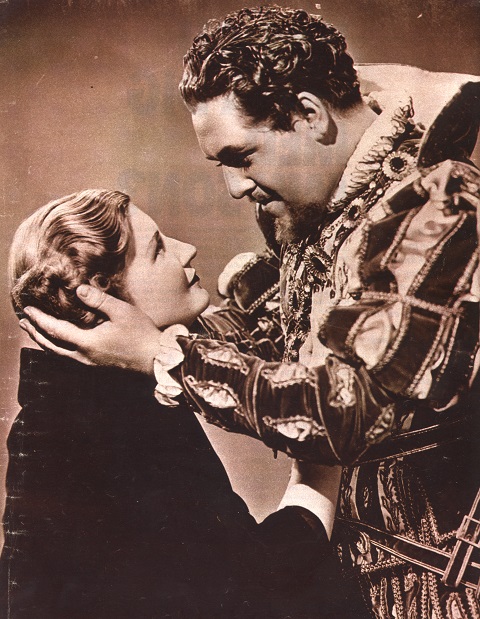 Jussi as the Duke, Anna-Lisa Björling as "civil". About 1940
Grena Bennett in unknown newspaper stated that "Jussi Björling as the Duke for the first time this season, offered a brilliant and intelligent account of his extraordinary talents". Her colleague X from Y wrote: ""Jussi Björling's portrayal of the Duke of Mantua, for the first time at the Met, confirmed previous impressions of his value to the company. He sang with purity of tone and sincerity of purpose, disdaining an easily won ovation after his Parmi veder, and carrying on the natural flow of the drama. His costuming and make-up were highly appropriate and in future performances he will undoubtedly convey more of the amical and predatory qualities which motivate the actions of the Duke. Yesterday he triumped chiefly by vocal means, and his thrilling D flat at the conclusion of the Addio duet is not soon to be forgotten."
The next day the ensemble was in Philadelphia. The distance from New York is by all means not more than circa 100 miles as the crows fly, but it was still a transportation of a lot of people and equipment and 80 years ago that was no doubt more complicated than today. Faust was on the agenda, just as less than a week earlier on the home stage. Philadelphia Record's music critic wrote: "This was the first opera appearance here by Jussi Björling, Met's new Swedish tenor, heard here in recital last year … It was also the first Metropolitan appearance here of a former Philadelphian, Helen Jepson who sang Marguerite; also the first Mephisto ever sung here by the Metropolitan's versatile star basso, Ezio Pinza … Mr Björling disclosed a small voice of good quality used with passionless precision. He lacks stage experience and his Faust last night was a lover with two high notes and one gesture, who was apparently much more interested in courting the audience than in courting Marguerite."
Jarmila Novotná. Idol photo with autograph
Back in New York on 5 January he took revenge in his signature role as Rodolpho in La bohème. His Mimi was the Czech soprano Jarmila Novotnà, who this evening made her Metropolitan debut. She was a few years older than Jussi and had had a brilliant career in Europe, first in her native city Prague, then from 1925 in Berlin, where she appeared with among others Richard Tauber. After the Nazi assumption of power in 1933, both Novotná and Tauber went to Vienna, where they had a
triumphant success in Franz Lehár's Giuditta. Novotná was also successful at the Salzburg Festival 1937 as Pamina in Die Zauberflöte. Conductor was Arturo Toscanini and in the orchestra was the young Georg Solti playing the Glockenspiel. Pretty she was as a picture and a splendid actress, which early opened up for roles in a number of movies. Her arrival at the Metropolitan, where she remained for 16 years, was eagerly looked forward to by the reviewers, and it was her achievements that were scrutinized in the first place. Olin Downes in New York Times noted her "charming simplicity, feeling and high artistic intelligence." Jussi had a 'frog' in the first act duet, but otherwise "his voice seemed if anything fuller and more colourful than last season, but it is a pity that he tends to the old-fashioned tenor's trick of hanging on to pet high notes, whether this is dramatically appropriate or not, as long as breath and vocal cords endure."
The classic image from La bohème, circa 1940
Click here to listen to Bidú Sayão and Jussi in "O soave fanciulla" in a live recording from 1948
After these three performances Jussi had a badly needed rest for one and a half week, before he on 15 January sang another Bohème. This time it was Bidu Sayao who was Mimì. It was his first meeting with the charming Brazilian, but during the rest of the 1940s they were to converge in another ten performances: five Bohème, three Rigoletto and two Romeo et Juliette. He never sang with Jarmila Novotná again.
"New great triumph for Jussi in USA" wrote the correspondent of Stockholms-Tidningen, who obviously was a faithful follower of Jussi, and he continued "… the best performance of this opera that has been seen in many years. Jussi's achievement was a formidable sensation. He sounded more glorious than ever and after the aria Che gelida manina the performance was halted for several minutes by ovations. "He also mentions that it was a very international cast, including the Italian master Ezio Pinza as Colline, and there was not one American among the singers. In the audience were both the Swedish ambassador and Ingrid Bergman, which attracted certain attention.
Somewhat by the side of the subject I note that Francis D. Perkins in The Herald Tribune points out the incompatibility of the fact that in the first act in the attic the bohemians are freezing violently, while they in the second act at Café Momus have no problem sitting outdoors. But, as Perkins writes, "it's hardly likely that all those who love Bohème are disturbed by this."
There was no time for Jussi to relax after this performance. The next day he and Harry Ebert travelled to Harrisburg, the Capital of Pennsylvania. Almost 40 years later the eyes of the whole world were directed towards the little town (today circa 50 000 inhabitants) on the Susquehanna River. It was on 20 March 1979 that reactor number 2 at the nuclear power plant Three Mile Island, just outside Harrisburg collapsed due to overheating, a so called meltdown. The accident led to a large-scale debate about safety within the nuclear power industry. But in January 1940 the thought of nuclear power was not even hypothetical. The preliminary articles before the celebre visit were numerous and Harrisburg Evening News had the headline "The greatest tenor since Caruso will sing on Tuesday in Harrisburg". The reviews were enthusiastic – as they were throughout the tour. The programme was largely unchanged at the various concerts: Lensky's aria from Eugene Onegin opened, followed by songs of Schubert and Richard Strauss and the aria from Faust. After the interval he turned to Nordic repertoire. First August Söderman's Trollsjön, followed by Sjöberg's Tonerna and a couple of songs by Sibelius, but he also threw in Stephen Foster's I dream of Jeannie to charm the Americans. In addition to the announced programme he also had some encores.
Click here to listen to "Säv, säv, susa" by Sibelius, recorded in 1940. Jussi is accompanied by Harry Ebert
Next stop was Civic Opera House in Chicago, where Jussi and Harry gave an afternoon concert on Sunday 21 January to support for The Red Cross of Finland. On 30 November 1939 Soviet troops had attacked Finland which was far inferior both materially and in number of soldiers. It became a sanguinary war that affected both soldiers and civilians, and the Red Cross was in urgent need of help.* In a preliminary article in Chicago Tribune, Cecil Smith stated that the choice of singer was suitable, considering that "Mr Bjorling's father was born in Finland." Of course he wasn't, but Finnish family bonds there were anyway and Jussi is a Finnish name, which Smith also noted. The reviewers hailed Jussi and Chicago Daily News even published a photo of Jussi and Anna-Lisa when they dined after the concert.
From Chicago to Grand Rapids in Michigan it takes little more than three hours by car, and then there were no problems to give a concert there the next day. It took place in the then newly built Civic Auditorium, a multi-arena where baseball was played and conferences were held – and concerts. It was a gigantic building with a magnificent façade in combined Renaissance and Art Deco style. The auditorium was demolished in 2005 but the façade is intact as a mighty monument. The concert venue seated 3800 listeners. Whether it was sold out on 22 January has not been able to verify, but both audience and writers were enthusiastic and several of the latter mentioned that he was generous with encores.
Another monumental concert venue is Newark Symphony Hall in Newark, New Jersey. It was built in 1925 and was in Jussi's time named Mosque Hall. The great hall, now named after Sarah Vaughan, who was a native of the city. ON 24 January Jussi and Harry arrived there and were met by, according to Plainfield Courier, more than 3500 enthusiastic music lovers. It was, in other words, crammed.
I'll round off this 'Travel book' with an excursion to Dayton, Ohio. In the Memorial Hall of the city, a beautiful building with architecture inspired by the French Beaux-Art-school, they gave a concert on 26 January, and as everywhere else they were met with ovations. After that they could treat themselves to a couple of days of relaxation. After that the tour continued all of February, but to those adventures we may return at another time.
Göran Forsling
* The Finnish Winter War lasted until 13 March 1940 and resulted in Finland being forced to give up circa 10 % of its area, including the Karelian Isthmus. Losses in human lives were large. Officially 23 576 were killed in action, besides that 43 557 were injured and 3 273 were reported missing. The winter 1939-40 was in Finland one of the coldest ever registered. The temperature was constantly below zero and often it was between -20 and -40 °C. The lowest temperature was -47° C. (-47° C = -52.6° F)
Click here for Jussi of the Month Summary