Jussi of the Month October 2021
Jussi's Early Prima Donnas
During the close to ten years Jussi Björling was engaged at the Stockholm Opera, he sang important roles opposite a great number of female singers. Some of them are more or less forgotten today, after eighty to ninety years, while others are remembered, at least by some trainspotters with an interest in the good old days. The first year or two the still teenaged Jussi was required to do some minor roles.
Royal Opera in Stockholm 1931
The debut took place on 21 July 1930 in Manon Lescaut, where he was the lamplighter, but a month later, on 20 August, he made his "real" debut as Don Ottavio in Mozart's Don Giovanni, or Don Juan, as the seducer was named in Swedish in those days. His Donna Anna was Käthe Bernstein-Sundström. Little seems to be known about her, but in Svensk biografisk handbok (Swedish Biographic Handbook) (1963) she is mentioned as mother of Kurt-Olof Sundström, theatre manager in Gothenburg, and in a later edition also as singing teacher. Among her pupils can be mentioned Berit Lindholm, dramatic soprano with a brilliant international career. Käthe Bernstein's career at the Stockholm Opera lasted only five years and encompassed, beside Donna Anna, Senta in Der fliegende Holländer (twice opposite Jussi Björling), Leonora in Fidelio, Elisabeth in Tannhäuser, Elsa in Lohengrin, and Brünnhilde in both Siegfried and Götterdämmerung.
Next "debut" was as Arnold in Rossini's Guillaume Tell, one of the most demanding parts in the Italian repertoire. Mathilde was Astrid Ohlson. She was born in 1904, made her debut at the end of the 1920s and sang until 1952 in 43 productions. Together with Jussi she also sang Rosina in Il barbiere di Siviglia, Gilda in Rigoletto and Lady Harriet in Martha. They shared the stage also in Die Zauberflöte, but there she was the Queen of the Night, who has little in common with Jussi's Tamino.
Ruth Althén
Another busy bee at the Royal Theatre was Ruth Althén (1890 – 1985). She made her debut as early as 1914 in the title role in
Aïda
and took part in 46 productions. Among other things she sang the title role in
Turandot
at the Swedish premiere in 1927, where her Calaf was Einar Beyron. Opposite Jussi she sang Donna Anna in
Don Giovanni
a couple of times. She was 1918 – 1941 married to composer Ragnar Althén, whose "Land du välsignade" was in Jussi Björling's repertoire, and can be seen as an unofficial national anthem.
Jussi sang no less than four Wagner roles: Walther von der Vogelweide in Tannhäuser, Erik in Der fliegende Holländer, A sailor in Tristan und Isolde and Froh in Das Rheingold. None of the roles is a leading role, but Erik is at any rate betrothed to the heroine Senta. On 29 September 1931 Jussi sang the role for the first time, and Senta was then sung by Inez Wassner-Flory (1896 – 1965). She sang only a few roles at the Stockholm Opera, but still she appeared in several performances where Jussi also appeared: three Donna Elvira in Don Giovanni and ten in the small role as a Polovtsian girl in Prince Igor.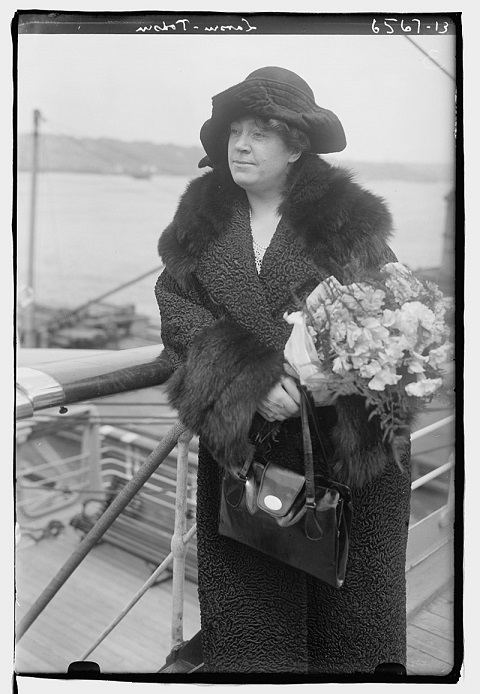 Nanny Larsén-Todsen
In the second of his four performances of
Der fliegende Holländer
, Jussi had the privilege to sing the role opposite a true legend: Nanny Larsén-Todsen. She was born 1884 in Hagby in the province of Kalmar and had Danish ancestry on her father's side. She studied with Oskar Lejdström and Carl August Söderman at the Stockholm Conservatory and made her debut at the Stockholm Opera in 1906 as Agathe in
Der Freischütz.
She was permanently engaged there 1907 – 1925 and was named Royal Court Singer the
last-mentioned year. She was regarded as one of the foremost dramatic sopranos in the world, primarily in Wagnerian roles, and appeared at all the great opera houses in Europe and at the Metropolitan Opera in New York. In Bayreuth she sang 1927 – 1931 and was much appreciated by the Wagner family. As Isolde and Brünnhilde she was unsurpassed. There are recordings from Tristan, Die Walküre, Siegfried and Götterdämmerung and also Senta's ballad from Der Holländer.
Ruth Nordström
On 16 January 1932 the Stockholm Opera mounted the operetta
L'illustre Fregona
by French composer Raoul Laparra. It was a great success and was played 22 times. The young love couple was sung by Ruth Nordström and Jussi Björling, who were both hailed by the press (read more in Jussi of the Month February 2020). About Ruth Nordström I haven't been able to find much information. She was however an assiduous servant on the stage all through the 1920s and well into the 1930s. 38 productions are listed in the Royal Opera's archives, many of
them secondary roles, but she was also heard as Marguerite in Faust, Olympia in Les contes d'Hoffmann, Venus in Orphée aux Enfers, Juliette in Roméo et Juliette,and Musetta in La bohème.
Helga Görlin
One of the greats for many years was Helga Görlin, born in Eda in Värmland in 1900 and died in Stockholm in 1993. She studied in Stockholm for Gillis Bratt, and also in Berlin and Paris. She made her debut at the Stockholm Opera in 1926 as Mélisande at the Swedish premiere of Debussy's
Pélleas et Mélisande
and was permanently employed the next year. All through the 30s and 40s she was busy in French and Italian repertoire until she called it a day after 1330 performances in 67 productions. Her last
appearance was as guest in Madama Butterfly on 31 January 1954 with Einar Andersson as Pinkerton and Sixten Ehrling as conductor.
Click here to listen to Helga Görlin and Jussi in the final of Fanal 1934 (see below)
Click here to listen to Helga Görlin in Arnljot, Act II: "O vore var maska, jag knyter"
Together with Jussi Björling she was on the stage many times, the very first on Monday 11 August, when Jussi made his third appearance there. The opera was Manon Lescaut, and Helga Görlin sang the title role opposite Einar Beyron, while Jussi sang his sixteen bars as the lamplighter. There were to be several minor parts for Jussi where Helga Görlin was in the limelight, but at Jussi's real debut, in Don Giovanni, they were more evenly matched, even though they didn't exactly sing opposite each other. Helga was Zerlina. The first time they were a real love couple was on 8 October 1932 in Ambroise Thomas' Mignon, when Jussi was her Wilhelm Meister.
Helga Görlin and Jussi in L'elisir d'amore 1932
A month later they sang together in
L'elisir d'amore
, and then things happened in rapid succession. In Atterberg's
Fanal
(premiered 27 January 1934) they were also the love couple.
In December 1932 he had a partner with whom he was to sing with a decade later at the Metropolitan. Her name was Stella Andreva and she was a British-Swedish soprano, born in 1909, who made her Stockholm debut that evening as Gilda in Rigoletto. There were several encounters to follow: Il barbiere
di Siviglia, Romeo et Juliette, La Bohéme (where Stella sang Musetta, while HJördis Schymberg was Mimì), Die Entführung aus dem Serail (where Stella was Konstanze, while Hjördis Schymberg was Blonde) and La Traviata in February 1935.
Stella Andreva and Jussi in Romeo et Juliette 1933
After that she left Sweden and joined Thomas Beecham's British opera company. After that she sailed to New York, where she was scheduled to make her Metropolitan debut on 28 December 1936 as Gilda opposite Lawrence Tibbett's Rigoletto but had to withdraw due to indisposition. The debut came instead at a Saturday matinée on 14 January 1937, when she sang Olympia in Les contes d'Hoffmann and Tibbett sang the four crooks. New York Herald Tribune's reviewer was dissatisfied with almost everything in the performance – except Stella Andreva, about whom he was euphoric. After that she had a couple of minor parts, like Waldvogel in Siegfried and the shepherd boy in Tosca, before she did Musetta in La bohème and Philine in Mignon. In Hänsel und Gretel she was the Dew Fairy in April 1937. Then she disappeared, to return on 2 December 1940. Then she was Oscar opposite Jussi Björling's Riccardo at the premiere of Un ballo in Maschera, as well as in the four following performances. The fortune teller was moreover Kerstin Thorborg, so the Stockholm Opera was well represented. After this Stella Andreva made a number of minor parts, the last few times Papagena in Die Zauberflöte in March 1942, and with that her Met-career was over.
Click here to listen to Stella Andreva in Un ballo in Maschera 1940
When Jussi in January 1933 sang Lensky in Eugene Onegin, his partner in the role of Olga was mezzo-soprano Brita Ewert. She was born in 1902 and was, like several of her singing colleagues, vouchsafed a long life. She died in April 1998 at an age of 95. She made her debut at the Stockholm Opera in 1930 as Ortrud in Lohengrin, and sang several Wagner roles, but she also took on Azucena in Il trovatore, Amneris in Aïda, Eboli in Don Carlos and Carmen. In all she took part in 1247 performances in 75 productions, and finished her career on 17 December 1952, as Countess Palmatica in Der Bettelstudent, where Simon was sung by Per Grundén. With Jussi she sang the title role in Bizet's Djamileh, where Jussi was her lover Harun. It ran for six performances. She also sang Amneris in Aïda 28 times between 1932 and 1947. Eight times she acted opposite Jussi in that role, including 13 October 1936, when the performance was conducted by Bruno Walter.
Another legend is Brita Hertzberg, who also belonged to the most hard-working. 70 different productions she took part in and 1270 times she entered the stage of the Royal Theatre. Born in 1901 in Norrköping, she appeared for several years as actor at Arbis in her hometown. 1924 she made her debut in Stockholm as Mignon and Mimì in La bohème, but she had a wide repertoire and sang both Gluck and Gian Carlo Menotti. In 1935 she took the title role in Katerina Ismailova by Dmitri Shostakovich at the Swedish premiere, and she also took part in the world premiere of Hilding Rosenberg's Lycksalighetens ö (Isle of Bliss) in 1948.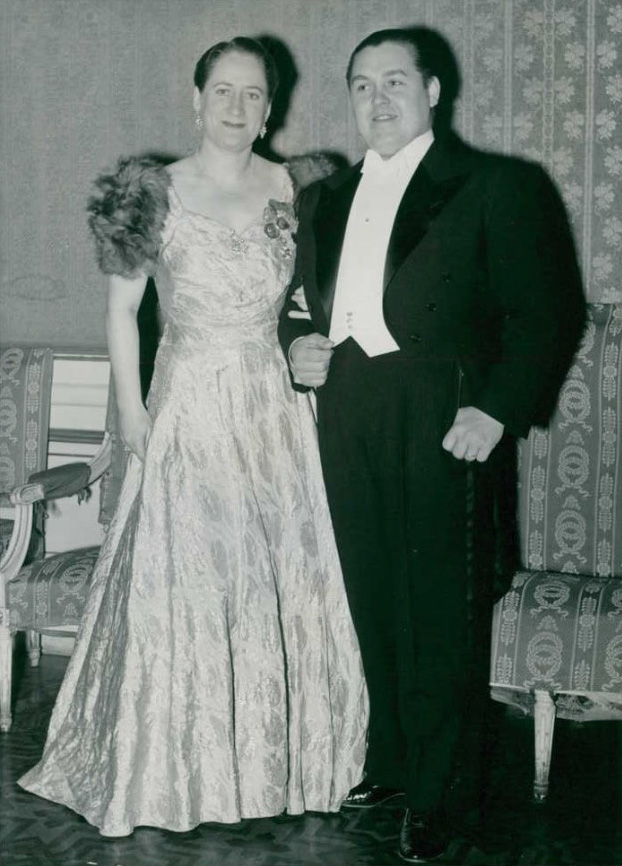 Brita Herzberg and Jussi after a concert
But most of all she was known as a Wagner singer, not least as Isolde, a role she sang no less than 27 times between 1933 and 1953, most of them opposite her husband Einar Beyron. She appeared as guest in the Nordic countries and in Prague, Budapest, Bologna and Barcelona. In 1954 she retired but she returned as guest and took a final farewell in 1956 with two performances of Aïda, where she as Amneris sang opposite Birgit Nilsson. Kersti in Rangström's Kronbruden she sang 24 times. The first time was in November 1927, the last in January 1949. In the first eleven performances Oscar Ralf was her Mats, but after 1932 he called it a day and on 6 April 1933 the the 22-year-old Jussi Björling took over. The performances he sang, and Ralf was still there, but now as the sexton. When Kronbruden was revived after a break of six years in 1940, Jussi had left for a career at the Met, and Brita Hertzberg's Mats was her husband throughout the 1940s. Both were by then Royal Court Singers. Jussi's remaining roles with Brita Hertzberg were few. They sang together in Don Giovanni at two guest performances in Oslo in 1934 and Riga 1935. These were moreover Brita's only Donna Annas. To this can be added two operetta productions. In 1935 they sang in Die Fledermaus, and in 1938 Der Zigeunerbaron.
Click here to listen to Brita Herzberg in "Ett barn är fött på denna dag, Nu så kommer julen"
To be continued in the January issue.
Göran Forsling
Click here for Jussi of the Month Summary