Jussi of the Month December 2021
Don Carlo with a new boss (November–December 1950) – part 2
Last month's Jussi of the Month described how the Metropolitan Opera in New York celebrated its customary First Night or Gala Opening in November 1950 – an extra glamorous occasion as there was a new boss, Rudolf Bing, succeeding Edward Johnson after his fifteen-year tenure.
Auditorium in the old Met
So at the end of October and beginning of November Jussi Björling was busy preparing the first night of Don Carlo on 6 November. In their autobiographies both his wife Anna-Lisa and Bing himself write extensively about Jussi's disagreements with Rudolf Bing which may have come about because he would have preferred to travel away from New York for some profitable concert of his own, or because he had not been allowed to appear at the San Francisco Opera that autumn. Apart from the Don Carlo performances and the recording on 30 November of a duet from the opera his functions that November were few. King Gustav V of Sweden had died on 29 October, and on 9 November Jussi Björling took part in memorial services in both Washington DC and New York. On 20 November he sang in Voice of Firestone, a commercially funded radio and television programme. It is among those where both sound and video have survived and been published, and according to Harald Henrysson's discography Jussi sang the following, accompanied by orchestra:
If I Could Tell You (Firestone)
An Silvia (Schubert)
Carmen: La fleur que tu m'avais jetée (Bizet)
Mattinata (Leoncavallo)
The Princess Pat: Neapolitan Love Song (Herbert:)
In My Garden (Firestone).
Listen to Jussi in the Princess Pat aria from the broadcast discussed above
The video portion of the TV transmission of Don Carlo on 6 November has not been found. The sound exists, but a superior and more often issued recording of the production was made next time it was performed on 11 November. That was the Saturday matinée which in accordance with the Met's long tradition was broadcast on radio throughout the nation – TV programmes were not yet distributed that far, and they had less good sound and were difficult to film. The latest and best version on CD of the 11 November broadcast has as an appendix 45 minutes of excerpts from the gala opening TV transmission five days earlier (West Hill Radio Archives WHRA-6021, 3 CDs).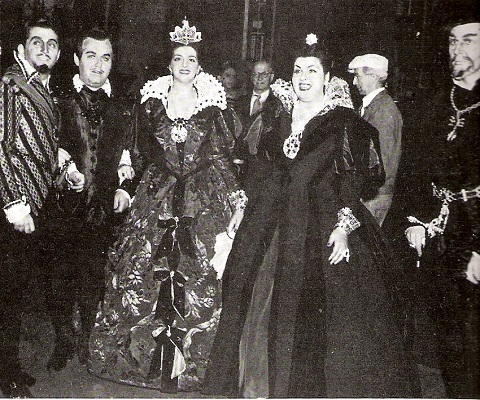 Premiere of Don Carlo November 6, 1950. Robert Merrill, Jussi, Delia Rigal, Fedora Barbieri and Cesare Siepi
Set Svanholm, the Met's other Swedish tenor that season, went to both the dress rehearsal of Don Carlo and its first night. A few days later he himself would have a premiere: a new staging of Der fliegende Holländer. That production can also be heard from a Saturday matinée broadcast. In December it was time for a role outside his usual Wagnerian Fach: Eisenstein in Die Fledermaus. He must have felt well treated by Rudolf Bing's new regiment – compare quotes in part 1 of this article.
During the Don Carlo premiere he saw the start from the auditorium but then moved to the control booth for the TV transmission and then finally to a TV set in Bing's office. He found the quality excellent and admired the close-ups: "when Philip takes the portrait from Elisabeth's box of jewels you could see it really showed Jussi as Carlo!"
Listen to Set Svanholm and Astrid Varnay in the Met broadcast of Wagner's The Flying Dutchman 30 December 1950
The version of Don Carlo performed then at the Met was the Italian four-act version published by Ricordi, which was normal and expected in those days when the opera was a comparative rarity. Only much later some opera houses recognized that the work originally was written in French for Paris (as Don Carlos) and in five acts. The publishing-house later published both four- and five-act versions in Italian, both somewhat abridged compared to the initial version. During its long gestation Verdi wrote music which could not be used for the 1867 first night, and in later years theatres have started to choose actively both language and what to include. In total there are almost four hours of music. Jussi Björling is likely to have seen the abridged five-act version in Swedish used by his employer the Stockholm Royal Opera in 1933 and for some years thereafter. In it the title role was taken by Einar Beyron. When the same house for its new production in 1999 no longer used Swedish they decided to do it in Italian and in five acts. To achieve a manageable length and only one interval some cuts were made.
Jussi and Delia Rigal at the premiere of Don Carlos
Met's four-act version in 1950 was reasonably complete (according to the Ricordi Italian score), but second stanzas were cut in Eboli's "veil song" and Elisabeth's first aria, and very surprisingly the first part (Per me giunto è il dì supremo) of Posa's double aria in the prison scene. Unless I missed something when listening we get to hear Carlo's role without any cuts. It's long and demanding, but Jussi is in excellent voice. Already his first words Io l'ho perduta! and the arioso that follows show more expression and engagement with the words than the gramophone recording many of us may have "in our ears". Prior to the latest CD version of 2009 Jussi Björling's complete live-Don Carlo only was available in bad sound. Ward Marston who worked on the new transfer had access to a tape which was, on the other hand, uncommonly good for its age. The first six minutes up to just before Carlo's initial words Io l'ho perduta! come from the former source, and during some parts there is a low hum which proved impossible to remove. But apart from that, this is one of Jussi's best live on-stage recordings, and in a part which we can't otherwise hear him in – except for that duet with Merrill.
Fritz Stiedry
We hear that this is a well-rehearsed and important production, maybe even better when broadcast than at its tense first night. The conductor Fritz Stiedry has been criticized for his rather calm tempi, but they are well judged and musically convincing. What I miss – also from Jussi Björling – is the nervous tension and impetuousness which others have found in the work, not least in its tenor part. In Jussi's case the impression may come from his noble sound and vocal control, and it does not prevent us from hearing what Carlo is thinking through the words he utters. I never heard as elegant and well-groomed singing in the part. If we imagine that the Met had been ahead of its time and performed the work in French it would have been even more apparent how well Jussi Björling's style and sound corresponds to how French tenors sang French opera up to the 1930s, with Georges Thill as their last more prominent exponent. (The Met will present its first French
Don Carlos
only in February and March 2022.)
The rest of the cast also sing with care and following with a score we can imagine how they remember from rehearsals that "here it says piano, here is a triplet", and are intent on making the conductor satisfied. With Stiedry's sometimes a bit too stable leadership it becomes a memorable performance. There are relatively few studio recordings of Don Carlo, so even though Siepi, Merrill and Barbieri made many records they never had the opportunity to document their interpretations on LP. There are other live versions by for instance Siepi, also much later when his age corresponded better with Philip's in the opera. But with the fine sound of the 2009 issue of this live 1950 account, it remains our best opportunity to hear them in Don Carlo.
The controversial member in this starry cast for us who listen now much later will be the Argentinian soprano Delia Rigal. Like for Siepi and Barbieri this was her debut role at the Met, where she would remain several seasons. Se gets a lot of applause and looks elegant on photos. Vocally she is uneven but sometimes thrilling. One can understand why the Met's management supported her, and the duet in the final act (without the customary cuts) between her and Jussi is memorable.
Photo in connection with the Faust performance 23 December 1950
During December Jussi also had time for four
Faust
performances with three different sopranos as Marguérite (Dorothy Kirsten, Eleanor Steber, Nadine Connor). The one given 23 December with Kirsten was broadcast and published, probably best by Naxos in 2005. Stephen Hastings writes in his
The Björling Sound
that the voice is in magnificent shape, but as an interpretation he prefers Jussi's second
Faust
broadcast nine years later. There
his partner was Elisabeth Söderström, so that version has attracted much more interest in their native Sweden. By then Jussi's voice has deepened as has his idea of the part, but if you want to hear a fresh and untroubled Faust the 1950 recording scores many points. Jussi never recorded a complete Faust for the gramophone, so like the Don Carlo these two Faust matinées are of great value to Jussi Björling's fans. Despite the efforts of Ward Marston, the same restorer as on Don Carlo, the sound on the Naxos issue of the 1950 Faust (8.111083/5, 3 CD) does not quite equal the quality of West Hill's Don Carlo, but it is certainly sufficient for appreciating Björling, Kirsten and Siepi – all very well suited to their parts. Anne Bollinger, a forgotten American soprano who died early, does Tebaldo in Don Carlo and Siebel in Faust. Like old-fashioned repertoire houses in Europe, in those days the Met expected singers to switch between several works on the current repertoire.
Listen to Faust's aria from the 23 December 1950 Met broadcast
Rudolf Bing's "tough regiment" would soon result in fewer Jussi performances at the Met. When I hear his conscientious effort in his last new stage role I can only deplore that his final decade came to consist of so many repeated works and tours. Before Don Carlos was premiered at the Paris Opera in 1867 the theatre's latest grand opéra was Meyerbeer's posthumous masterpiece L'africaine which Jussi sang in 1938 as his last new role as member of the Stockholm Opera. Imagine if he had insisted on a new production of it at the Met during the 1950s! Or had done so for some similar role, like those Verdi parts he never performed in Les vêpres siciliennes, La forza del destino…
But it is no use dreaming. Listen rather to Don Carlo, which may be somewhat neglected among Jussi's live opera recordings!
Nils-Göran Olve
Click here for Jussi of the Month Summary