Jussi of the Month January 2022
Jussi's Early Prima Donnas II
Arguably the longest standing of Jussi Björling's prima donnas was Hjördis Schymberg (1909 – 2008). From the premiere of the new production of Puccini's La bohème on 13 October 1934 – which also was her proper debut – to Jussi's very last performance at the Royal Stockholm, Il trovatore on 6 March 1960, they set foot upon the boards of the opera house at Gustaf Adolf's Square together, not least at Jussi's guest appearances since he left his permanent employment in 1939.
Hjördis Schymberg and Jussi in La bohème 13 October 1934
Jussi and Hjördis Schymberg in Il trovatore 6 March 1960
Hjördis Schymberg made a modest entrance in the world of opera in a small role in the operetta The Gypsy Princess in November 1932 and continued as one of the four Pages in Lohengrin and one of the three Milk Maidens in Peer Gynt. The Bohème debut was her break-through and new major roles popped up one after the other.
In Die Entführung aus dem Serail in January 1935 she was Blonde while Jussi sang Belmonte. Later the same year they met again in Rigoletto. Hjördis Schymberg had been singing the small role of Countess Ceprano a couple of times, but now she had advanced to Gilda and sang opposite Jussi. They can be heard together in the duet "È il sol dell'anima", recorded some years later. There they sing in Italian, on stage in Stockholm they always sang in Swedish in those days.
Click here to listen to the duet "È il sol dell'anima" from Rigoletto 1941 with Jussi and Hjördis
In April 1936 Hjördis Schymberg did her first Nedda in I Pagliacci and Jussi was Canio. Two young baritones, who in the future were to become prominent members of the ensemble, made their debuts this evening. Sigurd Björling was Tonio and Gösta Kjellertz Silvio. Jussi was, by the way, busy all evening since he also sang Turiddu in Cavalleria rusticana (which in those days was titled På Sicilien (In Sicily).
In the autumn that year the Royal Opera mounted Rossini in Naples by Austrian Bernhard Paumgartner. The latter is still remembered as an important conductor, not least of Mozart, but the opera is long forgotten. Probably it wasn't a success – it was played six times. Jussi was however Rossini, while Hjördis Schymberg was the flower vendor Francilla.
In January 1937 the Opera company guested Sundsvall with The Barber of Seville, and Hjördis sang Rosina, fittingly since she was born in the island of Alnön, just outside Sundsvall.
In October 1938 Jussi sang his last new role in Stockholm, Vasco da Gama in L'Africaine, while Hjördis sang Inez. Meyerbeer's last opera saw its Swedish premiere as early as 1867, only two years after the world premiere in Paris, and it became enormously popular. Until 1888 it was played 144 times. The new production, which was made to celebrate 50 years since it was last seen, wasn't so successful. After ten performances it disappeared for ever. Jussi also disappeared after six performances. Metropolitan waited, and Set Svanholm took over, while Hjördis Schymberg and the newcomer Gurli Lemon-Bernhard alternated as Inez.
But Hjördis and Jussi were to meet numerous times when Jussi returned as guest. The first occasion was on 29 August 1939, two days before the outbreak of the war. The opera was La Traviata, in those days still with the Swedish title Den vilseförda (The woman led astray). This was Jussi's last appearance in the role of Alfredo and Hjördis Schymberg's first in the role which was to be one of her signature roles. Radiotjänst (Swedish Radio) relayed the performance and much later also issued it on LP. Parts of it is now available on CD.
Hjördis Schymberg was one of the most hardworking artists at the Stockholm opera. During her career she sang 1395 performances in 76 productions! In 2020 Jan Hammarlund issued a personal biography on the Royal Court Singer. It can be warmly recommended.
Karin Rydqvist-Alfheim in Un ballo in Maschera 1927
Almost as hardworking was
Karin Rydqvist-Alfheim
(1892 – 1970). When she closed the books, she had also participated in 76 productions and 1311 performances. She made her debut I December 1913 as Kate Linkerton in Madama Butterfly and as early as January next year she made her first major role, Anna in Wermlenningarne. This role she subscribed to for ten years and sang it 58 times.
Her first Tosca she sang at the age of 41 years on 22 March 1933 opposite Einar Beyron, and a
good half-year later her Cavaradossi was named Jussi Björling. Opposite him she sang the role at guest performances in Malmö, Ystad and Kristianstad. They were to meet again in Die Zauberflöte – where she sang Pamina opposite Jussi's Tamino – and in Cavalleria rusticana. The role as Santuzza she had sung as early as 1916 in the original production from 1890, and later also in new productions from 1924 and 1927. It was in the latter that she sang ten performances opposite Jussi in 1935 – 36. She was then near the end of her career. Her last performance she did on 7 May 1939 as Laura in Hilding Rosenberg's Marionetter at a guest performance in Gothenburg. There, as a guest, in the role of Crispin, participated no less an artist than Edvin Adolphson.
Click here to listen to Karin Rydqvist-Alfheim in "Sommarens sista ros"
Karin Rydqvist was born in Gothenburg, and so was also Inez Köhler (1900 – 1976). She had an early career at Stora Teatern in her hometown 1925 – 28, and she played at Odeonteatern as well as Vasateatern in Stockholm in the early 1930s. so she was no beginner when she made her debut at the Royal Opera on 3 March 1934. But it is still valid to say that she made a flying start, when she sang Tosca opposite guesting Court Singer and international star Martin Öhman. A week later she sang Amelia in Un ballo in Maschera, also this time opposite Öhman and with another international star, Leo Blech, as conductor. Another two performances with the same constellation followed with a few days' interval, before she did her second Tosca, now opposite Einar Beyron. After a breathing-space of almost three weeks followed a fourth Ballo. This time she sang opposite Court Singer and world star-to-be Jussi Björling. The same autumn she met Jussi again, now in Tosca.
In January 1935 she sang her first Aïda, one more time with Martin Öhman as her partner, and a month later she sang Elsa in Lohengrin. And who sang the title role? Martin Öhman, of course! A Tosca at a guest performance in Östersund opposite Jussi a few days later was followed by four performances of Beethoven's only opera Fidelio. The first of these was on 26 March, Beethoven's death date. Besides Inez Köhler as Leonora and Jussi as Florestan (his only four performances in the role) the crook Don Pizzarro was sung by Joel Berglund and Marcellina by Hjördis Schymberg.
Inez Köhler and Jussi in Fidelio 26 March 1935
But the cooperation with Jussi was not over with that. In August the Royal Opera had dusted off Il trovatore from 1927 to give Jussi an opportunity to shine in one of his future international favourite roles, Manrico, and by his side was Inez Köhler as Leonora.
And so we reach 1938 and Jussi's last season as member of the Royal Opera – and his last two new roles. In both he sang opposite Inez Köhler. First in Johann Strauss' Der Zigeunerbaron where he was Sandor Barinkay and Inez Köhler was Saffi. The last new role, Vasco da Gama in L'Africaine, I have already mentioned in the chapter about Hjördis Schymberg, but there is another soprano role in that opera, Selika, and it was sung by Inez Köhler. And then their cooperation was over? No, not quite. When Jussi returned as guest during the 1940s, he often appeared in Puccini's La bohème, and then it was often Inez Köhler who sang Musette, until 1947 no less than 14 times. But Inez Köhler continued her career longer than that. Until 1952 she participated in 40 productions and 647 performances. And in November 1950 she had the pleasure to sing Donna Elvira opposite world star Tito Gobbi as Don Giovanni. Incidentally a world star-to-be was singing Donna Anna: Birgit Nilsson!
Dusolina Giannini in Aida 1936 at the Metropolitan
It happened now and then that international stars were hired as guests also in the 1930s. One of those was the Italian-American soprano
Dusolina Giannini
(1902 – 1986). She had a great career, both in Europe and USA, where she sang in Chicago and San Francisco as well as New York. In 1931 she had given a recital in Stockholm, and in 1934 she returned, but now as guest at the Royal Opera. She was
contracted for four performances. At three of these she sang Carmen opposite Einar Beyron, at the fourth, on 7 November, she sang Tosca opposite Jussi Björling.
Gertrud Pålson-Wettergren 1933
Mezzo-soprano
Gertrud Pålson-Wettergren
(1897 – 1991) was a reliable retainer at the Royal Opera, where she accomplished 1060 performances in 66 productions. None the less she carried through an important international career, which included both Covent Garden in London and the Metropolitan in New York, where she sang during four seasons. According to Wikipedia she debuted as early as 1922 at the Stockholm Opera as Cherubino in Le nozze di Figaro, but the Opera's own archive gives the role as Fatima in Oberon as her first, on 22 October 1925. Three days later she sang Prince Orlofsky in Die Fledermaus, and a good month later, on 4 December 1925, she sang her first Carmen – a role that certainly became a signature role. Only in Stockholm she sang it 238 times between 1925 and 1950, and also in in New York she did it. There she debuted on 20 December 1935 as Amneris in Aida, where she sang opposite Elisabeth Rethberg and Giovanni Martinelli. Venus in Tannhäuser and Brangäne in Tristan und Isolde followed in rapid succession. In both Lauritz Melchior sang the title role – and Kirsten Flagstad sang Isolde! Truly a dream cast. In mid-January followed her first Carmen – totally unplanned. She had to step in at shortest possible notice and sang the role in Swedish, something that is still described as unique. Only on two other occasions something similar has happened in the annals of the Metropolitan Opera.
Click here to listen to the habanera from Carmen with Gertrud Pålson-Wettergren 1927
She returned the following season and sang Delila in Samson et Dalila and again Carmen. But now she did the role "in excellent though not perfect French", as Olin Downes wrote in The New York Times. She sang no new roles during her New York sojourn and took a worthy farewell in January 1938 as Brangäne in Tristan und Isolde, also this time with Melchior and Flagstad.
With Jussi she sang four performances of Puccini's Il tabarro in the autumn of 1934 and Ulrica in Un ballo in maschera in 1934 and later 1944 and 1945.
Isa Quensel
A true all-rounder was
Isa Quensel
(1905 – 1981). Like a couple of other artists in this survey she was born in Gothenburg. She sang opera and operetta, was actor (she had studied with legendary Naima Wifstrand), stage director, teacher, translator, participated in more than 40 movies, in the 1960s she belonged to the TV-theatre and was also "entertainer" – "Tvättomaten" (The Laundromat) on TV in 1970 together with Jan Malmsjö and Monica Nielsen is a classic that has been often repeated. That she,
beyond all this, had time to take part in 42 productions at the Stockholm Opera in 942 performances is an enigma. She made her debut on 2 November 1934 as Rosina in Il barbiere di Siviglia. Jussi Björling sang Almaviva an as Figaro participated Set Svanholm, who then was still a baritone. In August 1935 she sang Musette with Jussi in La bohème; the same autumn she was Adèle in Die Fledermaus, and in three of the performances Jussi was Alfred. At a performance of Barbiere on 31 October 1935 she sang opposite Jussi again, and Figaro was played by the legendary Italian baritone Giuseppe De Luca, who during his long career had sung with both Caruso and Gigli. Numerous times she met Jussi in Bohème and Fledermaus, and when Der Zigeunerbaron was played in 1938 they were also on stage together – Isa as Arsena. On 15 February 1939 they joined again, this time in Pagliacci, and a few months later a last encounter in Gothenburg, Isa's birthplace, in Bohème. Isa's career at the Opera continued until the mid-50s. Her farewell performance was on 14 April 1956 as Marcellina in Le nozze di Figaro, but she returned as guest 1963 in a new role: Mother Goose in The Rake's Progress. There she sang with the new generation of singers: Busk Margit Jonsson, Barbro Ericson, Ragnar Ulfung and Erik Saedén.
Kaja Eidé-Norena
Norwegian soprano
Kaja Eidé-Norena
(1884 – 1968), who internationally named herself Eidé Norena, had studied with Ellen Gulbranson and also had some lessons with Nellie Melba. She made her debut in Oslo, whereupon she auditioned for Toscanini, who engaged her to La Scala in Milan. After that she sang several seasons at Covent Garden and 1933 – 38 she was at the Metropolitan. There she made a much-acclaimed debut in Bohème opposite Giovanni Martinelli, followed by Romeo et Juliette, where Romeo was sung by Edward Johnson (who later became General Manager of the MET), Faust opposite Martinelli and La traviata opposite Charles Hackett – all three great names in the 1930s. When she late in her career, in September 1938, was invited as guest to the Stockholm Opera, it was from this repertoire she chose to introduce herself. Jussi Björling had the pleasure to sing with her in all the four performances: one Bohème (where of course Isa Quensel was Musette), two Traviata and one Faust.
Gurli Lemon-Bernhard

Gurli Lemon-Bernhard (1916 – 2011) was a soprano who debuted too late to sing with Jussi to any greater extent. Her career at the Opera was also relatively short, but still she sang 381 performances in 43 productions before she withdrew. She made her debut on 23 August 1938 as Cherubino in Le nozze di Figaro, and also made three
performances of Manon (the little role as Javotte) and the Milliner in Der Rosenkavalier, before she on 9 September did her first Siebel in Faust – with Jussi in the title role. She was to sing the role a further dozen of times, including six with Jussi.
Among her greater roles can be mentioned Polly Peachum in The Three-Penny-Opera (in Malmö) and Josefa in The White Horse Inn opposite Max Hansen at Oscarsteatern. She was also Sorgbarn in Gunnar de Frumerie's Singoalla at the world premiere in 1940.
Hanser Lina Göransson
One of the shortest careers at the Royal Opera had
Hanser Lina Göransson
(1908 – 1992). She was born in Orsa in Dalecarlia and was discovered when she was 13 and sang herding songs for composer Hugo Alfvén. During many years she was a member of
and soloist in Siljanskören (The Lake Siljan Choir) which was led by Alfvén. "No one interprets my songs better than Hanser Lina", Alfvén said.
She debuted at the Royal Opera on 1 April 1939 as Santuzza in Cavalleria rusticana and got rave reviews. Six performances she sang, three of them opposite Jussi Björling, who doubtless appreciated singing with a genuine "kulla". ("Kulla" is the name of a woman from Dalecarlia, and Jussi was of course born in Dalecarlia). In early 1940 she sang Tatiana I Eugene Onegin on four occasions, and in the autumn of 1941 she did Elisabeth in Tannhäuser opposite Einar Beyron, but then she called it a day. She didn't like the atmosphere at the Opera. Life as a concert singer suited her better, and she toured assiduously, also in the US, and preserved her voice in fine fettle up in her seventies.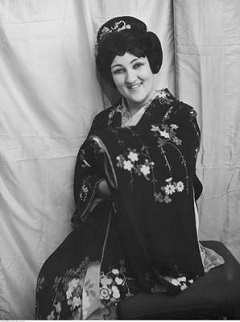 Teiko Kiwa from Madama Butterlfy 1937
Little is known about Japanese soprano
Teiko Kiwa
(1902 – 1983), except that she guested the Royal Opera in her signature role Madama Butterfly during more than a decade. The first time was on 4 May 1928, and she returned the following two years. 1934 she made one single appearance – opposite Einar Beyron – and 1938 she was back with another four, again opposite Beyron. In April 1939, finally she sang two performances opposite Jussi Björling.
And how many times did Jussi himself sing at the Royal Stockholm Opera? According to the Opera's own statistics he sang 671 performances in 60 productions, including 128 times as guest.
Göran Forsling
Click here for Jussi of the Month Summary