Jussi of the Month February 2022
Jussi's Male Colleagues at the Royal Stockholm Opera in the 1930s
During his years at the Royal Theatre, Jussi Björling cooperated with a good deal of male singers. Some of the most prominent and most frequent will be presented in this article. Besides that, it happened that visiting star singers popped in, and some of them will also be mentioned.
The first in the row – and one of the most legendary ones in the history of the Stockholm Opera – he met in his proper debut (I disregard a couple of early minor roles), and that was the then Manager of the opera, moreover Jussi's mentor and teacher, John Forsell (1868 – 1941). After his high school examination, he went in for a military career, and graduated from Karlberg Military College in 1890 as Sub-Lieutenant and advanced to Lieutenant in 1896. He was granted resignation the next year. By then he had already qualified himself as certified gymnastics instructor and also trained as a singer and had begun teaching singing, and in February 1896 he was able to make his debut as baritone singer at the Stockholm Opera as Figaro in The Barber of Seville, and somewhat later as Escamillo in Carmen. He was after that employed as the leading baritone until 1918. Besides that, he had an important international career, and sang regularly in Copenhagen, at Covent Garden in London and 1909-1910 at the Metropolitan Opera in New York. From 1923 until 1939 he was Manager of the Stockholm Opera, where he had a tough regime. Also during his time as Manager, he continued singing, although more sporadically, most often in his signature role as Don Giovanni. That the 19-year-old Jussi had to fence with his teacher and boss in his debut, naturally made him nervous, and Forsell had to urge him to "get going".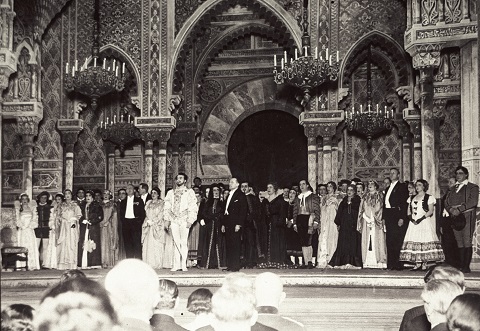 Tribute to Forsell
That John Forsell was a hot-tempered person is also well-documented. Notorious is the encounter between him and composer and critic Wilhelm Peterson-Berger. The latter had written a couple of, in Forsell's opinion, insulting letters, and when they met, Forsell thanked for the letters by giving him a thick ear. This resulted in legal action and Forsell was sentenced to three days in prison.
At the same performance Leporello was sung by another student of Forsell's, namely Joel Berglund (1903 – 1985). He was born in Torsåker in the province of Gästrikland, north of Stockholm, and he saw a short paragraph in a newspaper that it was possible to study singing for free at the Academy of Music in Stockholm. He auditioned, was accepted as a 19-year-old, and could make his debut as Monterone in Rigoletto in 1929. In other words, he was almost as new as Jussi when they boarded the stage on 20 August 1930. It was also Berglund's debut in the role, but his magnificent bass-baritone had already been heard in major roles like Figaro in Le nozze di Figaro, Dutchman in The Flying Dutchman and Pogner in The Mastersingers. And many times he and Jussi were to meet again, including William Tell, The Flying Dutchman, Mignon, Martha, Faust, The Girl from the Golden West, Fidelio and The Damnation of Faust. In toto Berglund sang 1112 performances in 67 productions. His last performance was as guest as Filippo II in Don Carlos on 12 June 1964. He was then 61. But he continued as concert singer for several years.
Jussi, Joel Berglund and Leon Björker in William Tell 1930
I heard him in Stora Tuna Church in 1972 when pianist Lars Roos received The Jussi Björling Scholarship. The voice had of course aged but was still imposing. Another soloist at that concert was the young tenor Gösta Winbergh, a pupil of Berglund's, who also could write singing-teacher on his calling card. On the same card one could also read Manager of the Stockholm Opera 1949 – 1956. Royal Court Singer he was as well, since 1943. Just as Jussi he had an important international career: in Vienna, Buenos Aires, Chicago, Berlin, Budapest and New York he was often heard, and as Wagner specialist he also sang at Bayreuth.
Carl Richter
Another pillar of strength at the Opera was
Carl Richter
(1885 – 1940). He worked as post-office clerk 1906 – 1916, but studied singing on the side, and was able to debut at the Stockholm Opera in 1911 as Amonasro in Aida. From 1915 he was employed there until 1939 and took part in 1125 performances in 61 productions. Jussi fenced with him in his second performance of Don Giovanni on 25 September 1930, when Richter replaced Forsell in the title role. Further on they played together in Tosca, Faust and Pagliacci. Sadly enough Carl
Richter passed away, aged only 55, shortly after he had finished his career.
In William Tell, which was Jussi's second premiere, two real busy bees took part in two bass roles. One was Leon Björker (1900 – 1962. He studied in Germany and Stockholm with the legendary Norwegian bass Ivar Andrésen. Björker debuted in 1927 in Kronbruden and was employed from 1929 to 1953. His real break-through didn't come until 1941, reputedly due to weak nerves and difficulties to learn new roles. But he was industrious worker who sang no less than 2134 performances in 106 productions. (Difficulties to learn new roles?) Besides Walter in William Tell, Jussi met him in The Flying Dutchman, Romeo and Juliet, The Magic Flute, Fanal, The Abduction from the Serail and Fidelio. In 1952 he was named Royal Court Singer, and he continued to sing big roles as guest until 1960, when he was Pogner in The Mastersingers.
Emil Stiebel
The other busy bee was
Emil Stiebel
(1876 – 1950. He was already a veteran when he first met Jussi. His debut was as Leporello in 1910 (with Forsell in the title role) and through March 1945 he sang 3271 performances in 119 productions. He was a masterly buffo singer – his last performance was as Bartolo in The Barber of Seville – and he took part in a great number of movies between 1910 and 1949. The last was Pippi Longstocking! Besides the cruel Gessler in William Tell he sang with Jussi in The Barber of Seville, The Elixir of Love and Don Giovanni.
Baritone Einar Larson (1897 – 1983) – another of Forsell's pupils – was a gifted singer with an uncommonly beautiful voice, which unfortunately by and by met with flaws, probably because of too heavy roles. His debut was on 3 March 1925 as Moralés in Carmen, at "an anniversary performance celebrating 50 years since the first performance of Carmen in Stockholm". Gradually he was allotted bigger roles: Valentin in Faust, Renato in A Masked Ball and Count Luna in The Troubadour. His first collaboration with Jussi was on 13 January 1931 in Carl Nielsen's Saul and David, where Einar was Saul and Jussi Jonathan (suitable since Jussi's "real" name was Johan Jonatan). A good year later Einar sang the title role in Rigoletto and Jussi was the Duke. Next year Einar was Germont in La Traviata, where Jussi was Alfredo, and only a week later they met again in Eugene Onegin – Einar was Onegin and was forced to kill his friend Jussi in a duel. 1934 followed A Masked Ball and the same year Faust, Tosca and Bohéme – operas they often sang together. The Troubadour and Aida followed and in 1936 they joined in Pagliacci. Einar Larson took part in 889 performances in 59 productions and withdrew after a performance of Värmlänningarna in February 1954, where he was the Iron Master. Anna, by the way, was sung by a young Elisabeth Söderström.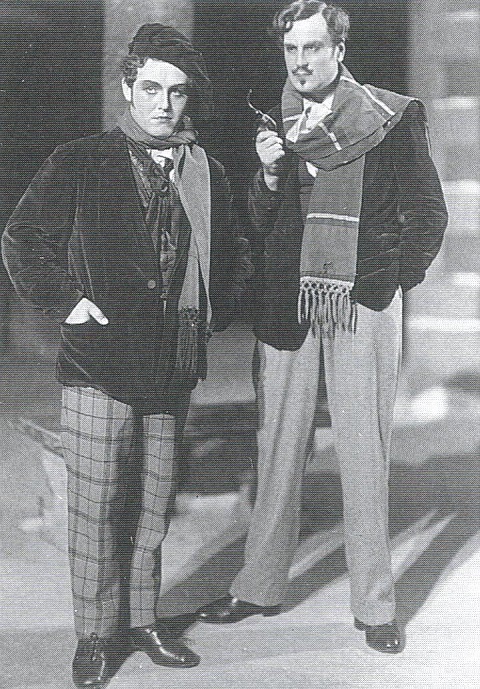 Jussi and Einar Larson in La bohéme
Sven Herdenberg
A prominent baritone, who unfortunately is forgotten today, was
Sven Herdenberg
(1890 – 1957). Born in Helsingborg in southernmost Sweden, he went to Stockholm to study singing and made his debut at the Stockholm Opera in 1918, as Valentin in Faust, and a month later Escamillo in Carmen. Formally he retired in 1945 but he continued for several years and bowed for the last time in January 1951. Then he had taken part in 3114 performances in 118 productions and joined the exclusive group of singers who had been the most industrious. He first sang opposite Jussi in November 1932 when he was Belcore in The Elixir of Love. AS Marcello in Bohème he alternated with Einar Larson – and it was many times he sang the opening duet of the last act with Jussi. Also in Madama Butterfly, where he sang Consul Sharpless, he played opposite Jussi.
Folke Cembraeus
Even more industrious on the stage of the Stockholm Opera was
Folke Cembraeus
(1895 – 1977). The archive of the opera lists 3618 performances in 120 productions. He was born in Eskilstuna and studied initially law, but he left that course for singing for, among others, Gillis Bratt and could debut in April 1921. His first leading role was the title role in Gianni Schicchi the same year. He and Jussi met shortly before Christmas in The Magic Flute, where Cembraeus was Papageno and Jussi Tamino. For Jussi it was the first time in
the role; Folke Cembraeus was already a veteran: he sang his first Papageno as early as 1921 and subscribed to it until 1937, when he sang it on 16 December for the forty-first time. His very last performance was in the operetta The Gypsy Princess on 9 October 1949, where he in the role of Boni had to sing a duet with Stasi – a very young Elisabeth Söderström.
Conny Molin
One more reliable eager beaver was
Conny Molin
(1885 – 1943). After some years as a teacher, he changed to singing and made his debut at the Stockholm Opera in December 1911 as Count Luna in The Troubadour. Other leading roles followed rapidly, and his popularity also led to numerous recordings between 1915 and 1929. 2630 performances in 113 productions are listed in the annals of the Royal Opera, the last one in March 1943, only half a year before he passed away. With Jussi he sang in The Cloak
(Il tabarro) 1934. The following year he sang Alfio in Cavalleria rusticana and in 1938 he sang Germont in La Traviata.
So far we have mainly dealt with singers who belonged to an earlier generation than Jussi, even though Joel Berglund made his debut only a year earlier. Sigurd Björling (1907 – 1983) was also a few years older than Jussi but he didn't arrive at the Stockholm Opera until 1935, when Jussi was well established. His first role was Alfio in Cavalleria rusticana, and the next year he also sang it opposite Jussi. The same year he also sang Tonio in Pagliacci, also with Jussi, and in 1938 he took over after Joel Berglund the role of Mephistofeles and played opposite Jussi in Faust. Finally they sang together in Meyerbeer's The African Woman, where Sigurd (no relation to Jussi) was Nélusco. Sigurd Björling was to become one of the leading artists at the Royal Opera for many years. He was permanently employed until 1961, but he continued to perform as guest in some of his big roles, not least as Wotan, and he took farewell on 10 November 1973, when he sang the Grand Inquisitor in Don Carlos. Then he had performed 1961 times in 113 roles. Add to this his extensive international career, which took him to Metropolitan in New York, La Scala in Milan, The Vienna State Opera, The Paris Opera and Covent Garden in London. 1951 he sang Wotan at Bayreuth to great acclaim, but he never returned. The third act from Die Walküre conducted by Herbert von Karajan is available on CD.
Jussi and Sigurd Björling in A Masked ball
Giuseppe De Luca
Jussi also encountered some international celebrities during his years at the Royal Opera. On 31 October 1935 he sang Almaviva in the Barber of Seville together with
Giuseppe De Luca
(1876 – 1950). De Luca was born in Rome, son of a blacksmith, and as a boy he sang I church choirs. After his voice broke, a rich mentor arranged that he could have singing lessons with a couple of prominent teachers, and very early, when he was just 20, he made his debut in a small opera house as Valentin in Faust.
This generated invitations to more well-known opera houses, and within a few years he was the leading baritone at La Scala. In 1915 he moved to New York, where he sang at the Metropolitan for twenty years. He was to sing with most of the greatest singers of the day and is generously represented on records, including duets with both Enrico Caruso and Beniamino Gigli. His voice was uncommonly beautiful, and he was moreover a good actor. Conductor Arturo Toscanini is supposed to have said that he was "the best baritone I ever heard". De Luca took part in several world premieres, including two Puccini operas: Sharpless in Madama Butterfly (1904 at La Scala) and the title role in Gianni Schicchi (1918 at the Metropolitan). Especially in comic operas he is supposed to have been at his very best, so Jussi should have had red-letter day singing opposite him. By all means he was close to 60, but his voice was still in fine fettle.
Only a month later it was time for another celebrity: the in all respects big Russian bass Fyodor Chaliapin (1873 – 1938). He appeared in three performances, two Prince Igor and one Faust. Jussi sang in all three. In "Jussi of the Month November 2020" I have in detail written about the Price Igor performances, and in "Jussi of the Month December 2020" Nils-Göran Olve wrote, also in detail, about the Faust performance. Readers who missed those issues are advised to look them up.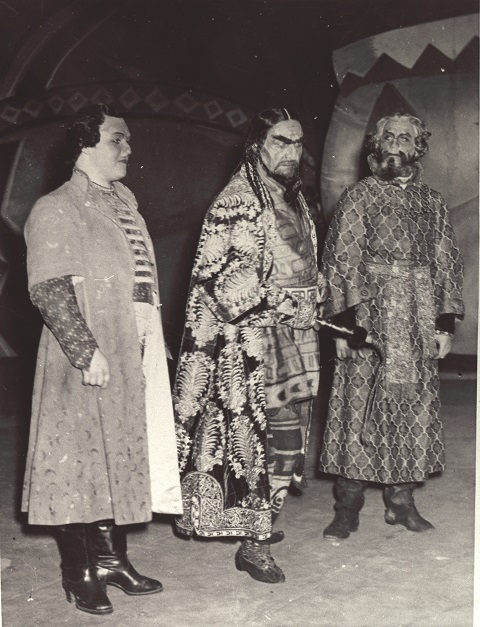 Jussi, Fjodor Sjaljapin and Einar Larson in Prince Igor 1935
Ezio Pinza
Yet another celebrity appeared a couple of years later. It was the Italian bass
Ezio Pinza
(1892 – 1957). Like Giuseppe De Luca he was born in Rome, and like his great predecessor he grew up under modest circumstances. None the less he was able to get a professional singing education and made his debut at age 22 in 1914 as Oroveso in Norma at the opera in Cremona, well-known as a violin builder town (Stradivarius lived there), but there is also an excellent opera house, dating from the 18
th
century. After four yearsmilitary service during WW1, he resumed his operatic career in 1919 and reached La Scala, where he became an idol thanks to his good looks and charming personality, but of course also thanks to his vocal capacity. All his assets resulted in his being engaged to the Metropolitan Opera in New York in 1926, and there he remained until he retired in 1948. Then he had appeared in more than 700 performances in 50 roles. He became associated with the role of Don Giovanni very early, and that was also the role he sang in Stockholm in September 1937, when Jussi Björling was Don Ottavio. Three days later he was on stage again, but this time it was as Figaro in The Marriage of Figaro, where Isa Quensel was his charming Susanna. When Jussi a couple of years arrived at Metropolitan he sang opposite Pinza again. Three times they sang together in Faust, and once Pinza was the philosopher Colline in Bohème, when Jussi was Rodolfo. After the Metropolitan era, Pinza had a new career as musical artist on Broadway, where he sang and acted Emile de Becque in South Pacific so successfully that he was awarded a Tony (the musical world's equivalent to the Academy Award (Oscar) in the movie world). For some time, he also ran his own TV-show and took part in a few movies. In one of them he played the role of Fyodor Chaliapin!
Göran Forsling
Click here for Jussi of the Month Summary