Jussi of the Month March 2022
March 1937: Vienna
Jussi Björling spent most of February and March 1937 in Vienna, Austria. During this period he sang nine of his most prominent roles at its State Opera. He would never again have such a long and varied guest period at any opera house.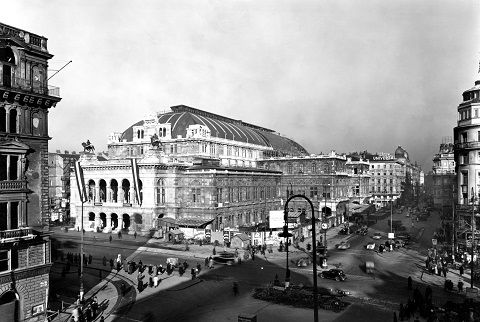 Vienna State Opera in the 1930s
Of course for most of the following years he would be a member of the Metropolitan Opera in New York, singing there fifteen seasons. Some years this required even longer stays, but never a similar catalogue of roles. During all his years at the Met he just sang eleven roles, and at most a handful in any given season.
If we disregard Jussi Björling's US tours as a boy, his first performances outside Sweden came already in May 1931 with the Stockholm Royal Opera when it performed in Helsinki. Soon he would present himself in recitals, first in Copenhagen the same year but not many years later also on the continent (Brussels 1935). (Like always I rely completely on Harald Henrysson's painstaking research into Björling's performances and recordings. He also most kindly commented on a draft for this article.)
Jussi first appeared in opera on his own in Prague March 1936, when he sang in Faust and La Traviata. That spring he made two trips to what was then Czechoslovakia and Austria. I leave it to someone else to investigate how these guest appearances came about. In Anna-Lisa Björling's book on her husband (written with Andrew Farkas) we read both about the leading Swedish artist agent Helmer Enwall and foreign representatives coming to Stockholm to listen to auditions and watch performances at the Opera. And there were of course gramophone records, although those intended for the international market on HMV's DA and DB labels were released only when Jussi Björling already had started singing abroad.
Click here to listen to Jussi from Rigoletto, recorded 3 December 1936
Idol portrait taken in Vienna
Jussi was a full-time employee of the Stockholm Opera until summer 1939 and could hardly apply for leave of absence on the spur of the moment. Certainly his boss John Forsell was encouraging. He and his son Björn – Jussi's comrade from their student years – even travelled to Vienna for Jussi's first guest appearances there in 1936. But while he was employed at the Royal Opera it was probably out of the question to take more than one or two months at a time, and when the theatre's leading tenor was absent for all of February and March 1937 many will have realized that his years as a full-time employee were approaching their end.
We can read in Anna-Lisa's book that Jussi thought his birthday was 2 February, although the 5th is now considered the correct date. His last performance in Stockholm happened on 31 January, and on the 1st he took the train from Stockholm and arrived in Sassnitz the next day. The first performance during his journey was in Nuremberg on 4 February. So he must have celebrated his 26th birthday en route by train through Germany.
Following performances in Nuremberg, Berlin and Dresden his guest season at Vienna started with La bohème on 14 February. Anna-Lisa joined him for at least part of this extended time abroad, maybe all.
Politically times were harsh. How much he knew or cared we may never know. He was in Vienna to follow up on his great success the previous spring – in "the wonderful Vienna before the German conquest", as he wrote a few years later in his autobiography With one's luggage in the throat.
The theatres where he came as a guest had a big repertoire of the standard operas, as also the Stockholm Opera had and was common at the time. This was long before modern ideas of "directors' opera", and the way most were performed in different cities was similar enough for a guest to take over his part at rather short notice, often without the benefit of stage rehearsals with orchestra. Jussi appeared in Italian and French operas which were performed in the local language (German, Czech or Hungarian). It was accepted that a guest artist, at least someone still young as Jussi was, sang in his own language. He had not yet learnt them in Italian or French, because at home in Stockholm they were given in Swedish. He would soon have to master them in their original languages for Chicago, London and New York. If world politics had developed differently and he had continued to perform on German stages he would certainly have had to learn them in German also, like his Swedish tenor colleagues Carl Martin Oehmann, Torsten Ralf and Set Svanholm did in the 1920s and 30s.
So the guest could join existing productions without too much trouble, but of course he would have to receive instruction as to cuts, movements on stage etc. These were simple enough for improvisations at a few days' notice: "we now want to hear Mr Björling also in Un ballo in maschera – would Wednesday be acceptable?"
Gösta Björling
Gösta Björling describes in his book on his brother how Jussi during his season at Vienna in 1937 sent a telegram to Stockholm hoping to receive his score for that opera by airplane the next day. This of course did not work, so he sang the words that entered his mind, convinced no one would
understand. That role was a special case, as he had just sung it once in Stockholm, three years earlier.
On-stage Jussi Björling met his local colleagues, most of whom were employed in Vienna as he was in Stockholm. Theatres employed a complete ensemble whom they relied on for almost all roles, and whose more prominent members might spend a month now and then at other opera houses, in the same way he now tried for himself. Singers made their careers – as they still do at many German houses – by switching after a few years to a more high-status opera house in a larger city, among more famous singers and with better pay.
The political situation was becoming dangerous, and the houses where Jussi Björling sang in 1936 to 1937 were of course affected by this. It was no longer obvious that a German artist could sing also in Vienna, and in Vienna there were singers who had left Germany for political reasons: Jews and other anti-Nazis. How did Jussi think about his activities in the German-speaking nations? A long-term contract with Vienna such as Kerstin Thorborg and soon also Set Svanholm had was less likely both due to his family and the world situation. We can summarize his opera performances as a guest artist in those years thus:
Prague: Faust, La traviata (March 1936); Aida, Il trovatore (May 1936); Aida (March 1937). In 1936 he sang at the National Theatre, while his single 1937 appearance was at the German Opera House.
Brno: La bohème (May 1936)
Vienna: Il trovatore (2), La bohème, Aida (May–June 1936); La bohème, Il trovatore (3), Madama Butterfly, Pagliacci, La fanciulla del West, Faust, Pagliacci, Un ballo in maschera, Rigoletto (February–March 1937)
Poster for Aida in Vienna June 7, 1936
Nuremberg: Pagliacci (February 1937)
Berlin: La bohème (February 1937)
Dresden: Bohème, Rigoletto (February 1937)
Budapest: Aida (February 1937).
Except for two evenings at the Budapest Opera in 1942 he would not sing opera again in any of these cities during the 23 years that remained of his life, although he would appear in concerts in Berlin 1942 and 1950 and make a gramophone recording in Vienna in 1960. There are 12 operas on the list above and a total of 26 evenings during three trips: two in spring 1936 and a longer one in February–March 1937. Between 14 February and 22 March he sang nine of his roles in Vienna for a total of 11 nights, plus three sidetrips to Budapest and Prague for Aida in both cities and a concert in the former city.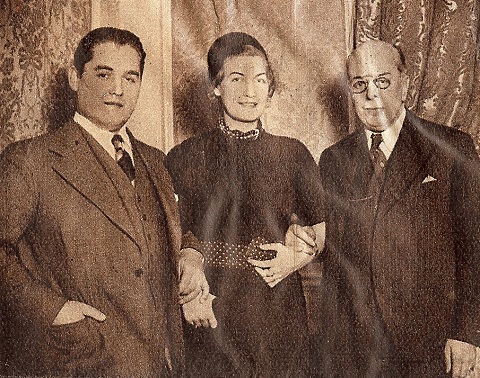 Jussi, Anna-Lisa and unknown in Budapest 7 March 1937
There was a recital also in Vienna. We realize that he had reached star status: five weeks of main roles. Several times he sang on consecutive evenings.
A Vienna State Opera employee, Hermann May, recorded fragments of performances on lacquer discs which in some cases have been preserved and issued on LP and CD. From Jussi's nights we have a little more than one hour from three evenings: Aida (1936), Faust and Pagliacci (1937). Otherwise just the reviews remain of this brief but surely important part of our 25- and 26-year old tenor's development into a world artist. The reviews were almost all laudatory; some are quoted in Anna-Lisa Björling's book about her husband.
Sound: Aida excerpts from a Hermann May recording
There are probably traces to be found also in private writings, but how much has survived nobody knows. Exactly a year remained to Anschluss, Germany's annexation of Austria, and then followed WWII. Documents were destroyed, and after the war many witnesses were no longer alive.
On the website of the Vienna Opera we can read a transcription of an anonymous private person's diary from her or his frequent visits to the opera 1933–36:
Click here for more information
About the Bohème performance on 1 June 1936 we read: "The guest Jussy Björling sings excellently, is highly sympathetic, and also acts very well."
The writer also saved a review which corresponded to these observations. The reviewer Heinrich Kralik in Neues Wiener Tagblatt ("New Vienna Daily") writes about "a singing star of the first order".
In the diary and in the archive section of the Vienna State Opera website we also learn about the tenors who sang when the new star Jussi did not. Several are remembered for their records – Helge Roswaenge, Koloman von Pataky and Alfred Piccaver – while others like Emmerich Godin and Norbert Ardelli are forgotten. The best-known name is the young Anton Dermota who sang Ruiz in Il trovatore and Borsa in Rigoletto with Jussi Björling. They were almost the same age, and Dermota had already been entrusted with Alfredo in La traviata. Clearly Jussi Björling was viewed as comparable or superior to the Vienna State Opera's regular tenors.
Among the sopranos he sang with in Vienna there were a couple whom he would meet in New York. Ella Flesch, today forgotten, sang in 1944–47 at the Met but without conspicuous success. On the other hand, the beautiful and intense Czech Jarmila Novotná would have a long Met career 1940–57. Mária Németh can be counted among Vienna's legendary artists, but she sang almost exclusively there.
Kerstin Thorborg as Amneris in Aida
In Vienna there was also another Swedish star singer, the alto Kerstin Thorborg who was Azucena in
Il trovatore,
Ulrica in
Un ballo in maschera
and Amneris i
Aida
there when Jussi sang in those operas. She may have recommended him to the theatre's directors. In all three operas like in
Faust
and
Pagliacci
the baritone was the Hungarian Alexander Sved. Jussi would meet both again at the Met, and Sved partipates in the live recording of
Un ballo in maschera
from 1940 there that belongs among the
indispensable Björling recordings. Sved was also at the beginning of his international career, and in the diary which I mentioned, the writer notes that Sved "even" sings in German when Aida has been restudied by the Italian star conductor Victor de Sabata in 1936. Evidently Sved had been allowed to sing in his native language for his initial performances.
One more singer whom Jussi would meet again in New York was the basso Alexander Kipnis, who sang Méphistophélès with Björling and Sved. He also sang at the Met a few years later when Jussi Björling was a member of its ensemble, but their only shared performance following Faust in Vienna was Beethoven's Missa solemnis with Arturo Toscanini conducting in Carnegie Hall December 1940. A recording well worth hearing exists.
Sound: from Faust with Kipnis and Ester Réthy from a Hermann May recording
Together with De Sabata, Felix von Weingartner was the most important conductor with whom Jussi sang in Vienna. He also performed several times with Josef Krips who at the time was young and rather unknown but would become a big name in the 1950s.
To those of us who take an interest in historical artists, there were two singers among the many Jussi met during this period whom we notice particularly, and he did not meet them in Vienna. Maria Cebotari was his Mimì in Dresden, and Zinka Kunc his Aida in Prague – both in 1937. Cebotari's meteoric career was interrupted prematurely when she died in 1949. Kunc would change her name to Milanov and become one of Jussi's most important colleagues at the Met. Together they recorded four complete operas for RCA Victor in the 1955s, including precisely Aida in Rome 1955. Did they reminisce about their first encounter in it, eighteen years earlier?
His last performance in Vienna was Il trovatore, Monday 22 March. This was the third time he sang it during the five weeks of his guest period – the only opera he sang which was repeated, so it may have been seen as especially important to utilize the guest for it. At the performances immediately preceding and succeeding Jussi's three the tenor was Helge Roswaenge, who also had some kind of guest status and only performed with the Vienna State Opera nine times 1937. See Vienna Opera archive.
Harald Henrysson informs me that Jussi Björling was meant to stay and sing in Faust on Saturday, 27 March. But it was Easter week, and instead Anna-Lisa and he arrived home in Stockholm on the Wednesday. This meant they could celebrate Easter with their one-year old son Anders, before it was time for Jussi to re-enter into his duties at the Royal Opera, exactly with Faust punctually on 1 April. Barely half a year later he would embark on his next long journey: in November 1937 via London to the USA for opera performances in Chicago and concerts (among others, for the first time on American radio). His warm reception in the capitals of Europe must have been an experience to boost his self-confidence for that major step.
Nils-Göran Olve
Click here for Jussi of the Month Summary