Jussi of the Month April 2022
Some important conductors at the Royal Swedish Opera during Jussi's time there
An unusually long career at the Royal Opera had Finnish-Swedish conductor, composer and pianist Armas Järnefelt (1869 – 1958). He was born in Viborg on the Karelian isthmus in the then Grand Duchy of Finland as one of nine siblings, several of whom became prominent cultural personalities: art critic and translator Kasper, author Arvid, painter Eero and Aino, who married Jean Sibelius. After studies in Helsinki – where one of his teachers was Jules Massenet – Berlin, Breslau, Magdeburg and Düsseldorf he became conductor of the symphony orchestra in his hometown Viborg between 1898 and 1903, the year he first performed in Stockholm, then as accompanist for his singing wife Maikki.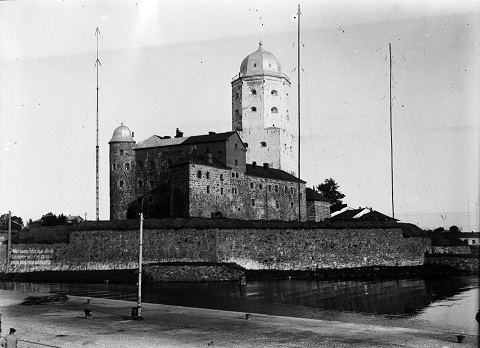 The historically significant Viborg Castle on the Karelian isthmus
The next year he first conducted at the Royal Opera: Die Walküre with his wife as Sieglinde. Wotan was sung by Mr Forsell and Brünnhilde by Mrs Jungstedt. 1905 – 1906 he conducted the symphony concerts at the Opera and from 1907 he became permanent conductor at the Opera. In 1911 he was named Court Conductor and in 1923 Principal Court Conductor. In 1932 he moved back to Finland and became manager of the Finnish National Opera until 1936. Among other things he introduced Wagner's operas in Finland. To Stockholm he returned occasionally as guest, the last time on 7 April 1950 with Wagner's Parsifal. As composer he is today best known for some small pieces, above all the melodious Berceuse. He also wrote music for Mauritz Stiller's "Sången om den eldröda blomman" (1919), probably the first time in Sweden someone wrote music for a specific movie.
Armas Järnefelt
When Jussi Björling made his debut at the Royal Opera, Järnefelt had turned sixty and was to remain there only a few years more, but Jussi was to sing under his leadership on several occasions, the first time at Jussi's first debut, as Don Ottavio in Mozart's Don Giovanni on 20 August 1930. Hr Forsell, who had sung at Järnefelt's debut 25 years earlier, was on the stage also now, but by this time the habit of writing Miss, Mr and Mrs had been abandoned and the singers got their first names on the posters, in this case John. Also, at Jussi's third debut, in Carl Nielsen's Saul och David in January 1931, Järnefelt was in the pit. In April he conducted Natanael Berg's Engelbrekt, where Jussi sang the small role as Bishop Sigge. In the autumn of 1931 Jussi sang his first Wagner role, Walter von der Vogelweide in Tannhäuser, and Järnefelt conducted. After Christmas the same year Jussi sang Narraboth in Richard Strauss's Salome. Järnefelt conducted. In April 1932 the Royal Opera mounted Hans Pfitzner's Das Herz, where Jussi sang a young gentleman, and Järnefelt conducted. The opera was no success; it was played four times. In March-April 1933 Järnefelt had already taken up his post in Helsinki, but he returned for eight farewell performances, and one of them was Rangström's Kronbruden with Brita Hertzberg as Kersti and Jussi Björling as Mats. With this we have accounted for Jussi Björling's cooperation with Armas Järnefelt. This last-mentioned performance was the conductor's 2050th. There were another 20 to follow.
Click here to listen to Berceuse, a lullaby, recorded 1928 and conducted by Armas Järnefelt

Herbert Sandberg
A reliable busy bee at the Stockholm Opera was also
Herbert Sandberg (1902 – 1966).
He was born in Breslau in Germany and was first active as repetiteur and conductor in his birthplace and in Berlin, where he was assistant to Leo Blech and Bruno Walter until 1926. That year he moved to Sweden and became repetiteur and deputy conductor at the Royal Opera. In 1933 he became permanent conductor and 1946 Court Conductor. After his retirement in 1964 he was, until his death, chief conductor at the Malmö City
Theatre.
In spite of a heavy workload, he conducted 2149 performances at the Royal Opera, he also found time to guest conduct abroad, and he was also composer and translator of opera librettos. He made important efforts as champion of Swedish opera and premiered works by Lars-Erik Larsson, Hilding Rosenberg, Natanael Berg and Ture Rangström.
Jussi Björling's and Herbert Sandberg's roads crossed throughout Jussi's entire career. The first occasion was at Jussi's second premier, Rossini's William Tell on 27 December 1930. It took some months before they met again: at the Royal Opera's guest appearance in Helsinki in May 1931, when Sandberg conducted both Don Giovanni and Engelbrekt. At the end of September, the same year, Jussi sang his biggest Wagner role, Erik in The Flying Dutchman, and Sandberg presided in the pit, which he also did a good month later, when Jussi debuted as Almaviva in The Barber of Seville. This was one of his most frequent roles during his Stockholm years, 21 times. They also met in Tannhäuser a couple of times, and Jussi's premiere as Nemorino in L'elisir d'amore was conducted by Sandberg in November 1932. In January 1933, Jussi sang Lenski in Eugene Onegin, once again with Sandberg at the helm. Later the same year he conducted La Traviata. The day before New Year's Eve, Richard Strauss's Arabella was seen for the first time in Sweden. Jussi was Elemer and Herbert Sandberg conducted.
The poster for Arabella December 30, 1933
Then followed Kronbruden, A Masked Ball, Sadko, Die Entführung aus dem Serail, the second act of Romeo and Juliet at a gala performance, Il Trovatore, Madama Butterfly, Rossini in Naples, Mignon, Mefistofeles, Cavalleria rusticana and, on 29 August 1939, two days before the outbreak of the war, La Traviata with Hjördis Schymberg as Violetta (also available on records). Jussi appeared as guest, since by then the Metropolitan was his home stage.
After that the opportunities were sparser, but Jussi popped in once in a while, and during the war years he was living at home. An Aïda in February 1943 can be noted, as well as another one in September the same year. In May 1944 a third Aida followed and in September A Masked Ball and a fourth Aida. In April 1945 A Masked Ball got a second outing, but then the world opened and Jussi was fully occupied "over there" for several years. In September 1948 he popped up, however, and did a "double bill", both Pagliacci and Cavalleria rusticana the same evening. After that it was nine years before they met again. On 27 January 1957 was on the stage of the Royal Opera as Manrico in Il Trovatore. Another three years followed, and then it was Trovatore again on 6 March 1960. This was to be not only Jussi's last Trovatore but his very last appearance at the Stockholm Opera. Half a year later Jussi was dead, bemoaned by a whole world of opera lovers. Herbert Sandberg passed away six years later. We can at least be happy that the last cooperation between him and Jussi was preserved in the shape of a radio recording, which now is available on CD.
Click here to listen to Jussi Björling: "De´miei bollenti spiriti" from La traviata recorded 1939 under the direction of Herbert Sandberg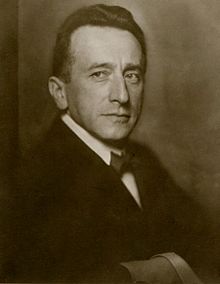 Leo Blech
As mentioned above, Sandberg had been assistant of
Leo Blech (1871 – 1958)
and the relation with Blech and his family was so close that Sandberg married Blech's daughter Luise (or Lisel as she was called within the family). Leo Blech came from a Jewish merchant family, but he had no wish to devote himself to business. Instead, he strived to pursue a career as musician. He studied piano and composition in Berlin, after which he conducted at Stadttheater in Aachen, where
he was born. During that time, in the 1890s, he also composed two operas, which were performed there. 1899 – 1906 he was conductor at Neues Deutsches Theater in Prague, whereupon he moved to the Royal Opera in Berlin, where he was named Generalmusikdirektor in 1913. 1923 – 1926 he broadened his activities to other houses, both in Berlin and Vienna, and from 1925 he was also active at the Stockholm Opera, where he made his debut on 4 December with Carmen. The title role was sung for the first time by Gertrud Pålson-Wettergren. It became her signature role, and she sang it in the future more than 200 times. Beside his activities in Stockholm, he returned to Staatsoper under den Linden in Berlin, where he worked until 1937.
Memorial plaque for Leo Blech
Then he had to flee to Riga and the Latvian National Opera, where he worked until 1941. By then Germany had annexed Latvia, But Hermann Göring, who was a great champion of culture, arranged that Blech and his wife got visa to go to Sweden, and with aid from the Swedish embassy he could, as the only Jewish person, escape from the Nazi persecution in Riga. He was then active at the Stockholm Opera during the rest of the war and didn't return to Berlin until 1949. There he conducted at Deutsche Oper until 1953.
During his years in Stockholm, he conducted 51 productions in totally 483 performances, and in a number of them Jussi Björling sang. The first time they met was on 6 February 1932 in The Barber of Seville. Jussi had already sung Almaviva a couple of times, then under Herbert Sandberg, and now he got to work under the latter's mentor. Only a good week later, Jussi for the first time sang the Sailor in Tristan and Isolde, again with Leo Blech conducting, and a week later he sang his first Duke in Rigoletto, which was to be one of his big roles, also internationally. In 1933 they worked together in La Traviata and Das Rheingold, 1935 it was Fidelio that brought them together, 1936 Il Trovatore and, finally, they did Aida together.
But that was not the end. During the 1940s, Jussi guested the Royal Opera, and every time he opted for Trovatore, Leo Blech was the conductor. In toto it was to be eight performances, the very last on 15 September 1946. By then more than 14 years had elapsed since they first made music together.
Next month Nils-Göran Olve writes about Nils Grevillius, who was the conductor Jussi cooperated with most of all – at least in the recording studios.
Göran Forsling
Click here for Jussi of the Month Summary