David Björling
(For English text, see below)
Jussi Björlings far David var hans första lärare och hade avgörande betydelse för hans och hans bröder Olle och Göstas utveckling till sångare. David framträdde tillsammans med sina söner 1915-26 i den ensemble som han kom att kalla Björlingkvartetten.
Under en vistelse i Amerika 1899-1907 utbildades David Björling till operasångare och inledde sin karriär som konsertsångare. 1919-21 återvände han dit och turnerade från kust till kust med de tre sönerna.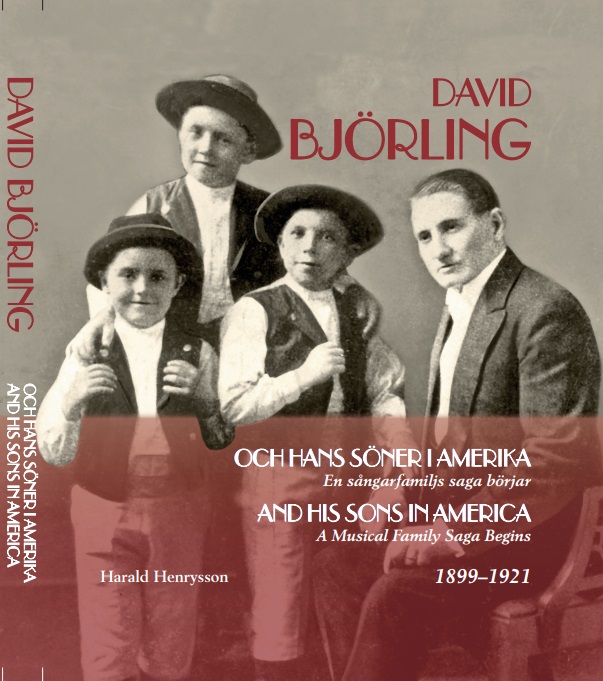 Till 100-årsminnet av denna turné, som inleddes i oktober 1919, har Harald Henrysson, tidigare chef för Jussi Björlingmuseet, publicerat en tvåspråkig bok. Den har titeln "David Björling och hans söner i Amerika: En sångarfamiljs saga börjar, 1899 -1921". Den 158-sidiga boken är inbunden och illustrerad i svartvitt och färg. Utgivare: Förlags AB Björnen, Borlänge. Boken behandlar Davids båda amerikanska vistelser, med en omfattande kartläggning av hans framträdanden ensam och tillsammans med sönerna. Den stora framgången för deras märkliga turné återspeglas framför allt i mängder av pressklipp.
---
Recording lists updated
To the lists of Jussi's recordings, 65 issues in different formats have just been added. Of special interest are new CDs in fine sound with two of his best live recordings as Des Grieux in Manon Lescaut,
Pristine Audio PACO158 contains the Met performance of 31 March 1956 with Licia Albanese as Manon and Frank Guarrera as Lescaut, conducted by Dmitri Mitropoulos.
Immortal Performances IPCD 1110-2 offers the Stockholm performance of 1 november 1959 where Jussi sings in Italian, the others in Swedish. Hjördis Schymberg is Manon and Hugo Hasslo Lescaut with Nils Grevillius conducting. That issue also has interesting bonuses, among them the never before released 1959 TV recording from the London Palladium, with Jussi in Turiddu's farewell and E lucevan le stelle, his Nessun dorma! from Hollywood Bowl 1949 and a new transfer of the 1954 Söder Hospital Christmas concert.
Click here to get to Recording lists
---
New "thrilling" Manon Lescaut with Jussi issued.
It wasn't long ago that we reported on our website that a double-CD will be issued with Jussi in a performance of Manon Lescaut at the Stockholm Opera in 1959 (scroll down for more information). Now another double-CD is coming up with Manon Lescaut with Jussi! This is a performance at the Metropolitan in 1956, now issued by Pristine.
The performance is brought out as the most thrilling of Jussi's recordings of this opera:
" The Met broadcast of 1956 is by far the most exciting of Björling's four recordings, capturing the full range of his vocal colours, his resplendent tone, and above all his passion. The opening aria, 'Tra voi, belle' has just the right degree of lightness and frivolity, but by Act 3 'Non! Pazzo son!' is tormented, anguished and replete with as much dramatic tension as anyone could want. The duet in Act 4 allows him to showcase his exceptionally beautiful voice (including a soaring, seemingly effortless, high C)."
The recording is already for purchase online. Click here.
---
Jussi's performance chronology
Jussi's performance chronology is continually being expanded. A new version has just been published on this website by Harald Henrysson and Roger Alderstrand. Since the former version of April 2017, 27 performances have been added. As examples, dates and premises for the five latest found follow below:
330723 Helsingør / Helsingör / Elsinore (Denmark), Hotel Marienlyst.
450817 Örebro, Idrottsmässan / Sports Fair.
460914 Stockholm, Grand Hôtel Royal, Spegelsalen / Hall of Mirrors.
480929-2 København / Köpenhamn / Copenhagen, Den kongelige Skydebane / Kungliga skjutbanan / The Royal Shooting Association.
490725 Stockholm, Världssportutställningen / World Sports Exhibition.
---
New Unique CD With Jussi:
JUSSI BJÖRLING: RARITIES FROM OPERA, CONCERT AND RADIO
The CD contains five recordings on nineteen tracks, the playing time is just over 68 minutes. It includes a very interesting 11-page booklet in English with texts by Harald Henrysson, Stephen Hastings and Christer Eklund. The CD is sponsored by the American, Swedish and British Jussi Björling Societies. It can only be purchased via the societies!
Jussi and Kerstin Thorborg
KB Eklund Musica Verba in Falun is responsible for mastering, layout and production, and the disc is issued on Christer Eklund's own label Oak Grove, exclusively for the societies.
Of the nineteen tracks fourteen are never issued previously. The sound quality is variable but the disc still has its historical value for all lovers of Jussi Björling.
O Helga Natt (O Holy Night)
The CD opens with "O Helga Natt" with piano accompaniment, recorded in the NCC studio in New York on 21 December 1946 and is now restored in excellent sound. It was presumably recorded for eventual transmission via shortwave to Sweden. Previously issued in 1989 and 1997 on CD but then in much inferior technical quality.
Listen to this extra ordinary fine recording of O Holy Night (O Helga Natt) by clicking here.
Faust in Stockholm and Vienna
The disc contains excerpts from Faust by Gounod (c. 7 minutes) from the first act at the Stockholm Royal Opera on 4 January 1936. Privately recorded from radio broadcast (Radiotjänst) with Jussi as Faust and Joel Berglund as Mephistophélés.
Between 4 February and 22 March 1937 Jussi made guest appearances at the opera houses in Nuremberg, Berlin, Dresden, Prague, Budapest and Vienna, in principle one performance every second day, altogether nineteen performances. The repertoire was very varied: Pagliacci, Bohème, Rigoletto, Il Trovatore, Madama Butterfly, La fabciulla del West, Aïda and Un ballo in maschera. What opera singer would manage that today?
The majority of the performances were at the Vienna State Opera, including Faust on 7 March where short portions (6:30 mins) from the first and second acts were privately recorded on location and are included on the present disc. The recordings from Vienna have previously only been issued on LP. Jussi sings in Swedish, the other soloists in German.
Duet with Anna-Lisa Björling
In 1994 Lars Björling found in a desk drawer a privately recorded tape together with personal documents after Jussi Björling. The recording was a duet, "Will You Remember" from the operetta Maytime by Sigmund Romberg with Anna-Lisa and Jussi and is here issued for the first time. Anna-Lisa accompanies on piano but the recording venue and date is not known.
Verdi's Requiem with Toscanini 1939
Most of the recordings (45:23 mins) encompass excerpts from the legendary and almost mythical recording of Verdi's "Requiem" from Lucerne on 16 August 1939, just a couple of weeks before the outbreak of WW2.
This is the first-time issue and soloists, besides Jussi, are Zinka Milanov, Kerstin Thorborg and Nicola Moscona. Conductor: Arturo Toscanini.
The original tape was recorded in the US from an NBC shortwave broadcast from Lucerne in Switzerland to the US, where the signal was rather uneven, but the recording still has its musical and historical value for true Jussi-lovers.
If you click here, you can read a review of the record.
At our member meetings from 2 December 2017 the CD can be purchased. Member price is 100SEK. The price for non-members is 150SEK. Only cash or via Swish. A suitable Christmas Present suggestion?
The CD will not be available on the market, only through the Jussi Björling Society! It can be ordered from Annicka Englund and dispatched by post. Member price 117SEK incl. postage.
Email annicka.englund@hotmail.se
Phone +46 70 518 17 29; +46 8 653 05 30
Indicate on order: Jussi Björling, Rarities from opera, concert and radio
---
Copenhagen Concert 1959
We had hardly reckoned on some previously unknown recordings with Jussi Björling would crop up. The record companies have the last few years hovered radio archives and other sources on anything imaginable. But then there pops up a tape in excellent sound quality, recorded in Copenhagen on 15 October 1959 in the then brand new Falkoner Centret – a concert hall with superlative acoustics seating 2000 listeners. In the venue there was also a state-of-the-art recording equipment, which was employed to record most of what was happening there – and then the material was hidden in the archives – until now.
---