Tenor Ole Aleksander Bolstad Bang recieved
The Jussi Björling Society's Prize
At the Jussi Björling Society's Annual Meeting in Stockholm on 30 January 2016 it was announced that the recipient of the Jussi Björling Society's prize 2016 is tenor Ole Aleksander Bolstad Bang. He received the prize in connection with a concert at the Solliden stage at Skansen, Stockholm on Saturday 6 August 2016, when Ole also performed.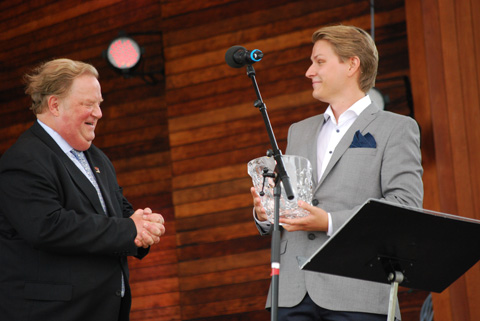 Chairman Bengt Krantz gave the crystal vase to Ole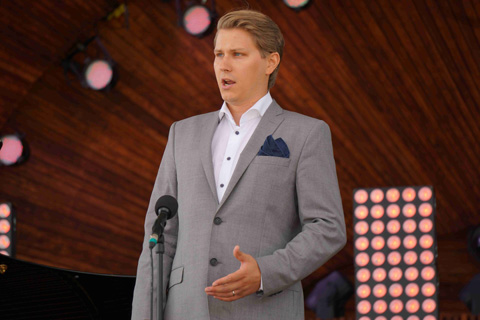 The prize is 30 000 SEK and a crystal vase with an inscription.
Prize motivation:
"Tenor Ole Aleksander Bang is representative of a versatility that we may see more of in the future among singers. More and more demands are made of today's artists. He has managed to try ballet, musical, opera and composition at not quite 30 years of age. We have here a safe and secure voice who with confident technique and intention tackles difficult repertoire, which he masters without fear. His excellent musicality is well-founded with both a father and a mother with long careers in musical professions. Now that Ole puts most of his energy on his operatic studies, we very much want to encourage him on the course he has entered upon to become an established tenor. Rarely do we encounter such a talent, who at the same time possess such high social competence and who shows that he can stand on his own legs.
Ole Aleksander Bang receives The Jussi Björling Society's Prize 2016 for his attractive handling of his voice, his splendidly equalized voice, also in the highest register and his communicative capacity on stage and ability to live a part."
Bengt Krantz
Chairman of The Jussi Björling Society
Inscription on the crystal vase:
"Ole Aleksander Bang, a prize-winner with heavy capacity and rare lightness in his singing"
A biography in Swedish as shown on his agents webside:
"Ole Aleksander Bang är uppvuxen i Norge och i Värmland. Efter gymnasiet sökte han sig till Balettakademien i Göteborgs musikallinje. Under skoltiden och efter examen har han skrivit och turnerat med sin egen musik och släppt skivor i Europa, Japan samt turnerat i Nordamerika.
Han debuterade på Wermland Opera i Spring Awakening där han spelade rollen som Moritz samt West Side Story där han spelade Baby John. Övriga roller på Wermland Opera inkluderar bland andra Gabriel i Next to normal, Pinocchio iShrek och Herde i L'Orfeo. Vintern 2013 sjöng han rollen Zangara i Stephen Sondheims Assassins på Södra Teatern och därefter sjöng han rollen Hannes, en av huvudkaraktärerna i Ola Salos radiosända rockopera KULT!"
His CV can be read here