Jussi of the Month December 2018
Jussi does not hear Caruso
In September 2018 Göran Forsling wrote about the Björling brothers' first visit to the US in 1919-21 . One episode which has always fascinated me and which he himself told about was when he and his brothers refused to hear Enrico Caruso at the Metropolitan Opera House in New York. Caruso undoubtedly was an idol for Jussi's father David, and would later become one for Jussi as well. A direct connection would thus have symbolic importance. So how did it (not) come about?
The father and his three sons arrived in New York on 28 October, with an initial concert on 20 November. Harald Henrysson's research tells us that they remained in New York throughout December for a total of eight concerts, three of them as excursions into nearby New Jersey. They would stay in the US until spring 1921.
The story is well-known and the best source may be his wife Anna-Lisa's account of it in her and Andrew Farkas's biography Jussi (Amadeus Press; p. 38). They tell how David queued to get expensive tickets for all four at a Saturday matinee of Pagliacci. "But on their way to the great event, the boys caught sight of a movie theatre on Times Square where a Western starring William S. Hart was showing. They refused to go one step further and for once David gave in. … It grieved Jussi his whole life that he missed this chance to hear the singer who eventually became his idol."
Caruso as Canio in Pagliacci
On the other hand, in an endnote the authors themselves cast doubt on their story. According to Jussi's cousin Märta, David and Olle did go to the performance, while the younger kids stayed at the hotel.
Now the truth or not of this story is not very important: the barely nine-year old future world tenor could not possibly have been more influenced by Caruso's live singing than he later would be anyway by his recordings! But the episode says something about David and the environment in which he grew up.
Caruso did sing Canio in Pagliacci a few times soon after the Björlings' arrival. The first time was on 26 November, when Leoncavallo's opera was preceded by Leoni's L'oracolo. This is a much lesser-known opera which achieved some popularity at the Met from 1915 to 1933, mainly due to the leading baritone part which was portrayed memorably by Antonio Scotti throughout this period. Tito Gobbi recorded it in 1975. Maybe David should have used L'oracolo as an argument for convincing the boys to go after all, as it is a lurid tale of murder in San Francisco's Chinatown.
As the Met's unrivalled star tenor since 16 years, Caruso was quite active that winter. After performances of five other operas (see Metopera Database), he returned to Pagliacci on Christmas Day. Now it was combined, as so often, with Cavalleria rusticana. Henrysson does not list any concerts by the Björlings on either date, so if the story is true it must have been one of those two Met performances to which David bought tickets. Except that none of them was a matinee, let alone a Saturday.
So could the story refer to a later performance? By the season's third Pagliacci on 23 January, the Björlings had started their touring and gave a concert at Quincy, Massachusetts. Its next performance, on 31 January, was indeed a Saturday matinee. But then the Björlings were performing in Connecticut.
Enrico Caruso would sing two more Canios in his life: on 12 April and 8 December 1920. His very last performance, as Eléazar in La juive, took place on Christmas Eve. He then returned to Italy as a sick man, where he died on 2 August 1921. Both the 1920 Caruso Pagliacci occurred when the Björlings were far from New York: in Chicago and in Los Angeles.
So we are left with the evening performances on 26 November and 25 December if we want to speculate about the inspiring performance by Caruso that Jussi evidently did not get to hear. My guess would be that Märta's story is correct, and that the elder brother Olle and father David left the two young brothers Jussi and Gösta safely locked up in the hotel while they attended one of these performances. Or maybe this was when they created mischief by taking over the lifts of the hotel, running them up and down at high speed, as Gösta describes in his book Jussi? Most certainly it should have been on 26 November, rather than abandoning the young boys on Christmas Day!
As a boy my father once introduced me to Olle Björling, and I should have asked him – if I had known about this story! He died in 1965. I wonder if anyone asked him? I would have liked to know also what he thought of L'oracolo …
Canio would become one of Jussi Björling's best-known parts, but he only sang it twenty times (1936-55), of which 17 in Stockholm and 3 in Nuremburg and Vienna in 1937, so it was not as important for his career as one might think.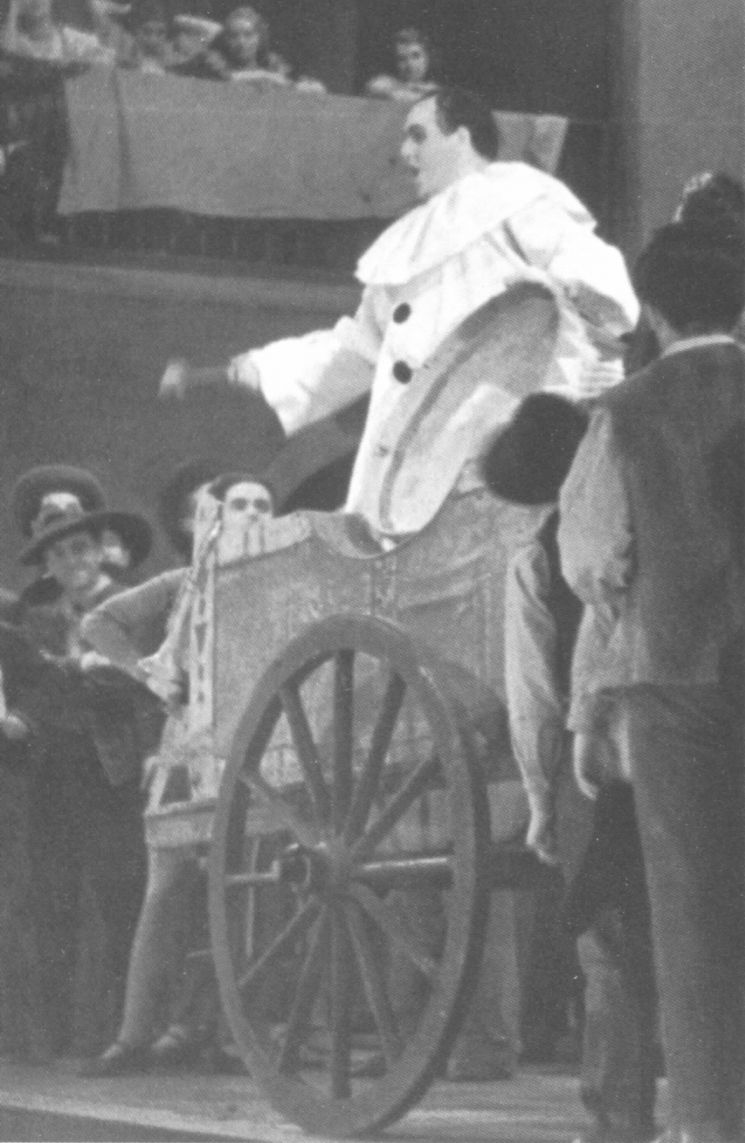 Jussi as Canio in Pagliacci announces the performance, Vienna 1937
It seems Jussi sang all these performances in Swedish, including the broadcast from the Stockholm Opera 1954 which has been issued on CDs. We can hear in fragments from his Vienna guest performances in 1937 (see photo above) how Jussi sings in Swedish and the local artists respond in German, and it was surely the same in Nuremburg. The official RCA recording of 1953 (later on EMI/Warner) probably was the only time he sang all of Canio's part in Italian. Below we give links to an American radio concert 1951 where Jussi met Caruso's widow Dorothy, who was much younger than Enrico. She gave him Enrico's costume for the Duke in Rigoletto, with the explanation that Jussi was her husband's worthy successor. On that occasion as in many other concerts Jussi sang "Vesti la giubba", and told his version of the story about how he did not get to hear Caruso. Of course he sang the aria in Italian, like he did in his best-known recording of it a few weeks afterwards and in the complete recording two years later. See the book by Anna-Lisa Björling and Andrew Farkas, p. 212, and the photo and audio links below.
Jussi is trying Caruso's costume. Dorothy Caruso is assisting
From NBC's TV-broadcast We are the people 16 February 1951 you can listen to:
Jussi sings "Vesti la giubba" from Pagliacci
So what can that 1919 performance that David and Olle may have heard been like? Caruso made good recordings of Canio's two main arias, the final and most famous in 1907 and 1910 respectively. By 1919 his recordings show a much heavier and darker sound, so we have to imagine his interpretation based on how he sounded in his final recordings. All his co-stars on 26 November can be heard on recordings, most in Pagliacci items. Claudia Muzio recorded both the aria and the duet with her Silvio that night, Mario Laurenti, a year or two later, and Pasquale Amato recorded Tonio's prologue in 1911 and 1924. They can be heard on Youtube.
But most importantly, the fact that David once had been on-stage at the Met at the same time as Caruso (as a student in its opera school), and that he and Olle would have come back to the hotel from Pagliacci with renewed admiration for the great man, must have reinforced the eight-year old Jussi's belief that Caruso was the paragon. His daughter Ann-Charlotte can tell how there were disputes at home who was the greatest, Caruso or Gigli, with Jussi and his sons faithful to Caruso while Anna-Lisa and Ann-Charlotte would sometimes side with Gigli. Gigli also made a good complete recording of Pagliacci. So here is scope and inspiration for continued explorations, as all these recordings now only are a few mouse-clicks away!
Some links to Youtube:
Enrico Caruso - "Pagliacci No! Pagliaccio non son"
Pasquale Amato - Pagliacci, Act I: "Si puo? Si puo?"
Clauda Muzio and Mario Laurenti - Pagliacci, "Silvio! A Quest'ora" 1921
Nils-Göran Olve