Jussi of the Month
The classical studio recording of La Bohème from 1956.
THE SPRING OF 1956 brought one of those happy coincidences when every detail falls into place.
It was suggested to Sir Thomas Beecham that he record La bohème with Victoria de los Angeles as Mimì. He agreed, provided a first-class cast could be assembled.
The British conductor Sir Thomas Beecham
It was actually Beecham's manager, Andrew Schulhof, who appreciated that Victoria de los Angeles, Jussi Björling and Beecham himself would all be available in New York in the spring of 1956: his suggestion to EMI and its then-associate American company, RCA, that this opportunity should be taken to record the opera, proved an inspiration. Besides de los Angeles and Jussi also the American singers Robert Merrill, baritone, Giorgio Tozzi, bass and John Reardon, baritone, were to take part.
Sir Thomas Beecham 1879-1961
Jussi Björling 1911-1960
Victoria de los Angeles 1923-2005
Giorgio Tozzi 1923-2011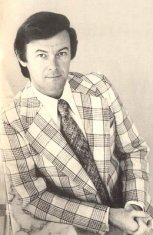 John Reardon 1930-1988
Robert Merrill 1917-2004
Usually plans are made several years in advance, so that necessary stars can be brought together in one place at more or less the same time, with dates necessarily overlapping for recording the ensembles.
For once, the powers-that-be moved with unprecedented alacrity, and cast, chorus and orchestra were brought together in record time. The recording sessions at the Manhattan Center began on March 16 and 17, but then were completed in an intensive rush of activity between March 30 and April 6 with only one day (April 4) left free of sessions.
That is what makes Beecham's recording of Puccini's La bohème – a classic of the record catalogue from the moment it was issued – even more of a miracle that it might appear on the surface.
In the middle of the recording sessions, Jussi's back pain returned. Sir Thomas Beecham remarked that to the best of his knowledge the spine wasn't the organ a tenor used for his singing, but his calculated sarcasm notwithstanding, the session had to be interrupted. Bob Merrill sent Jussi off in a taxi to his own chiropractor. After the treatment, similar to the one Jussi had received in Sweden nine years earlier, he rode back to the studio and continued the recording.
Sir Thomas Beecham seems to be rather satisfied!
There was not a prior performance onstage. Sir Thomas was at his crotchety best. In the third act, de los Angeles didn't want to cough. It would ruin her vocal line, she claimed. After the first take, when she had not coughed, Sir Thomas said, "Young lady, now we're going to do that again, and if you don't cough, we will later, after the tape is put together, hire a professional cougher, and you may not be able to hear a note you sing!" They did another take – and she coughed.
Legend has it that Victoria de los Angeles stopped off on her way to the airport, to make her final contribution to a recording that tingles with life and warmth from beginning to end.
In the book Jussi, Anna-Lisa Björling comments the recording: "She delivered a beautiful, touching Mimì, and as Rodolfo, in my opinion, Jussi was a poet's poet, conveying a sufficient mix of dramatic involvement, unaffected charm, and ardent lyricism. The recording has won favour with the critics, and this version of Bohème has been held up as a paragon against which all others are measured. In Jürgen Kesting's opinion, 'No one has sung the first act more luminously, more tenderly, and the fourth act with more restrained sentiment, than the Swede.'"
Another much-repeated legend has it that the recording was made in stereo – as it certainly ought to have been at that period – but that the stereo tape was lost or damaged, at least one act of it. The truth is that the RCA engineers – in charge of the sessions, even though EMI was the joint sponsor – did in fact use an experimental two-track technique that was also used on an RCA recording of Verdi's Rigoletto in Rome that same year.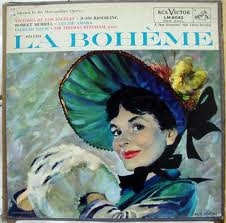 The idea was to use one track a record the voices and the other to record the orchestra, so that with session time particularly precious balances might be corrected after the actual recording had been completed. Whatever the technical details, the recording was processed with all speed and the finished LPs appeared on both sides of the Atlantic just before Christmas. Though characteristically some critics demurred ("It just misses the top," said Harold Schonberg of the New York Times, complaining about the age of Björling and the "dispassionate and sexless" singing of de los Angeles) the verdict of record-collectors has been quite different and rightly so. This is a set which has rarely been out of the catalogue ever since, even though it is in mono only, and in purely technical terms has been supplanted many times over. Limited or not, the sound remains extraordinarily vivid.
Review of La bohème, 2011:
"Perhaps no recording of this opera has such a special place in the hearts of opera lovers. There is no doubt that the Karajan/Pavarotti/Freni recording is more ideally put-together; Beecham's ensemble is sometimes less-than-perfect, and at least once a singer comes in too early. But this set exudes a warmth and presence that makes it almost unbearably moving. It may just be the sheer sound of Victoria de los Angeles' and Jussi Björling's voices: each has a plaintive quality that goes straight to the heart. The pair actually sound as if they are singing to one another, and Björling's whisperings are the definition of poetry. The others in the cast are of the same mind—this is a small story of everyday people—a small tragedy. Beecham's tempos are much like Karajan's—just three minutes shorter overall—but it has a chamber quality, an intimacy, that is the very opposite of Karajan's symphonic approach. One is left shaken at the end."
Robert Levine, ClassicsToday.com [4/2011]
"What is never likely to be improved on is the magic of the performance. Plainly the need to work against the clock provided an extra challenge to everyone, not least to Sir Thomas himself. This was the only complete opera recording he ever made in the United States, and he was working with unfamiliar players, the so-called RCA Victor Symphony Orchestra, who themselves were not a regular corporate team. But the inspiration of the occasion brought a concentrated intensity, whether in comic, dramatic or poetic moments, such as is hard to achieve in the usually cold atmosphere of the recording studio."
By the time he made this recording of La bohème, very near the end of his career, Beecham claimed to have conducted the opera over 300 times. In an interview he gave to Irving Kolodin at the time, he said that he was all the more delighted to record the piece in New York, when "I thought I had had my last go at it". He went on to explain that "What I have done reflects Puccini's desires about this score as of 1920" – some 25 years after the premiere.
Sir Thomas Beecham (1879 – 1961) had a great influence on musical life in Great Britain and was a prominent conductor of great importance for the renaissance of British music in the 20th century.
He founded several orchestras, including the London Philharmonic Orchestra, which he led until 1940. After that he spent some years in the US during the war, among other things at the Metropolitan Opera in New York. After 1946 he was connected with Covent Garden and the Royal Philharmonic Orchestra.
Beecham was knighted in 1916 and in 1944 he published his autobiography A Mingled Chime. He didn't have too high opinions about the musical taste of the English: "The English may not like music, but they absolutely love the noise it makes."
Apart from this intensive recording Jussi found time to participate in a Gala Performance on 10 March for the Italian president at the "Met", on 14 March he gave a concert at the Academy of Music in Philadelphia and on 31 March he sang in Manon Lescaut at the "Met" with Licia Albanese as Manon. The performance was broadcast and has been issued on CD.
The complete studio recording of La bohème from 1956 is available on Naxos 8.111249-50 (2 CDs, issued in 2007. Can be ordered from the Jussi Björling Shop.
Listen to two tracks with Jussi from La bohème 1956.
Che gelida manina, "electronic stereo", 5:03