Jussi of the Month
The Concert at Carnegie Hall 24 September 1955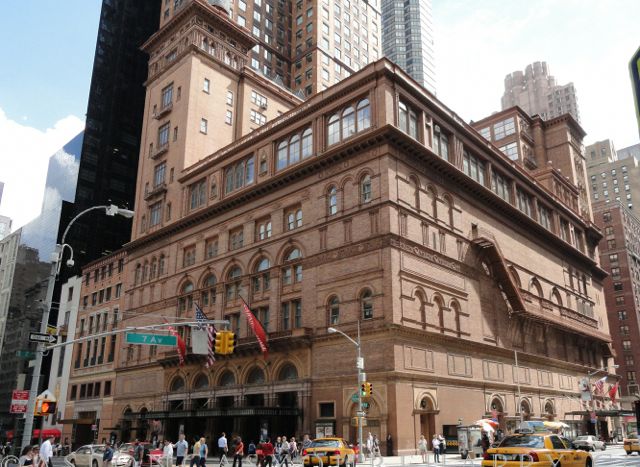 Carnegie Hall is the legendary concert hall in Manhattan in New York, inaugurated in 1891 and defrayed by financier Andrew Carnegie. At the inauguration Pyotr Tchaikovsky was guest conductor.
The house has several halls, of which the largest seats around 2,800. For more than one hundred years Carnegie Hall has been one of the most well-known institutions for classical music as well as jazz and popular music. There are around 250 performances every season.
All the great legendary opera singers have appeared here, including Enrico Caruso, Beniamino Gigli, Jussi Björling, Maria Callas, Lily Pons, Renata Tebaldi, Leontyne Price, Montserrat Caballé, Plácido Domingo and Luciano Pavarotti.
Jussi at Carnegie Hall
Jussi appeared at Carnegie Hall fifteen times 1937 – 1959 and made his American debut here as tenor on 28 November 1937. Twelve of these concerts were more or less completely recorded and issued on CD.
One of the most legendary concerts that Jussi gave at Carnegie Hall took place on 24 September 1955. It was a remarkable experience for those present and he sang no less than ten encores. The whole concert was recorded and issued on CD.
The cover to the left is from the original RCA Victor LP from 1955 with sixteen numbers from the concert on 24 September 1955. The one to the right is the RCA CD Jussi Björling ReDiscovered from the same concert issued in 2003 and completed with another nine numbers, thus including 25 numbers.
Jussi's Throat Problems
Jussi had not appeared in USA for one and a half year, so before the concert critics and audience were curious to find out the condition of his voice after this long absence.
It may be of interest to know that there was a real reason for Jussi not appearing in America for so long time (from January 1954 to September 1955) and why he was so eagerly awaited at his comeback.
In late autumn 1953 he started getting problems with his throat and as early as March the same year he had to cancel his long planned debut at the Paris Opera on 12 March 1953. But eventually the infection passed off and during the summer of 1953 he was working hard with concerts in Sweden and England. He also made several appearances at the Stockholm Opera, where he first sang opposite Birgit Nilsson in Tosca on 25 September.
After Cavalleria rusticana and Rigoletto in early February 1953 Jussi had not been singing at all at the Met but the new Director of the opera Rudolf Bing had engaged him to open the Met season on 16 November with Faust opposite Victoria de los Angeles, then singing with him for the first time.
After that premiere, which was a great success, Jussi again started having troubles with his throat and during the last performance in mid-December he had to be replaced by another tenor after the first act.
Jussi travelled straight back to Sweden for convalescence and returned to USA at the end of January. After a performance of La bohème with Licia Albanese and Robert Merrill he again got troubles and for that reason he spent some weeks with the Wenner-Gren family at the Bahamas in an attempt to cure his bronchitis and get in shape for Il trovatore in Miami, Florida, which was to be premiered on 27 January.
In spite of the convalescence he didn't get rid of the bronchitis and after one performance at Miami Beach Auditorium he had to cancel the remaining two performances and returned to Sweden.
By the end of April Jussi and his throat were in mint condition and he could resume his touring with concerts in Sweden, Europe and South Africa. Until 30 December his concert activities were in full swing, continuing during the spring and summer of 1955, also including a complete studio recording of Aida in Rome with Zinka Milanov.
Jussi's Successful Come Back to USA
Not until the end of September 1955 did Jussi return to USA for a tour that was to last until the end of April 1956. It was an eagerly awaited Jussi who opened his tour with the sold-out concert at Carnegie Hall on 24 September 1955. Critics and audiences were curious to find out in what condition his voice was. Would his voice have lost something of its former brilliance after the serious bronchitis that had been troubling him for so long?
But neither the audience nor the critics were disappointed. Jussi was met by ovations and cheers, and they found out that his voice was as magnificent as ever. The audience cheered and Jussi sang no less than ten encores. In all the concert encompassed 25 numbers!
That the concert was a success is obvious from the reviews below from American newspapers.
The amateur snapshot is the only available picture from the Carnegie Hall concert.
Click once on the pictures below and then once more on the next picture to get it even more enlarged.
Listen to four arias and songs from the concert at Carnegie Hall 24 September 1955!
Traum durch die Dämmerung, R. Strauss, 3:00
En ferment les yeux, Massenet, 3:43
E lucevan le stelle, Puccini, 3:02
Jussi as Recitalist
During his years in Sweden, and even when he began performing opera in the major cities of Europe, Jussi Björling was an opera singer who often gave recitals. When, in 1937, he came to America, he realized that concerts and recitals were more financially rewarding and it was at a concert at Carnegie Hall on 28 November that he made his debut in the United States as tenor.
By the middle 1940s, Björling's recital programs began to take a set form. He would start with German lieder by composers such as Beethoven, Schubert, Richard Strauss or Hugo Wolf, and then continue with several operatic selections.
Among the most popular arias heard in the tenor's concerts were those included on September 24, 1955. One is quick to note the ease with which Jussi could go from the tenderness of "The Dream" of Massenet's Manon to the more dramatic utterances of the Addio alla madre from Mascagni's Cavalleria rusticana.
Almost sure to be included in Jussi's recitals would be a group of Scandinavian songs by composers such as Sibelius, Grieg, Peterson-Berger and Sjöberg. There were also popular Italian songs as well as British and American chestnuts such as d'Hardelot's Because, Glover's Rose of Tralee or Stephen Foster's apostrophe to a girl named Jeanie with the light brown hair.
Jussi's years in the United States both as a child, and, later, as an adult, gave him a much better command of English than most visiting foreign artists. His ability to sing in several languages and musical styles made a Jussi Björling recital, such as the one heard here, a fabulous treat.
Jussi and Frederick Schauwecker
At Carnegie Hall with Jussi was his long-time American accompanist Frederick Schauwecker. Schauwecker had accompanied several singers, including Italian tenor Giovanni Martinelli, when he was introduced to Jussi by tenor Richard Crooks, in 1945. The two established a very successful musical and professional partnership.